Les Viandes du Breton continues to grow within the organic and natural pork niche market.
Although commodity meat still dominates the grocery store shelves of mass retailers, the demand for organic and natural products grows each year.
That's good news for Les Viandes du Breton, the largest family-owned producers of organic and Certified Humane pork in North America. The Riviere-du-Loup, Quebec-based company has invested millions of dollars into producing more organic and natural pork products. It was the first of its kind in Canada to qualify for the Certified Humane status.
"We are investing in our organic infrastructure to be able to capture the demand that we believe will increase in the upcoming years," President Vincent Breton says. "The market will continue to grow because consumers are more and more concerned about what they eat and where their meat is coming from. We think that's a really good thing."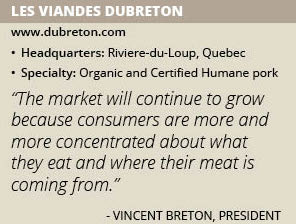 This year marks an important achievement for duBreton, which has achieved its goal of processing an additional 300,000 crate-free animals.
The company has invested more than $30 million over the past three years to bring its entire network of farms into compliance with the advanced animal welfare standards of Human Farm Animal Care (Certified Humane), Canada Organic and the Global Animal Partnership's 5-Step Program.
"It focuses on animal welfare," Breton says. "It bans the use of antibiotics in farming practices. Animals must have comfortable living space and cannot be kept in crates and no bedding material on the floor. There's a long list of what must be done."
Certified Humane and 5-Step Program principles aim to allow the animals to engage in natural behavior such as rooting and playing in order to reduce stress and improve animal comfort. To retain the Certified Humane and 5-Step status, program participants are inspected and monitored.
The Transition
To date, duBreton's farm conversions and new facility start-ups have enabled the production of 219,832 additional animals in conditions exceeding the highest animal welfare standards in Canada.
The journey started in 2015. The company's agronomists, engineers, veterinarians, producers and front-line staff began pooling their expertise to move forward with this major and historic shift. Today, more than 40 of duBreton's facilities meet the recognized requirements for Certified Humane, 5-Step Program and Canada Organic certification – a move that the company freely complied with in order to offer better quality of life to animals in accordance with consumer values.
"The transition from commodity to organic is a huge investment for a company like us," Breton says. "We take a lot of pride in that."
In addition to duBreton's investment, the Breton family built a new $15 million grain center near Quebec City. Completed this year, is able to store up to 15,000 tons of organic grain.
"Right now, we were buying grain on the market," Breton says. "The new grain center is part of building our organic infrastructure."
The company is working with farmers to help them produce more organic grain to support duBreton's farming program and the facility will be used to store it.
"Organic infrastructure means not only building organic farms, but following the farming practices behind the farm," Breton adds. "We need to support the famers behind the operation. It's a very long journey."
Since 2015, duBreton has negotiated a series of agreements with independent producers that share its determination to develop different and sustainable approaches to animal production. The initiative is set to continue this year. The company believes it will reach and possibly even surpass its original objective.
Future Goals
Although its niche market is organic, Certified Humane and 5-Step pork, duBreton also produces antibiotics-free pork and regular commodity pork.
The company processes roughly 1 million pigs per year. Out of that number, between 40 to 50 percent fall into the niche category.
"In a couple of years, we will not farm commodity animals anymore," Breton says. "That's our goal and the commitment we've made is towards that direction. We want to continue to be the leader in the organic, Certified Humane and 5-Step Program pork market in North America."
The company partners with a total of roughly 425 farms. Out of those, between 300 to 350 fall into its niche category. "The natural and organic sector is a small, niche market for now but it's a growing market," Breton says. "We are seeing a double-digit growth. That's a growth of 10 to 20 percent."
Organic Beginnings
Somewhat ahead of its time, duBreton started moving in the direction of natural and organic products in the late '90s.
There were challenges. Farming under organic and natural conditions costs much more money than farming commodity animals. But duBreton saw the trend ahead of the curve. The company likes to be at the forefront of such issues.
Last year, duBreton and its sister division, Aliments Breton Farms & Feed Mills Inc., took part in a study conducted by Agriculture and Agri-Food Canada on the effect of various types of farming. The study looked at farming with and without antibiotics and at the presence of antibiotic-resistant bacteria in pigs.
The outcomes of the study, which should be available this year, could be instrumental in determining optimal approaches to farming animals in the future.
"We hope that this study will lead to the definition of new standards for protecting the health of animals as well as humans," Breton says. "Overall health depends largely on the effectiveness of the drugs available to us all for fighting the countless bacteria to which we are exposed."
Aside from taking part in studies, duBreton believes in giving back to the communities it serves. Last year, the company donated roughly 18,650 pounds of pork valued at more than $80,000 to Moisson Québec for the organization to redistribute to charity organizations in regions across the province.
"We supply food banks every year," Breton says. "Giving back is very important to us. The family values we hold dear also include giving to others, and we are in a position to share what we do best."
Requirements for Certifications
In order for a Certified Humane and 5-Step Program label to appear on beef, chicken, pork, eggs, pet food and dairy products, the food must come from farms that meet standards set by the Humane Farm Animal Care (HFAC) and Global Animal Partnership (GAP).
An international nonprofit certification organization dedicated to improving the lives of farm animals in food production from birth through slaughter, HFAC seeks to improve the lives of farm animals by driving consumer demand for kinder and more responsible farm animal practices.
GAP, initially piloted by Whole Foods as a step-rated animal welfare program, is now an independent organization with similar goals as the HFAC – to improve farm animal welfare standards around the world.
GAP's 5-Step Program certification or HFAC's Certified Humane label on a product means that the animal has come from facilities that meet precise, objective standards for farm animal treatment. Both certifications require that the animals are never kept in cages, crates or tie stalls. They must be free to do what comes naturally. For example, chickens must be able to flap their wings and pigs must have space to move around and root.
All Certified Humane and 5-Step animals must be fed a diet of quality feed, without animal by-products, antibiotics or growth hormones and producers must comply with food safety and environmental regulations.
"The certification itself is not a magic bullet," says Vincent Breton, president of duBreton, the largest family-owned producers of organic and Certified Humane pork in North America. "But the fact that you control each step of the production is a step in the right direction."
Aside from trying to make life better for the animals, raising a farm animal more humanely has a direct impact on human health and the health of the environment, according to HFAC's website.
Farm animals that are not raised under niche standards are fed diets of animal byproducts, antibiotics (known to cause antibiotic resistance in people) and hormones (known to cause early onset of puberty in youth). As far as the environment goes, fewer animals on more space is better for the land, air and water. Then there's the taste.
"The taste and texture of the meat is influenced by many different factors," says Vincent Breton, president of duBreton. "Living conditions and what the animal eats, and the stress it went through are all factors."