Lesaffre Yeast's global expertise helps its customers develop products for today's health- and quality-conscious consumer.
The diversity of people and cultures in North America it is reflected by diversity in cuisine. Bread is popular everywhere in the world, but only in North America is a restaurant likely to sell baguettes and pan breads alongside tortillas and pizza. "We see in different parts of the world there's very distinct taste and traditions in bread – almost country by country," says Tom Brenner, president of Lesaffre Yeast Corp. "What's really interesting about the market in North America is you see a lot of the mixing of those traditional trends."
As the world's largest yeast supplier, Lesaffre is uniquely positioned to help bakeries, chefs and beverage makers bring those cultural flavors to their customers. In addition to its baking yeast, Lesaffre has operates other businesses targeted toward food. BioSpringer is a yeast extract business that provides flavor-enhancing products and Fermentis is a business focused on yeast for alcohol brewing.
"One of the advantages Lesaffre has as a global company is we can really plug into a lot of those geographic traditions and have significant expertise," Brenner says.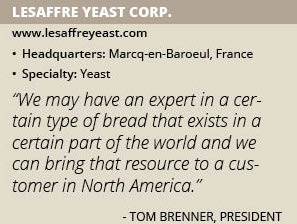 When working with a customer to develop yeast for a sourdough or rye bread, Lesaffre can pull from its experts in Eastern Europe, where those breads are most popular. "We may have an expert in a certain type of bread that exists in a certain part of the world and we can bring that resource to a customer in North America if they're focusing on that type of ethnic bread."
Much of the collaboration between Lesaffre and its customers occurs at the company's baking centers, a network of 38 facilities around the world designed to help clients develop new products and find the right yeast for their applications. "These are testing centers where we provide to our clients some troubleshooting and testing services," Brenner says. "It is also where new products are formulated and tested."
"A lot of our customers use our baking centers for innovation," Director of Marketing and Strategy Bill Hanes adds.
The North American baking center is located in Milwaukee, a convenient and central location for clients. "We try as much as possible to have proximity to our customers," Brenner says.
Customers can work directly with Lesaffre's experts at its baking centers to develop products such as a new type of sweet bread or croissant. That collaborative process changes with every customer. Some want independent input from Lesaffre on specific problems, others share their baking formulas and need help developing the product or fine-tuning a recipe. "With our expertise in yeast and ingredients, a lot of customers find our resources are very good at developing product ideas," Brenner explains.
Whether it is helping to develop a new product or troubleshoot a problem a customer is having in their bakery, consistency is important to Lesaffre. Whatever solution or recipe the company comes up with must be repeatable at the client's facility.
Each Lesaffre baking center is outfitted with the same equipment and ovens that would be found in a medium-sized commercial or small artisanal bakery, ensuring that it can accurately replicate its customers' working conditions while having the flexibility to make the small batches necessary to test products. "We have a much more testable environment in a baking center than what would occur in a bakery," Brenner says.
Family Owned
From its founding in 1853 in northern France, Lesaffre has grown to supply about one-third of the planet's commercial yeast supply. Roughly a billion people each day eat or drink a consumer product that uses Lesaffre yeast as an ingredient, from pastries to beer.
The challenge of fulfilling the global demand for yeast brought Lesaffre to the United States. The company had been selling its Saf-Instant Yeast in the United States and Canada since 1976, but the product was imported from France. To provide better service, Lesaffre needed to be close to its customers. It eventually opened a production facility in Dothan, Ala., and began manufacturing yeast in the United States for bakery foodservice customers.
The company strengthened its position in the United States in 2001 when it purchased Milwaukee-based Red Star Yeast, which produced yeast for commercial products, bakeries, foodservice and nutritional supplement customers. Five years later, Lesaffre opened a state-of-the-art plant in Cedar Rapids, Iowa, further expanding its production capacity in the United States. Today, Lesaffre operates 62 production facilities in 45 countries and sells products in 180 nations.
Through more than 160 years of changes, Lesaffre has remained a family-owned company, enabling it take a wider view of its investments and operations. "Having our family ownership allows us to be patient, to value the long term over the short term," Brenner says. "As a company, we're very focused on our people. It makes us a great place to work because of the fact we have stable family ownership."
As a family-owned business, Lesaffre is better able to support its employees and create a more productive work environment, Hanes declares. "It's really created a very tight culture where people who have worked together a long time are actually close," he says. "I think that's hard to replicate in the corporate world."
Clean Label
The ability to take a longer view of the market has helped Lesaffre adjust to changing food trends. Better dietary awareness and a move away from gluten has impacted sales for traditional breads. At the same time, food quality and natural trends such as clean label have become more prominent, creating room for new kinds of breads to thrive. "While we see in some categories bread consumption not increasing, we also see a trend toward artisanal products," Brenner says.
Much of the problem-solving Lesaffre has done in the past few years has centered on clean label. Customers are working toward using more natural and organic ingredients. As they remove artificial components from their formulas, they need help developing substitutes that will result in a similar taste profile. Customers are paying more attention to product packaging than ever before and it is a turnoff for consumers when the label shows a list of ingredients with chemical-sounding names. "I think people want ingredients they can identify with," Brenner says.
Lesaffre has responded to the demand for more natural ingredients by expanding its lineup of Saf-Pro and Red Star products to include replacers for common bread additives and perishable ingredients. With Saf-Pro, Lesaffre uses yeast and natural enzymes to improve the dough to add flavor and enhance processing, making it a suitable alternative to artificial reducing agents and sulfites. Other Lesaffre products replace additives to reduce staling or inhibit mold growth to extend shelf life. "We actually can offer products that are made of yeast that do the same job," Brenner says.
To support its move into clean label and organic products, Lesaffre is expanding its facility in Cedar Rapids, where it produces both active and inactive yeast derivatives. The expansion, which will be completed in early 2018, will enable the company to formulate and blend baking ingredients, while bringing over some products it is already manufacturing in Europe to be closer to North American customers. Those products include natural mold inhibitors and yeast types that extend the shelf life of bread or improve the performance of dough. Having that production capability in North America improves Lesaffre's responsiveness to its customers. "The main purpose of that facility is to bring new products to market," Brenner notes.
The facility isn't necessarily aimed at expanding Lesaffre's customer base; rather, it will improve the resources the company can offer its existing clients. "To be a good yeast provider, we've had to develop a lot of technical expertise in our customers' products," Brenner says. "This leverages that expertise and those relationships, and offers more solutions to the existing customer base."
With the facility addition and a new batch of products aimed at clean labeling, Lesaffre Yeast continues to follow the beliefs that have made it successful for more than 160 years. "We've been able to grow by taking care of the customers, by succeeding at solving their problems and being a valuable resource," Brenner says.