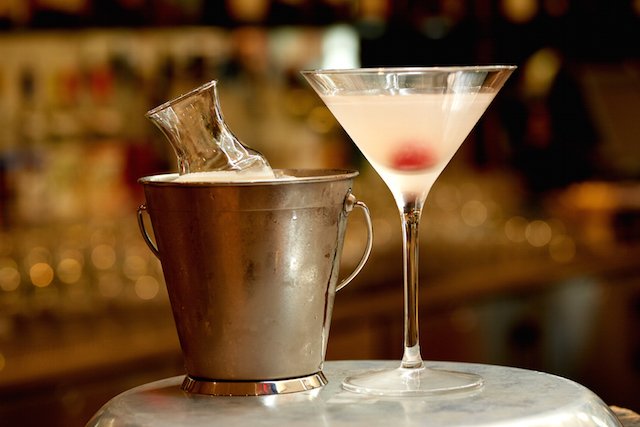 Lessing's Inc. has thrived for more than 125 years by diversifying its foodservice portfolio and taking a hands-on approach to customer service.
In 1890, Maxwell Lessing saw a business opportunity in providing food and other supplies to lower Manhattan's then-burgeoning coffee shops and lunch counters. The business, Lessing Food Service Management, proved to be so successful that by 1920 it was serving meals to New York City workers in 20 locations – including the famous Woolworth building – from a central bakeshop and commissary.
Although many of the company's original coffee shop and lunch counter customers are long gone, the family's business has continued to thrive. "We have the ability to find the yes in every situation," says Michael Lessing, President and COO of Lessing's Inc. "We don't take survival for granted – we've been around for more than 125 years because we have the ability to adapt to market situations very well." Currently, there are 15 members of the Lessing family involved, including Michael's father, Lawrence, who serves as a senior advisor, and his son Michael Jr., who recently joined the business, representing six generations total.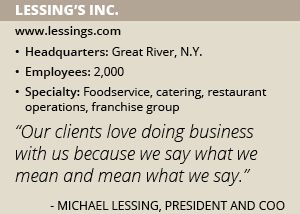 Diverse Operations
Today, Lessing's Inc. serves over 40,000 guests per day at over 100 corporate, educational, country club, and manufacturing plant locations throughout the Northeast within the company's foodservice management division. Lessing's Inc. also operates 15 high-end wedding and catering venues, nine full-service restaurants and a historic hotel built in 1751. Most recently, the company added a new division to its roster when it entered into a franchise agreement with Blaze Fast-Fire'd Pizza, forming the Lessing's Franchise Group. Blaze offers made-to-order pizzas from fresh ingredients prepared within three minutes. To date Lessing's Inc. has opened five Blaze locations, with five more scheduled to open next year. Michael Lessing notes that the company was one of the first franchising groups to sign with the concept, which has 160 locations nationwide. He also adds that the company's diversity across different segments of the food industry allows it to manage and overcome seasonal swings felt throughout the industries.
Clients and customers served by any of Lessing's Inc.'s divisions can expect a personalized approach to service. Lessing family members are scattered throughout the company's divisions and are all very accessible. "Our clients love doing business with us because we say what we mean and mean what we say," Lessing says. "We are "old school", a handshake still has meaning for us, our word is everything."
'Remarkable Hospitality'
Lessing's Inc.'s front-line employees play a key role in client satisfaction. "A large part of our company culture surrounds our staff," Lessing says. "We believe that if you treat your employees right, they become your best brand ambassadors to go out and represent you well to your customer base."
Servers are regularly trained in customer service and other industry trends such as gluten-free menus and sustainability through the company's in-house Lessing's University. The company also recently placed 250 of its key employees and managers in the Hospitality Quotient program, created by New York restaurateur Danny Meyer's Union Square Hospitality Group. The program included seminars and speakers who reinforced Lessing's Inc.'s mission of "enhancing our legacy of remarkable hospitality."
Lessing's Inc. regularly recognizes the work of its employees in a variety of ways, including an annual awards program and scholarship program. Each Lessings venue proudly showcases a "#CaughtBeingRemarkable" white board wherein employees' names are written for "doing something remarkable," Lessing says. These employees are given gift cards and also recognized in the company's newsletter.
'Sustainable and Prosperous'
Lessing's Inc. continues to seek ways to engage and grow its customer base, including maintaining a strong social media presence and working with user-generated review sites such as Yelp and Tripadvisor.
The company's in-house business development department continually keeps busy looking for new restaurant locations. The company typically seeks historic buildings in downtown areas for its restaurants, and is always looking to acquire additional catering venues. "We have our team looking at the right acquisitions that will give us strategic footholds in our territories," Lessing says.
Growth across all of the company's divisions is a high priority of Lessing's Inc. "Our goal is to continue our 125-year tradition of excellence; we want to continue to grow the company and make it sustainable and prosperous for many generations to come," Lessing says.