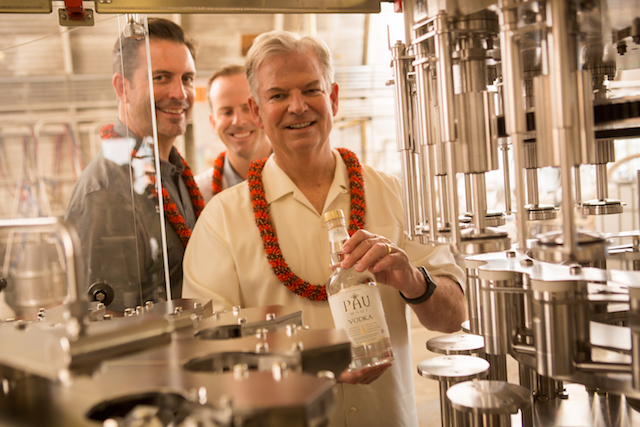 By looking for opportunities the market provides, LeVecke Corp. expects to maintain its strength for another 70 years, at least.
LeVecke Corp. is in its fourth generation of family leadership, and that is remarkable not only for a family company, but also for an operation in the beverage industry. The secret to LeVecke Corp.'s success is that it abides by specific values and tenets to ensure it remains competitive, while always supplying the market with high-quality spirits. Its success also has a little something to do with ego, or the company's lack thereof.
"We've been around for close to 70 years, and when you look at the history there is really no arrogance here," CEO Neil LeVecke says. "We really listen to our customers and focus on where the market is going, instead of dictating where it should go. We succeed by listening and really understanding our customers and the market. Many companies think they know it all, but if you focus the market provides that information for you."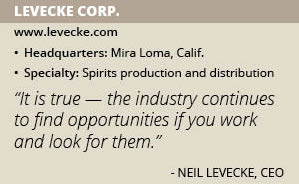 President Joe LeVecke, Neil's nephew, explains LeVecke Corp. succeeds because of its willingness to change and adapt – again, with a lack of ego. "A lot of family businesses get caught up in how their grandfather did things, but that's not scalable because consumer buying always changes. We are always willing to change and find there are no bad ideas. We encourage all of our employees to come up with ideas to ensure this is an interactive, creative and fulfilling environment. We work really hard to leave egos at the door, and that allows for a more open discussion and open leadership style."
LeVecke Corp.'s adaptation to the market has enabled it to become one of the largest spirits producers in the world. It started in 1949 in Los Angeles as a beer distributor in the Southern California market, added wine distribution in the 1950s, and in the 1960s it was encouraged to start manufacturing distilled spirits. At this time, while the vast majority of its business is in manufacturing for the private-label business, LeVecke continues to import beer and wine and distribute in Southern California.
Always Adapting
As LeVecke Corp. looks to its next 70 years of existence, it is taking a three-pronged approach to adapt to market changes: quality, branding and innovation.
"Our quality systems have led the industry in terms of private bottling, and we helped council two of the largest wine companies in the country on quality in the last few years," Joe LeVecke says. "We have GFSI certification, SQF level two and we are working on level three, and we have every accreditation you can imagine, so we are primed to bottle for any customer requirement."
Another part of LeVecke Corp.'s focus on quality is vertically integrating its operation. The company owns a micro distillery on the island of Maui, and from there launched the PAU Maui Vodka brand, which is the only vodka in the world distilled from pineapples. About five months ago, LeVecke Corp. completed the acquisition of Maui Gold Pineapple, which is the only pineapple farm on that island.
In terms of branding, LeVecke Corp. is dedicated to building from the inside out – of the bottle. Instead of focusing on packaging first, LeVecke Corp. wants to build its customers base because of the liquids inside. "We really like where the brandy category is going, as well as gin, and we are heavily invested in the Hawaii operation," Joe LeVecke says. "It is really a great effort to go to a farm and have a pineapple that grows and then distill it in vodka and gin and see it on a shelf in New York City within 18 months."
As for innovation, the company is excited about what the market is bringing to the table. With micro distilleries opening all the time, and each of them bringing something new to the market, there is a lot of opportunity for LeVecke Corp. The company sees ideas in health products, frozen products and canned products, and is spending a lot of time researching and investing to get into the right products for its business.
"It is true – the industry continues to find opportunities if you work and look for them," Neil LeVecke says. "We are in our third and fourth generations of family leadership, and we continue to add great family members and integrate our family into our market and our culture. It is important for us to build a great team across the globe, and the proof is in the bottle, but also in our people. It really is a privilege to work with my brother and four nephews. We keep it simple, we just like to hire smart."