LifeLine Foods looks to broaden its product offerings to meet increased consumer demand.
LifeLine Foods continues to reinvest in its facility. The installation of state-of-the-art equipment and the construction of an additional specialty mill will allow it to produce dry mill ingredients consistently and at a quality President and CEO Kevin Kelly says is unmatched in the industry.
"We are focused on manufacturing and investing here in the plant to meet the volume demand," he says. "Corn has a significant advantage over other grains and is an ingredient being used more by CPG companies, snack manufacturers and as an ingredient to recipes. We see dry corn mill products continuing to grow each year and we want to be part of it."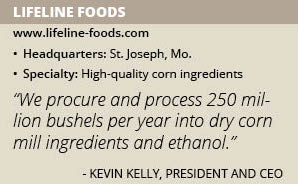 Located in the southern end of the Corn Belt in St. Joseph, Mo., the company began in 1996 when progressive corn producers from the central United States formed AgraMarke. In 2001, the group of farmers acquired the 750,000-square-foot manufacturing facility in St. Joseph and formed what is now known as LifeLine Foods. "They modified the building into one of the premiere dry corn milling facilities in the country," Kelly says.
Today, 650 progressive farmers from Missouri, Kansas, Iowa and Nebraska own one-half of LifeLine Foods and ICM Inc., a leading ethanol engineering firm, owns the other half. This level of vertical integration combined the talents and visions of the farmers with a processing facility capable of producing high-quality food ingredients.
"Our progressive farmer owners have been motivated for years to improve productivity and environmental quality on their family farms," Kelly says. "Our recent membership in Field to Market provides us with the opportunity to fully engage in the dialogue, showcase our farmer-owner practices and continue to evolve and improve our sustainability efforts."
'Further Innovation'
LifeLine Foods purchases, transports, processes and delivers corn ingredients to buyers in domestic and international markets. Several years ago, the company focused on where it could add better value in the marketplace and found quality and consistency to be key.
In 2014, LifeLine Foods completed an $8 million upgrade to the corn mill built by Swiss-based Buhler. The company upgraded all of the milling equipment from the entry point of dry corn to the finished product. The USDA-certified facility is state-of-the-art in terms of testing, quality assurance and safety.
"We quickly realized after four years we were sold out and now we have another expansion on the way to increase capacity and allow for further innovation," Kelly notes. "Today we are in a 750,000-square-foot facility, which is a very large, possibly the largest, corn mill in the United States in terms of square footage. We procure and process 250 million bushels per year into dry corn mill ingredients and ethanol."
To meet new consumer demands, LifeLine Foods is building an $8 million specialty corn mill adjacent to the current mill. Construction is underway on the 10-ton mill and is expected to be completed by the end of the year. "It will be a smaller-scale mill that has rapid changeover and runs a lot of smaller sizes," Kelly explains. "In milling, volume is king with heavy asset usage. What we have done is set up a smaller, specialty mill to get into more products and sub segments with a wider variety of offerings to broaden our appeal to specialty ingredient manufacturers."
LifeLine Foods has historically focused on carrying out requests on behalf of larger customers rather than small niche customers. With the addition of the specialty mill, the company will focus more on non-GMO, organic and whole-grain products to remain competitive.
"It is small in size but focused on fast-growing segment and we will be at the forefront in supplying those corn ingredient needs to our customer base," Kelly says. "Our focus now is on the specialty mill and bringing it online as soon as we can at the end of the year. Our product work and innovation is geared toward that and its is really where we are putting our energy."