Lion's Choice has reinvigorated its brand while staying true to its longtime values.
When guests dine at Lion's Choice, they can feel confident they are enjoying food that its employees are proud to serve. "We use those same ideals and same vision that our founders had back in 1967," CEO Michael Kupstas declares.
This includes serving full muscle roast beef that is cooked in its stores for three hours every day and sliced fresh to order, along with French fries that are naturally cut from Idaho potatoes. "The products that were used to define the brand are still in play today," he says.
Based in St. Louis, Lion's Choice operates 30 locations in Missouri, Kansas and Illinois. Its founders, Kupstas explains, were executives for Monsanto and IBM who wanted to enter the restaurant industry.
"They thought it would be great to create a concept that would allow families to go out and eat food like Mom would prepare," he explains, noting that the two settled on its medium-rare, sliced roast beef as the flagship product for Lion's Choice.
Today, its roast beef and fries represent two of its product pillars, which also include its Sauce Bar. Guests can select from a variety of sauces to place on their sandwiches, including horseradish, Chipotle Ranch, BBQ and its signature Au Jus sauce.
"Our guests have come to create their own sauces with a dab of this and a pump of that," Kupstas reports, adding that this inspired the sauce for its Butcher Block sandwich, which features ham, turkey and roast beef. "It's a combination of horseradish and honey mustard."
The fourth pillar, he notes, consists of its custard. "We serve an incredibly delicious custard product and offer it in a mini cone for 25 cents," he reports,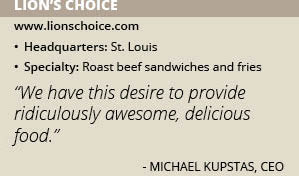 adding Lion's Choice has won awards for its work.
This has included Thrillist naming Lion's Choice as one of the "15 Midwest Restaurant Chains the Entire Country Needs," as well as Riverfront Times naming it St. Louis' "Best Chain Restaurant" in 2014.
A New Look
A longtime veteran of the restaurant industry whose experience includes McDonald's, Red Lobster, Long John Silver's and Nature Valley, as well as 18 years with Panera Bread, Kupstas joined Lion's Choice in 2017. He notes that its owners, Millstone Capital Advisors, saw potential to grow the concept beyond a local brand.
"[They believed] it had the opportunity to be regional, if not bigger, and made investments in people and infrastructure to help do that," he recalls, adding that Lion's Choice recently opened locations in Kansas City, Kan., and Kansas City, Mo.
It also took steps to update itself as a brand. "We have this desire to provide ridiculously awesome, delicious food," he says, but notes that Lion's Choice also wanted to establish itself as part of its local communities, with environments that acknowledge the Midwest region.
"We built a new prototype design that gives a bit of the nod to the '60s where we came from, but takes us to current rustic and makes us real relevant to consumers today," he says, noting that features a slick, clean design and acknowledges the four product pillars.
Successful Steps
In the last year, Lion's Choice has introduced online ordering, which has been a very successful initiative for the company. "You've got to address the needs of a moving, fast-paced customer base," Kupstas says.
The company also is venturing into delivery services with partner DoorDash. "We've been into it for about a month, and have seen that be successful," he reports. "We're expanding that to all of our stores."
Lion's Choice also is continuing its shift towards drive-thru service, which has resulted in its new prototype being smaller than the locations it has previously built. "We're seating people but our drive-thru business in some stores can exceed 60 percent," he says.
The firm also invested in its infrastructure with the installation of a new back office system. "It allows us to look at information quicker and make decisions faster," Kupstas reports. "We're also in the process of looking to convert our POS systems in stores."
Embracing the Changes
Kupstas is proud of how Lion's Choice's team members and managers have embraced its changes. "All of this would be unsuccessful if we didn't have a group of individuals that rallied behind it," he declares. "We've re-energized and reinvigorated the brand."
He sees a strong future for Lion's Choice, which plans to enter more markets. "We want to enter a third market in the next 18 months, proving we can be something more than a St. Louis brand," he says. "I see us expanding and growing, providing an opportunity for our team members to achieve more."