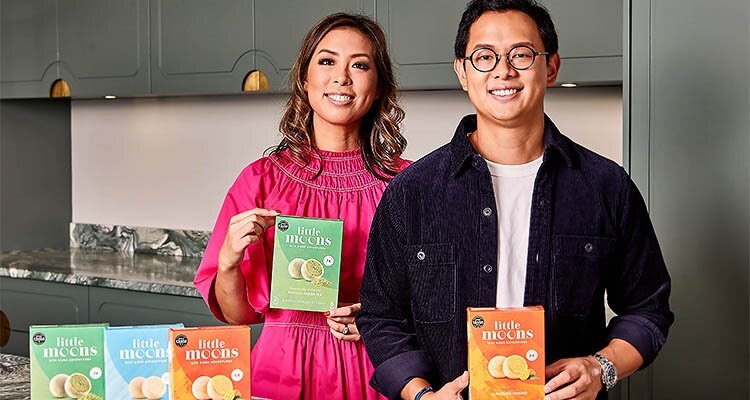 Little Moons' ice cream mochi balls are taking the industry by storm 
A deliciously sweet, soft, and chewy rice flour dough, followed by creamy, deliciously intense gelato ice cream. If you've had the pleasure of trying one of Little Moons' bite-sized mochi balls, you'll be familiar with the sensational tasting experience.
Unlike any other product on the market, the unique mochi balls have taken the industry by storm. With a strong social media presence, Little Moons was a TikTok sensation that exploded into the mainstream during the pandemic-induced lockdown in 2020. Reporting 85.5 percent growth over the last three years, Little Moons is one of the fastest-growing businesses in the UK.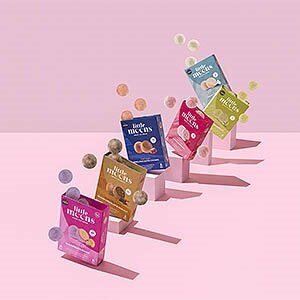 Beyond its social media fame, the story behind the business is truly inspiring. Set up by two siblings, Howard and Vivien Wong, using their life savings, Little Moons began in 2010 with a mission to create little moments of joy and bring smiles to people's faces. It is certainly achieving this, with products in 28 international markets, turnover reaching £50 million in 2022, and even celebrity fans on board, including Harry Styles and Kendall Jenner.
Passion for great food
We're lucky enough to sit down with Howard to discuss what makes Little Moons unique, as well as the motivations behind starting the company and its rapid growth over the last 12 months. "Our family ran a small bakery specializing in Asian patisserie, so we've always been immersed in a culture of passion for great food," he begins. "We spotted an opportunity to elevate mochi by combining it with artisanal ice cream and refining the recipe to give it a broad appeal.
"So, after working as financial analysts for several years, we decided to launch Little Moons with the aim of creating a bold, beautiful, and colorful brand that brings mochi to a mainstream audience. We had observed the rise in popularity of Japanese cuisine but recognized that no one knew much about the dessert options from Japan.
"We initially started by supplying restaurants across Europe, but as word spread amongst the chef community, consumer demand rapidly increased," he recalls. "We launched into the grocery channel in 2015, and since then, we've grown to supply most major supermarkets in Western Europe and our team has expanded to over 300 expert mochi makers.
"We produce everything in-house in the UK and we've grown to be the region's seventh biggest ice cream brand and the number one for vegan ice cream. We have decades of experience and aim to make the best mochi ice cream in the world; we put a lot of emphasis on the product to ensure every item we launch tastes fantastic."
Sorbet sister
Today, its portfolio includes over 15 flavors, varying from Tropical Passionfruit & Mango and Golden Blond Chocolate to Honey Roasted Pistachio and even Uji Matcha Green Tea. As the business has grown, it has introduced new products like on-the-go packs and premium sorbet mochis.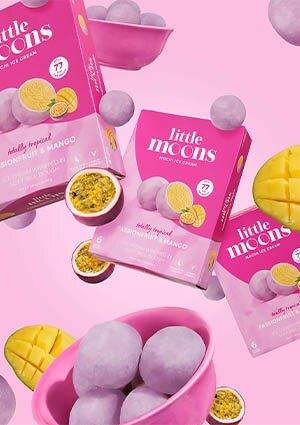 "Our products tap into the unmet demand for ice cream in a portion controlled snackable format," Howard explains. "Snacking hit most categories of food, but I believe we were the pioneers in ice cream snacking. We have an amazing, ambitious team here, that aim to delight in everything we do from the taste of our products to the look of our packaging and doing fun marketing activations.
"In fact, our marketing focus has really helped to build awareness of not only Little Moons specifically, but also mochi ice cream more generally. We were pleasantly surprised by the scale and international reach of the business, and overwhelmed by how quickly awareness of food trends can spread due to the rise of social media."
As pioneers in the ice cream snacking market, Little Moons is constantly launching new products that capture the demands of modern consumers. "Innovation is in our DNA," states Howard. "We've recently launched an HFSS-compliant range of sorbet Little Moons called Refreshos, for example, which are proving very popular so far."
Available in two flavors – Very Berry and Pineapple and Mandarin – the Refreshos are described as the excitable sorbet sister to the original ice cream mochi. Aside from their vibrancy and fruity flavors that promise to transport your tastebuds, Refreshos come with an added bonus – they're vegan!
"We've showcased a number of exciting developments this year, including a new, limited-edition flavor, Sweet and Salty Popcorn, and a range of on-the-go packs to meet the consumers' impulse occasion," Howard reveals. "Over the summer, we toured UK cities like Birmingham and Manchester in our ice cream van to provide an opportunity for people to sample our delicious mochi.
"We partnered with Ambassador Theatre Group earlier this year to offer Little Moons during the intervals of shows like The Lion King, Pretty Woman, and Wicked. Also, we have retail sites at Selfridges in London and Westfield White City, which are a great way for us to increase brand visibility and give consumers the chance to experience the brand in a physical store.
"Beyond new products, we are constantly looking to tweak our production methods to create the best possible mochi ice cream. In our core range, we reformulate recipes when we think they can be improved and we're constantly taking inspiration and ideas from our travels around the globe.
"Historically, we have intentionally remained very focused on our core offering, as we believe it has a lot of headroom for growth," he continues. "While we don't want to distract from our main product, mochi, we have lots of concepts ready to develop when we feel the time and opportunity align."
Snacking sensation
Moving to a different topic, sustainability, Howard details: "Our sustainability focus historically centered on sourcing renewable electricity to power our factory and making our packaging as recyclable as technically possible. However, as our knowledge on sustainability has deepened, and our business has grown, we recognize the need to act on our broader people and planet impact, up and down our value chain. Two of our main objectives this year are to submit our B Corp application and to complete our baseline carbon footprint. Crucially, we're bringing the whole team on our sustainability journey by running a sustainability training program.
"We've always had an international outlook with more than 50 percent of our revenue coming from outside of the UK," he explains as our conversation draws to a close. "Our plan is to continue strengthening our European base and deepening distribution within the continent while carefully exploring further afield. We've recently signed new distribution agreements in the Middle East and the Nordics, for example, and our product will soon be available in Singapore and Hong Kong.
"We hope to launch exciting new products as opportunities arise that not only please our existing customers but also introduce new consumers to the ice cream snacking category," Howard concludes. "Overall, our main aim is simply to continue delivering joy through Little Moons."