Restaurants are always looking to increase business during slower times, while consumers are always seeking a good deal. LiveDeal, what the company refers to as the world's first deal engine, is a real-time, online marketplace that connects consumers and local restaurants through the offer of live limited-time deals.
"LiveDeal was reverse-engineered, as we have a background working with daily deal companies nationwide on the procurement side," CEO Jon Isaac says. "We created LiveDeal because we found that the daily deal companies give restaurants what they don't need. They send traffic to restaurants when they don't need it, it takes 60 to 90 days for them to cut a check back to the restaurants, and they send the wrong amount of traffic almost every time."
LiveDeal traces its roots in the online marketing industry to its start as YP.com, the first company to bring the print yellow pages to the Internet in 1994. It moved into the online classifieds business in 2007. Today it provides local customer acquisition services for small businesses through its two primary wholly owned subsidiaries, Velocity Marketing Concepts and Local Marketing Experts. The idea is to offer an affordable way for businesses to extend their marketing reach to local, relevant customers via the Internet and mobile devices.
The company now offers various search engine marketing, website, business syndication and other services as part of its InstantAgency suite of products. Velocity Marketing Concepts and Local Marketing Experts offer these marketing solutions to small business customers to help them grow their companies and find success online.
The real breakthrough for the publicly traded, Las Vegas-based company came in September 2013 when it announced the launch of LiveDeal.com. It redefined the company's strategy to focus on the new LiveDeal.com platform and the restaurants that would use it to bring in new customers.
Connect to Consumers
At its core, the idea behind LiveDeal.com is to be a real-time deal engine that connects merchants with consumers. LiveDeal.com is a first-of-its-kind web/mobile platform. It provides restaurants with full control and flexibility to instantly publish customized offers whenever they wish to attract customers.
LiveDeal.com includes a user-friendly interface that allows restaurants to create limited-time offers. These offers can be published immediately or according to a preset, customizable schedule. Through its state-of-the-art scheduling technology, LiveDeal.com gives restaurants the ability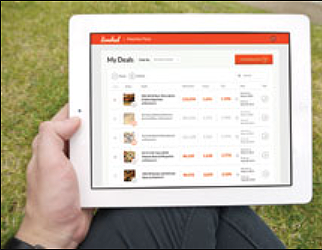 to choose the days, times and duration of the offers. This means they can create offers that might appeal to consumers during slow periods.
"We are able to segment when restaurants need traffic and create deals based on occupancy rates," Isaac says. "Time segmentation is an important factor that sets us apart."
In addition, advanced publishing options allow restaurants to manage traffic by limiting the number of available vouchers to consumers. LiveDeal.com's geolocation technology also allows multi-location restaurants to segment offers by location.
LiveDeal.com strives to be easy to use for consumers, too. It features a user-friendly mobile and desktop web interface that allows consumers to easily browse, download and redeem live offers.
"We have a free-mium model where consumer select a deal and transact directly with the restaurant," Isaac says. "They don't have to put their credit card information on our site. Our user base is growing on a daily basis. We are very good at curating deals, which is helping us see high user adoption."
LiveDeal plans to grow by bringing in revenue through premium placement on the site while looking for other ways to monetize the website.
"We make money by allowing restaurants to post deals as sponsored ads and get them at or toward the top of the site," Isaac says. "We are seeing a lot of organic growth and some virality on social media."
Beyond the LiveDeal.com website, Apple and Android apps launched earlier this year. Each features fast and intuitive navigation and geolocation capabilities. Users can select and browse deals by zip code, city name, restaurant name and deal description. The apps are supported internationally, so users can view deals posted by merchants in any location.
In addition, LiveDeal has a self-service dashboard it calls DealCentral, which the company says is the first online deal portal of its kind. This is where restaurants can log in and create or modify deals instantly on their own. The dashboard is available to any restaurant in any market. The 24/7 online deal portal allows restaurants to create, modify, pause, play and publish offers and deals based on real-time business conditions. It also allows restaurants to specify the maximum number of available vouchers.
Moving Forward
After launching first in San Diego with 500 participating restaurants, the company quickly moved into additional cities around the country. It first moved into Los Angeles, San Francisco and New York, and it has expanded its restaurant procurement team to hasten expansion and establish livedeal.com in the top 20 cities in the United States. Expanding its deal procurement team has allowed the company to add restaurants in cities across the country and make the platform available to more of the U.S. population.
"In many cities, we have more deals than the daily deal sites," Isaac says. "In San Diego, for example, there are 5,000 restaurants and around 1,300 are signed up with us. Our reps sign up five to 10 restaurants every day. We are also seeing a lot more inbound traffic with restaurants calling us or signing up online on their own."
In March, LiveDeal announced that its user traffic had increased by 42.8 percent, voucher redemption increased by 44 percent and mobile usage increased by more than 154 percent compared to the previous month.
The expansion of demand led LiveDeal's management to speed up the development of an updated LiveDeal platform in search of national and international growth. In March, the company began to reengineer the LiveDeal mobile marketing platform and make it available internationally.
Ultimately, LiveDeal.com stands apart from daily deal sites by solving issues such as high costs that erode margins, delayed revenue collection for merchants and poor traffic management. Looking forward, the company plans to expand its user base. In addition, the company feels that its real-time, merchant- and consumer-friendly model will be able to serve merchants outside the restaurant sector.
For now, the company is putting money back into its technology to support growth. It has a full internal team of back-end and front-end developers and designers, including Apple and Android developers. LiveDeal plans to continue to expand throughout the United States while also looking for opportunities to expand into Canada and beyond.
"We are attempting to solve supply and demand issues for restaurants," Isaac says. "Right now, our biggest challenge is to sign up as many restaurants as possible in the U.S. and around the world. The content on the site will market itself, although we will be starting a TV campaign. We want our cost of acquiring users to be low because the content will drive the users. As the brand grows and becomes more popular, we can be a part of improving communication between the consumer and the merchant."