LM Restaurants continues to develop new restaurant concepts in the Southeast that it plans to roll out over the next couple of years.
Guests are treated like family when dining at any one of LM Restaurants' seven concepts in the Southeast United States. "We always talk about the legacy of what my mom and dad created with their first restaurant and we want guests to come in and feel like family," says Amber Moshakos, vice president of corporate affairs and daughter of founders Lou and Joy Moshakos. "Our customers are taken care of like guests in my parents' home and we strive to recreate that feel in all of our concepts."
Lou and Joy Moshakos founded the Raleigh, N.C.-based hospitality company in 1978, and Lou recalls it happened by accident. "I was in the cleaning business in Montreal and before that I was in the restaurant business for a while," he remembers. "We immigrated to south Florida and I wanted to get into commercial cleaning, but there were no high-rise buildings there at the time. We started looking into restaurants and found this place, Seafood Shanty, that was a 48-seat restaurant. That little place got us started. I was in the front taking care of guests and Joy was in the kitchen cooking. We made it happen."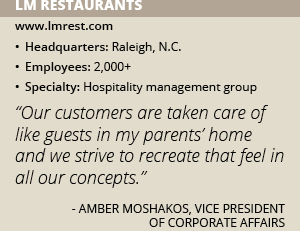 Today, LM Restaurants oversees seven restaurant concepts: Vidrio, Bluewater Waterfront Grill, Hops Supply Co., Taverna Agora, Carolina Ale House, Oceanic and Henry's. The family owned company prides itself on offering scratch-made food and local craft beer, as well as being deeply rooted in all the communities where it is located. "The biggest portion of our business is Carolina Ale House, which is a family-friendly sports bar concept," Amber Moshakos notes. "Lou couldn't find good Greek food here in Raleigh, so he started Taverna Agora as part of our signature brand."
Broadening its Concepts
Celebrating 40 years in business next year, Lou Moshakos says 2018 will be exciting as LM Restaurants plans to open three new dining concepts. "As a company, we are going back to our finer dining roots with two new properties on the Pompano Beach pier," Amber Moshakos says. "That area of the pier is getting revitalized and we will have a three-story, fine dining location on one side and a beach bar and more casual concept on the other side."
The company is in the permitting process for its fine dining location and in the design phase for its beach bar concept. In Fort Lauderdale, Fla., LM Restaurants is building a new concept inside a condominium building that it plans to open in 2018. "We will be on the first floor of the condominium building which overlooks the beach. It has breathtaking views," Amber Moshakos explains. "This will be a higher-end and chef-driven restaurant."
This year, LM Restaurants launched its seventh concept, Vidrio, a fine dining, chef-driven and progressive restaurant in downtown Raleigh. "We have a wine tap system there that can hold up to 50 varietals," Joy Moshakos says. "The great thing about the tap wine system is that it's eco-friendly and reduces the carbon footprint because you don't have the boxes and bottles. Plus, it provides the guests a much higher-quality wine because we can offer these really expensive wines at an affordable price."
Elevated Experience
Last fall, LM Restaurants launched its 100 percent guest responsiveness program where instead of using secret shoppers it started listening to its customers through seven online channels. By having an active presence on Yelp, Facebook and Twitter, for example, the company can communicate with its guests more quickly. "The response we have gotten is that people don't expect to get a response from us," Amber Moshakos says. "This is a great opportunity to exceed expectations when they have had a bad experience and also respond when they have a good experience."
To ensure the quality of each guest's experience, LM Restaurants developed its Carolina Hospitality program two-and-a-half years ago that it uses to train its employees. "The guest is king," Lou Moshakos adds.
Hiring for attitude is key at LM Restaurants. "I can teach them to be a great server, but I can't teach them to love people," Amber Moshakos says. "When doing interviews, we are looking for their propensity for taking care of other people and liking other people. Do they smile with their eyes? Lou calls the stores and call tell over the phone if the hostess wants to be there or not."
Moving forward, LM Restaurants will focus on continued growth by seizing prime real estate opportunities such as the properties it found in south Florida. The company is also developing a European-style bakery that it plans to open in Raleigh in 2019. "It's fun and exciting to continue to grow and our focus will remain in the Southeast for now," Amber Moshakos says.