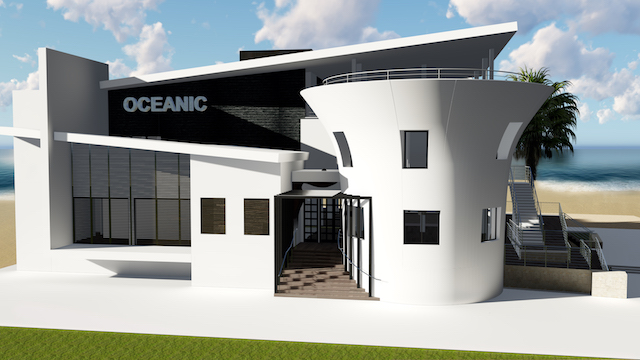 LM Restaurants is celebrating its 40th anniversary this year and returning to its Florida roots with the development of three new restaurants.
As the landscape of the food industry continues to change, LM Restaurants focuses on getting customers back into the restaurant because "that's where the heart is." "How do we entice people to bring them into our restaurants?" co-founder Joy Moshakos asks. "We give them a great experience."
Forty years ago, Lou and Joy Moshakos, founded the Raleigh, N.C.-based hospitality company. "It's exciting for us our 40th anniversary and it's almost like these 40 years have come full circle," Joy Moshakos says. "We started in Florida, went to North Carolina and now we are back in Florida and excited about our three new projects."
Lou and Joy Moshakos' daughter, Amber Moshakos, has been overseeing the family owned and operated company over the past few years, and was named president of LM Restaurants earlier this year. "Mom and Dad are still involved in the business and they haven't retired," Amber Moshakos says. "As a family, we are very passionate about what we do and work is not work – it's fun. It's interwoven into our daily lives. Family dinners are executive meetings and strategic planning sessions."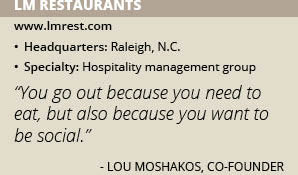 Next year, LM Restaurants will reach a second momentous milestone as Carolina Ale House celebrates its 20th anniversary. "When we talk about this industry and how you see restaurants open and close daily and move in and out of communities, there's something to be said about a hospitality company that's 40 years old with a brand that's about to celebrate 20 years," Director of Brands Katherine Goldfaden says. "It speaks to the success and dedication of the Moshakos family. This is their life and what they talk about around the dinner table."
Building a Legacy
Today, LM Restaurants oversees seven restaurant concepts: Vidrio, Bluewater Waterfront Grill, Hops Supply Co., Taverna Agora, Carolina Ale House, Oceanic and Henry's. Last year, LM Restaurants launched Vidrio, a chef-driven and progressive restaurant in downtown Raleigh. Vidrio features a wine tap system that can hold up to 50 varietals.
"We just won our second Wine Spectator's Award of Excellence, so in our industry the tap wine system is well received, and guests are thrilled with it," Amber Moshakos says. "Each wine season we release flights for tasting opportunities and we continue to develop programs around the wine tap system."
Joy Moshakos adds that the wine tap system speaks to LM Restaurants' dedication to sustainability and the company's philosophy to be friendlier to the earth. "It saves on waste from bottles and corks, and it's a superior quality product," she says. "This is how wines will be served and developed. More wineries are agreeing with this philosophy and expanding the selection."
The focal point of the 13,500-square-foot space is a stunning dining room wall that features more than 750 handblown glass bowls and orbs. Doug Frates, the artist behind the glass masterpiece, used silica from Italy to craft the vibrant orbs, which are designed to inspire visions of Mediterranean sunsets over crystal-blue waters.
Returning to Florida
LM Restaurants is developing Oceanic at Pompano Beach that the company says will deliver breathtaking views and become a destination in the Florida city. The oceanfront restaurant design is inspired by an ocean liner, offering indoor and outdoor seating, as well as a private event space on the second floor.
"The top floor will become a destination wedding location," Joy Moshakos predicts. "It will be a great place to have any kind of function, offering full-service dining, entertainment and state-of-the-art technology."
LM Restaurants expects Oceanic at Pompano Beach to open in March. "The city of Pompano has gone through a redevelopment program and is looking for places to become destinations, which is what we envision for Oceanic," she says. "We will be the big anchor as the entrance to the pier."
On the south side of the pier, LM Restaurants is developing a second restaurant, Lucky Fish Beach Bar & Grill. "That will be a casual spot where you can feel comfortable coming in beach clothes to grab a burger," Moshakos says. "We haven't fine-tuned the menu yet, but Lucky Fish Beach Bar & Grill will have more of an island feel, be comfortable, casual and symbolize vacationing on the beach."
In Fort Lauderdale, Fla., LM Restaurants is developing plans for a new concept inside a condominium building that is situated beachfront. "The developer built a beautiful high-rise condo and the ground floor he offered it out for bid, so we went in and cooked for him to show him our concept and prove we could service the condo community and the public," she adds. "He was impressed with what we have to offer, so we are working with local design firm, Jewel Tone Interiors, to fit out the interior space and it will be spectacular. We have commissioned Frates to do the art glass in Fort Lauderdale with a new theme."
LM Restaurants envisions the restaurant to have a comfortable yet elegant feel, offering a full-service, chef-driven menu from an open-concept kitchen with impeccable service. "We will have fun with the food and infuse Mediterranean flavors into the local cuisine," Moshakos says. "Like our Vidrio concept in Raleigh, it will be a sharing concept where we encourage our guests to choose from the menu together and share in the experience of exploring food and wine."
Southern Hospitality
Above all, LM Restaurants is focused on providing its customers with a great experience. The company developed a "We Care" plan to build relationships with its digital community of guests through problem solving, comment response and engagement. "Our initial strategy was to be 100 percent responsive in a 24-hour time period to their social media posts or online reviews – good, bad or neutral," Goldfaden explains. "We want to show hospitality both inside and outside the restaurant."
LM Restaurants ensures if a guest does post a negative review it works to right it immediately. "If we get a low rated review, for example, we invite them back into the restaurant to give us another change. After all, we are in a human business. After the second visit we have been able to show our true hospitality, some guests will amend their review because we showed them we were able to work through the challenges," Amber Moshakos says. "And I hope it speaks to our character how we handle mistakes."
The company strives to ensure every guest is 100 percent satisfied. "No one is perfect and there's always off days," Joy Moshakos says. "But we want to understand what we did wrong and how we can make it better. That was a big project and received positive feedback because our guests are wowed that someone is listening and picked up the phone to call them."
Delivering on Expectations
Delivery has become a major focus for the food industry today as younger generations want to stay in and enjoy restaurant-quality meals in the comfort of their homes. LM Restaurants is looking into third-party vendors to help it offer that service to a growing segment of diners who don't want to go out.
"We are working on who will deliver it, what items we will deliver, the packaging and how the food will travel," Joy Moshakos says. "That's a big challenge for the industry."
Although delivery has become a major trend in the industry today, Lou Moshakos believes there will always be a reason to go out to eat. "You go out because you need to eat, but also because you want to be social," he adds.
"The delivery trend is a new aspect of our business and it's something we have to embrace because it's the new way guests are interacting," Amber Moshakos says. "We want to get them back in the restaurants because that's where the heart is."
In addition to adapting to consumer trends, LM Restaurants continues to innovate when it comes to its restaurant concepts. For example, the company plans to open a European-style bakery next year in Raleigh. "It's in the queue behind the new projects," Moshakos says. "Lou is never retiring – he never stops thinking about new concepts, growth and innovative ways to take care of the community."