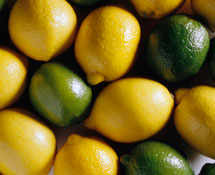 Fruit has a nasty habit of not lasting too long if it's not eaten right away, but London Fruit Inc. of Pharr, Texas, has remained fresh for more than 30 years. Partner Jerry Garcia says that's due in large part to the fact that the company hasn't allowed its relationships to spoil.
With a highly personal touch and an emphasis on customer service, Garcia says London Fruit has become a leading provider of fruit to wholesalers across the country. Its commitment to serving its customers is complemented by the company's food safety procedures and high-quality facilities.
Founded in 1981 by Barry London, London Fruit originally concentrated on distributing mangoes and limes. Since that time, the company has expanded into avocados and pineapples. Garcia says that when the United States loosened restrictions on importing fruit from Mexico about five years ago, it opened the doors for London Fruit to broaden its selection.
Even though the company has branched out into other areas of the market, London Fruit still maintains a strong position in its original categories. "Mangoes and limes are still big for us," Garcia says.
Garcia, who has been with the company since 1990, says the majority of London Fruit's customers are wholesalers, but the company does business with an increasing number of supermarkets. These customers are beginning to take notice of the company's quality fruits and vegetables, according to Garcia, and this new market is supplying the company with a lot of momentum as it continues to grow.
Regardless of who the company supplies, Garcia says London Fruit does so with the same high regard for quality and service every step of the way.
Even as the market becomes more crowded for other providers all jostling for position and trying to stand out on price alone, Garcia says London Fruit has more than enough strength to remain at the forefront of the industry.
Best of the Best
Much of the reason for London Fruit's success is its emphasis on quality, according to Garcia. At every stage in the company's processes, London Fruit strives to be better than the competition and provide customers with fruit and vegetables that are better than they could find anywhere else.
"Basically, we try to handle better quality than anybody else," Garcia explains. "We stress a higher quality, better packaging, better deliveries."
At the core of the company's operations is its 45,000-square-foot facility, where it incorporates packing, grading, cold storage and natural ripening capabilities. When it comes to preparing fruits and vegetables for shipping, London Fruit says it believes there's nothing to be gained by rushing things. It says the natural process of ripening has been good enough, and is truly the only way to ensure high-quality produce.
"We believe in only the natural ripening of all fruits and vegetables," the company says. "Ripening at room temperature allows fruits and vegetables to reach their full taste potential, maturing evenly from the inside out."
Guaranteeing the safety of the produce it supplies to customers also is a priority for London Fruit, and the company has partnered with leaders in the food safety industry to give customers peace of mind. The company says food safety has been top of mind since the very beginning.
"Since 1981, London Fruit has continued to revise and improve our system of traceability from our growers' fields to our customers' facilities," the company says.
In 2006, the company partnered with Primus Labs to use its certification process for quality control. According to London Fruit, Primus Labs recently gave the company a quality rating of 99 percent. Additionally, London Fruit uses AiroCide PPT technology, originally developed by NASA, in its cold rooms. The company says this particular technology reduces 95 percent of airborne mold and 100 percent of airborne bacteria.
In addition to the work the company does to guarantee quality within its own walls, Garcia says London Fruit also ensures quality outside of its facility. London Fruit has an employee stationed at each packaging facility it utilizes to make sure its products are being treated well and packaged to the highest standards. With the watchful eye of a London Fruit employee trained on every stage of the process, Garcia says the company can guarantee that its customers will have the very best-quality produce when it arrives at their facilities.
"We have somebody watching them pack our box," Garcia says. "We'll check every box of our products to make sure that it is to our standard."
Customer Service
Although the quality of its products is of extreme importance for London Fruits, there's more to the company's formula for success. Garcia says customer service also plays a huge role in keeping the company in a leadership position.
"We try to give service, that's our biggest thing," he says. "If someone needs us to load on Sunday, we load on Sunday."
Thanks to the company's willingness to go the extra mile, London Fruits enjoys many long-term relationships with its vendors and suppliers. "I don't think we've lost a grower or a packer yet," Garcia says. "Our sourcing is good."
Growing Steadily
In recent years, more Mexican companies have entered the American market directly, Garcia says. Although this creates certain pressures in terms of pricing, the majority of them don't have the expertise and capabilities London Fruit has.
Garcia says the company is in growth mode, and is looking to become a procurement agent for other companies. Even with the increased competition in the marketplace, Garcia says London Fruit has the flexibility to adjust and thrive, and this will prove to be the key to continued success.
"Where we see the best opportunities, we can change directions really quickly," Garcia says.