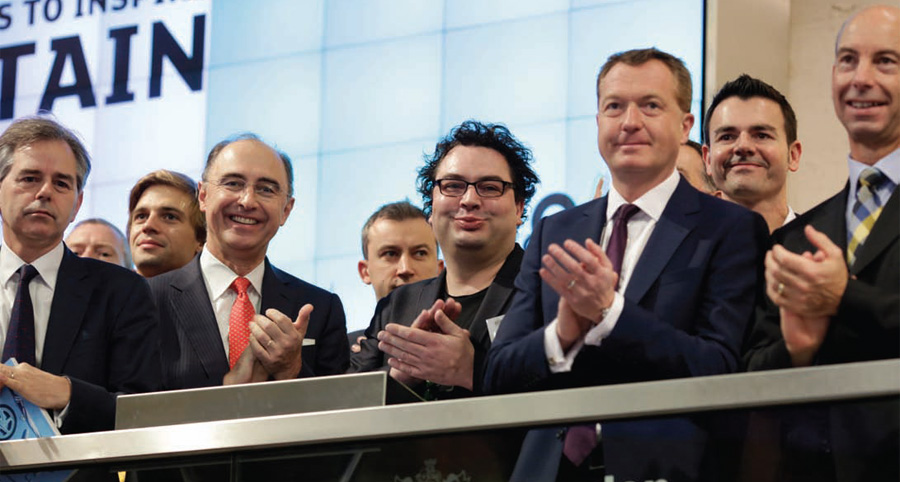 London Stock Exchange Group
Taking stock
London Stock Exchange Group (LSEG) is a world leading financial infrastructure company, built on foundations that stretch back for centuries
Tracing its roots to 1698, when John Castaing began listing stock and commodity prices at Jonathan's coffee house in the City, London Stock Exchange evolved throughout the 18th century. In 1801, it began inviting members to join on a formal subscription basis. Today, London Stock Exchange is the world's most international exchange, as nearly 2500 companies from more than 90 countries are quoted across its markets, with a combined value of £4.4 trillion.
As Marcus Stuttard, Head of UK Primary Markets and Head of AIM at LSEG began by explaining, London Stock Exchange's markets include the Main Market – London's flagship venue for equity, debt and exchange traded products, offering businesses access to Europe's most liquid pool of capital – and AIM – the world's leading market for small and growing companies. He gave more details about AIM: "Since its launch in 1995 AIM has helped more than 3650 companies raise nearly £100 billion," he said. "AIM is a tremendous success story for Britain, supporting the re-balancing of the economy away from debt towards equity and boosting access to vital growth finance for thousands of ambitious businesses. Equity funding enables companies to concentrate on innovation, growth and job creation, rather than having to prioritise serving a loan."
Marcus continued: "In June 1995, the market was launched with just ten companies and an aggregate value of £82 million. More than 20 years later, AIM is now the world's most successful and established market for growth companies. Our statistics show that in 2005, the average AIM company had a valuation of £17 million at admission and raised £5 million at IPO. This year, the average new AIM company is worth more than £95 million and raised over £30 million – these significant increases reflect AIM's international profile and the deep pool of capital available to companies joining the market."
He added: "When looking at AIM I think it is also important to take into account the impact the market and the companies quoted on it have on the real economy. Figures for the latest year available show companies who raised capital on AIM, instead of borrowing from banks, created 731,000 jobs, paid £2.3 billion in tax and contributed £25 billion alone to UK GDP."
While AIM and the Main Market are obviously hugely significant operations, they are not LSEG's only sources of business. It also operates a broad range of international equity, bond and derivatives markets, including Borsa Italiana; MTS, Europe's leading fixed income market; and Turquoise, a pan-European equities MTF. It also offers post trade and risk management services, an
extensive range of realtime and reference data products, and indexing and analytic solutions. LSEG is also a leading developer of high performance trading platforms and capital markets software, plus it also organises a range of events, as well as undertaking research projects and creating reports, which are part of LSEG's broader support for high growth companies including the business support programme, ELITE.
Examples of two such reports produced by LSEG have the aim of celebrating the fastest-growing and most dynamic small and medium sized enterprises (SMEs). The first edition of 1000 Companies to Inspire Britain was launched in 2013, and identifies inspiring companies, as well as demonstrating the continued strength of British business and the thriving entrepreneurial spirit taking hold across the country. 1000 Companies to Inspire Europe was launched in 2016 – Marcus explained that this report is designed to shine a light on European growth companies and the role they can play in driving economic growth in Europe. "If properly supported, we believe these companies will create high-quality jobs and economic growth. Across the Euro area, SMEs are responsible for two-thirds of jobs and 60 per cent of value added to the business economy," he stated.
When creating these reports, LSEG ensures that the requirements that companies have to achieve really set them apart in the market: "For the UK report companies must be active and registered in the UK, with revenues between £6m-£250m. Positive revenue growth must have been recorded in three of the last four years but most importantly, for companies to be included they must have outperformed their sector peers. The result is a showcase of UK businesses that is richer and more varied than, we believe, in any other report of its type.
"We effectively replicated this exercise for our European edition but changed the parameters for inclusion – companies must have revenues between €20m and €300m and must outperform country peers rather than sector peers. The long-list is split among the EU 28 countries according to every country's contribution to the EU GDP."
Thanks to LSEG's dedicated research and stringent methodologies, each report examines in detail the opportunities and challenges facing SMEs and looks at the sectors and trends that will shape the future of the UK/European economies. Adding some details from the UK report, Marcus said: "Without doubt, many of these companies find identifying and accessing the right form of long-term financing a challenge. More than half of Britain's smaller companies resort to credit cards to fund their business, with just three per cent of entrepreneurs in the UK making use of equity finance. At London Stock Exchange Group we constantly see the benefits companies experience from using equity finance and are committed to supporting them throughout their growth journey. That's why we publish our 1000 companies report and run our ELITE business support and mentoring programme for private high growth companies that want help to prepare for future investment."
For those SME's looking for finance options, they can gain confidence from AIM's longevity and proven success – the market celebrated two decades in operation in 2015, and the track record and the proven resilience of the AIM community provides LSEG with the best evidence for success that it could wish for. "Whilst most international growth markets have stagnated or disappeared over the years, AIM has prospered, and has continued to evolve through the business cycles," agreed Marcus. "Our goal for the future is to support companies by providing access to investors that can provide genuinely long term capital to support companies long term development plans. We want more of the UK's exciting manufacturers to become global leaders in their fields and are confident that the capital, credibility and profile that AIM can provide can help them accelerate their growth."