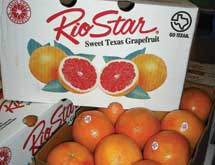 If you think the best citrus produce comes from Florida or California, there are a few growers in Texas who think you're wrong. Although Texas is known more for its exports of oil and football, it also produces its own variety of grapefruit and oranges, ones that native Texans T.J. Flowers, Jud Flowers and Trent Bishop of Lone Star Citrus Growers say are the sweetest that can be found.
T.J. Flowers is director of business development, a member of the sales team, and a partner at Lone Star Citrus. Jud Flowers, T.J.'s stepfather, is the majority partner, with Trent Bishop and T.J. Flowers holding equal minority shares.
"Between the three of us, we have nearly 60 years combined experience in the produce industry," T.J. Flowers states. "It was our dream to start a produce company that we could call our own, so that we could be a part of the legacy that is the Texas citrus industry."
Through their experience and the company's commitment to customer service, Flowers explains that Lone Star Citrus understands how to take care of its customers.
"We take better care of our customers than most other companies," he says. "We establish credibility with our customers from the very beginning by ensuring that they receive the highest quality fruit delivered on time."
Sweet and Beautiful
Lone Star Citrus is located in Mission, Texas, in the Rio Grande Valley. The company produces Texas grapefruit and oranges, which Flowers says it sells to the largest grocers both in Texas and across the country. He notes that the company's largest market outside of Texas is California, and that it also ships to nationwide retail chains.
"We do quite a bit of wholesale business in major metropolitan areas, as well," Flowers points out. "We also handle food service accounts that supply restaurants, cruises, schools and prisons."
According to Flowers, the finest red grapefruit is grown in Texas. "They're by far sweeter than any other grapefruit you find in the marketplace," he states. Because of the tropical climate of the south Texas region, he says the grapefruit produced are redder than any that can be found outside of Texas.
"Our grapefruit has a higher sugar content with lower acidity," Flowers adds. Being warm 10 months of the year, he points out, makes the south Texas environment ideal for growing citrus.
"What makes Texas Grapefruit unique is that they are sweeter and have a more beautiful color than any other grapefruit you will find," Flowers asserts. "When you cut into one of our grapefruit, it is redder on the inside than grapefruit that is grown in other areas, and that's what customers like.
"Our oranges may not be the prettiest on the outside, due to their thin skin, but it's like tasting pure sugar," he continues. "There is very little acid and it's the sweetest you'll find. They're perfect for juicing because they are typically smaller [than other oranges], and the sweetness is hard to beat."
From Farm to Table
Lone Star Citrus Growers has a 120,000-square-foot facility where it processes all its raw fruit and performs packing and shipping. It controls more than 600 acres of its own citrus orchards. In addition, it also services several hundred acres of independently owned citrus groves. The most common variety of grapefruit harvested by the company is the Rio Star variety, with navel and Valencia being its most common orange.
The company is a full-service packinghouse of Texas oranges and grapefruit. Flowers says that grapefruit makes up 75 percent of its processing work, with oranges making up the other 25 percent. He notes that the company puts out a wide variety of packs including several different private labels, various carton sizes and also bags ranging from four to 18 pounds for consumers.
"We handle most of the sales within our office," Flowers explains. "We literally handle the fruit from the farm to the table. We cultivate and provide grove care – trimming the trees, pesticide control, harvesting. We perform all processes on the production line – cleaning and waxing the fruit, grading, and packing in a wide variety that suits each customer.
"We do handle transportation if the customers don't have their own trucks," he adds.
Youth and Ambition
According to Flowers, Lone Star Citrus Growers handles a significant portion of the available citrus within the South Texas zone. "A significant slice of the pie," he remarks.
Founded in 2007, Lone Star Citrus is a young company, which Flowers sees as an advantage.
"We are young and ambitious, and absolutely fanatical about customer service," he exclaims. "Maintaining quality control from the tree to the customer is something we strive to achieve and work for every minute of every day.
"Being a young company makes us hungry for new business," Flowers continues. "It translates to customers receiving a high-quality product at a fair price, delivered on time exactly as ordered."
With an average age of 32 years, Flowers describes his five-man sales team at Lone Star Citrus as young, energetic go-getters that want to expand the company's business. He notes that they are willing to do whatever it takes to take care of a customer, including coming into the office early or staying late. "I have even seen the salesmen pack up a late order themselves on a Saturday, just to make sure the customer got what they needed," he declares. The sales department is led by Flowers and Bishop.
Also, Flowers adds that the production crew, plant manager and accounting staff are equally as qualified and ambitious as the sales team, with all employees paying close attention to detail with a desire to get things done the right way. "Anyone can throw citrus in a box, but quality and accuracy on every order is what we strive for," he states.
For the future, Flowers says the company wants to continue to grow with its young, energetic sales crew and qualified, capable mangers – possibly into international operations.
"We want to pack more cartons every year and expand the commodities we handle," he says. "The goal is one day to handle other commodities, mostly products out of Mexico. There is a lot of citrus south of the border that we are very much qualified to pack, sell and ship."