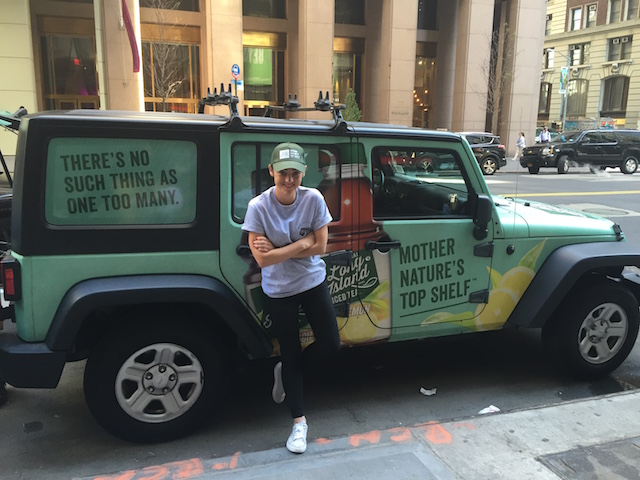 Long Island Iced Tea Corp.
Long Island Iced Tea says it offers a superior product at an affordable price.
Not many people can take something they loved in their childhood and turn it into a prosperous business. But Philip Thomas has. "I always had a passion for a better-for-you beverages," he recalls, noting that this included iced tea.
Today, he is the CEO of Long Island Iced Tea Corp., a Hicksville, N.Y.-based company that specializes in teas made from non-GMO leaves.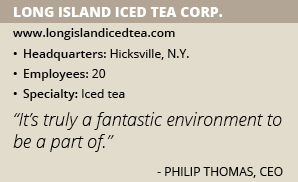 Thomas, whose family has a background in the distribution industry, started Long Island Iced Tea in 2011.
As an entrepreneur, Thomas spent most of his career looking for a business that he could take to national and global levels. After developing the company's key product, "We stumbled across the brilliant name of Long Island Iced Tea," he recalls, explaining that it is recognizable to consumers thanks to the alcoholic beverage of the same name.
But Long Island Iced Tea's products do not contain alcohol. "It's a soft drink," he says, noting that the company only uses natural fruit flavoring and 100 percent pure cane sugar. "Our ingredients are all one step above our competition and offered at an affordable price."
Long Island Iced Tea, he notes, enjoyed quick success after its launch. "It started taking off easier than it should have," he recalls. "I was getting shelf space in some of the biggest retailers in the region."
But Thomas and his partner in the company had barely enough money to buy materials. "At the time, we knew if we were going to grow our business, we'd have to raise capital," he says.
"In 2012, I went on a mini-roadshow," he describes, noting that he found capital through an equity firm, which gave him the funds to grow Long Island Iced Tea. "At that point, we began hiring sales and employees and built a foundation."
Poised for Success
Today, Long Island Iced Tea's products can be found in many prominent retail chains, including Stop & Shop, Shoprite, Western Beef, Ingles Markets and Christmas Tree Shops. The company is now listed on the NASDAQ exchange, Thomas adds.
Long Island Iced Tea also assembled an advisory board of industry professionals including Tom Cardella, the former president and CEO of Tenth and Blake Beer Co., and John Carson, a former chairman, CEO and president of several beverage companies, including Marbo Inc. and Triarc Beverages.
"They all have quite an extensive background in beverages," Thomas says, noting that this, along with the company's product and name, poise it for success. "People in the market are looking for better-for-you products and they're looking for affordability. [Ours] is a premium product offered at an affordable price."
Spreading Its Wings
Long Island Iced Tea constantly looks at ways to innovate its product line. Currently, it has 20-ounce, 12-ounce and gallon bottles. "We recently moved into case sales via our new variety pack, and we are constantly experimenting with expansion of our flavor profiles, as well as enhancement of the overall quality of our ingredients such as the potential development of an organic product line,"," Thomas says, noting that the company also plans on converting to brand new, proprietary packaging.
The firm plans to expand its product lines into adjacent beverage categories. "For instance, juice and energy are all growing categories," he says. "With a name so powerful as Long Island Iced tea, [we're looking at] how far we can stretch it and spread our wings."
This will help cope with operating in an extremely crowded market. However, "We've proven ourselves and expanded the shelf space in our retailers and our distribution points in general," he says.
Stretching Further
Long Island Iced Tea has nurtured an environment where people are hard working and passionate, Thomas says. "We believe in the product and sharing our products with the rest of the country and on an international level," he says.
"It's truly a fantastic environment to be a part of," he says. "We have hard-working individuals striving to be the new, best and biggest iced tea company in the nation."
Since its start, Long Island Iced Tea has expanded from the Northeast into the Midwest and Southeast. "We will continue to build off of our successes and eventually stretch further on a regional basis and eventually on a national basis," he says.
But the company already has an international reach, as well. "We have some deals where we're selling in South Korea and into the Caribbean," Thomas says. "We're looking to further develop in some of these new areas so that we can begin to capitalize on them."