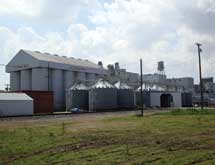 After more than a decade, Louisiana Rice Mill (LRM) LLC says it has established itself as the premier exporter for U.S. long grain milled rice in the Gulf Coast. Based in Crowley, La., the company specializes in converting rough rice into milled products and also manufactures rice bran, rice hulls and mill feed.
President Bobby Hanks and several partners founded LRM in 1999, when they purchased the South Louisiana Broussard Rice Mill. Since then, he says, the company has grown to employ a staff of 150 and serves a customer base that includes feed, cereal and packaging companies.
LRM operates two rice mills, one in Crowley where the administrative offices are located, and its larger mill is in Mermentau, La., which is in the heart of the southwest Louisiana rice belt, the company says. "Southwest Louisiana is home to nearly 500,000 acres of prime rice producing land and boasts many of the best rice farmers in the United States," the company says. It also has receiving, shipping and storage facilities in Eunice, La.
LRM also has a reliable farmer base that produces some of the best rough rice in North America, Hanks says. "It took years [for us] to develop these relationships with farmers, who have been continuously improving their agricultural practices," he says.
Good Times
After 11 years, Hanks says he still enjoys managing LRM. "I really enjoy dealing with our farmers and our customers," he says. "When times are good, rice milling is a pretty fun business to be in."
He adds that the rice commodity market can be a very volatile one. Because of this, "It's important for us to have a broad knowledge of global supply and demand numbers that may affect our ability to service our domestic and export customers," he says.
Recently, Hanks says, LSU AgCenter introduced its Jazzman rice product, which LRM will distribute. This will enable it to compete with Asian jasmine rice products. "It [entered the market] earlier this year," he says, noting that currently, imports of this variety of rice exceed 600,000 metric tons per year.
In addition, the company recently earned certification from AIB International Inc. "It took extensive training and [educational courses]," he admits. "A lot of my key employees spent weeks in training classes around the country.
"[It also] took the development of policies and procedures that focus on the company's attention to food quality and food safety," he says.
In Tune
Like many, LRM has felt strains from the current economy. However, it has been more fortunate than companies in other industries, Hanks says. "The demand for rice seems to be relatively stable and has not been dramatically impacted by the adverse economy," he says.
Going forward, he says, LRM will continue to be a "fierce" competitor, but not just in the United States. "We really have to [be] focused on global competition," he says. "Our business is clearly a global business, so we have to be in tune with the potential threats from foreign competition as well as domestic competition."