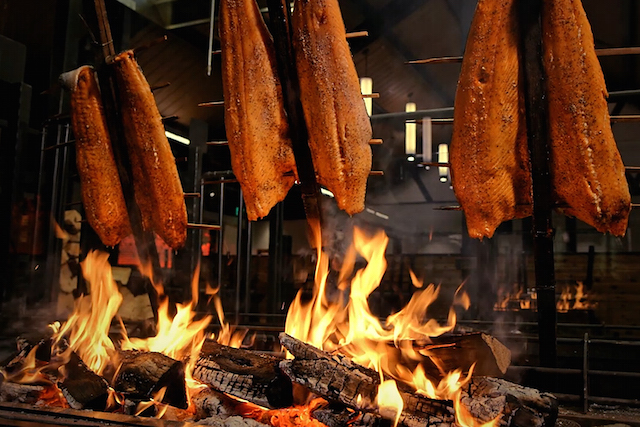 Lucky Eagle Casino & Hotel
Along with quality food and technological innovation, Lucky Eagle Casino & Hotel emphasizes teamowrk to keep its guests coming back for more.
Lucky Eagle Casino & Hotel (Lucky Eagle) is owned and operated by the Confederated Tribes of the Chehalis Reservation (Chehalis Tribe). Since opening its doors in 1995, the Rochester, Wash.-based company has grown from 300 employees to more than 750, and has expanded several times to remain competitive.
The first expansion in 2000 included a new buffet and the renovation of its event center and bingo hall. In 2008, Lucky Eagle doubled its square footage to add more games. The company recently completed a $46 million expansion that included an additional 15,000 square feet of gaming space and a 350-stall parking garage in 2016. Lucky Eagle also added the CraftHouse Sports Bar and Yuzu Asian Bistro, and remodeled several of its award-winning food venues, including Room 188 Steakhouse and Fire Kitchen Buffet.
"We've really grown significantly since 1999, with many years having double digit growth," CEO Lisa Miles says proudly. "We now have about 775 employees, and our hotel has grown from 70 to 170 rooms. Additionally, it's really great to watch the Chehalis Tribe become more self-sufficient and expand through other projects to further grow and diversify themselves."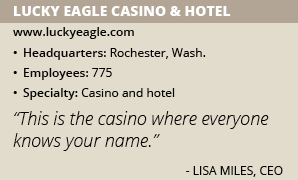 Exceeding Expectations
Lucky Eagle prides itself on providing exemplary guest service, which is something the company feels its competitors don't do as well. "Many people have said we have the Cheers factor, which is how we came up with our tagline, 'where you belong,'" Miles explains. "This is the casino where everyone knows your name."
Miles notes the company strives to create memorable experiences and build relationships with guests through its team members. "We believe that's what makes us different," she says. "We have a level of guest service and a personal connection with our guests that's hard to come by and why they return. For example, a guest submitted a comment card indicating they hadn't been to the casino for over a month. Yet when she approached a team member at the cage, he remembered her name and welcomed her back. Those relationships our team members have built with our guests are key and is what differentiates us from our competition."
Lucky Eagle built a guest service program called Soaring Service. Although the company has run the program for several years now, recently a specific training element has been added into it. Its first session was called Heart of Soaring Service, which trained team members on how they are truly the heart and pulse of the organization. Its latest program has been built to instill pride not only in their appearance, but in the business and pride in its community as well.
"They learn how important it is to keep and ensure their uniforms are crisp and clean, as well as the importance of being professional," Miles says. "Our team members also are taught why and how to keep both the front and back-of-the-house clean for guests and team members alike."
Additionally, Lucky Eagle has a leadership-training program for management level employees. "Some of the training topics include personal finances and budgeting, learning how to do a proper evaluation, and understanding diversification and different generations," Miles says.
Most importantly, because Lucky Eagle cares about its guests and its team members, the company emphasizes the value of teamwork. "Our philosophy has always been that there is no one person or department that is better, or more important, than another," Miles notes. "We know that it takes the sum of us as a whole to be successful. It's just as much my responsibility to help out as well.
"For example, if I see something on the floor or a dirty glass by a slot machine that needs to be picked up, I will do it," she continues. "There is no need to wait for a custodial team member or slot attendant to do it when I'm already there. We all have an equal responsibility of having pride in the property and making sure everything is top-notch for our guests. My actions demonstrate that we really believe and live by our philosophy – they aren't just words."
Innovation On Purpose
In June, Lucky Eagle celebrated its 22-year anniversary and had a grand-reopening to conclude the $46 million expansion; an accomplishment that Miles says everyone was excited about. "We had two parties after the blessing and ribbon-cutting ceremony: one for local press and chambers that featured some of our popular items from each restaurant venue, and a second event for tribal members," she says.
Lucky Casino provided attendees with samples of its salmon fillets, which are cooked in a traditional Native American salmon pit featured in its Fire Kitchen Buffet. "These are cooked on a stick over an open fire," Miles explains. "It's also a cooking demonstration feature and is served in our buffet line for guests. To our knowledge, there is no other salmon pit like this in the country."
Food innovation has not only played a critical role for Lucky Eagle, but technological innovation has also been key to its success. "We have invested a lot of money in technology over the years," Miles says. "For instance, today we really have an integrated system that streamlines our processes and keeps us efficient."
Most notably, Lucky Eagle has implemented kiosks throughout its property to prevent guests from standing in line to resolve certain issues. For example, the company has eliminated free play coupons for its slot machines and added downloadable credits. Also, guests can now easily check their point rewards and reprint their player's card at the kiosks in the event they lose or forget it.
"We will soon roll out a new kiosk to help guests retrieve their account pin numbers in the event the account locks, or they forget their pin," Miles says. "So again, they don't have to wait in line to have it changed, or if the Player's Club is closed they don't have to wait until the next day to have it unlocked.
"Additionally, we now have a kiosk to print our daily food offer," she continues. "If you are one of our top-tier cardholders, you are able to receive a $20 food voucher per day that can be used at any restaurant. So our best guests can go to that kiosk and get their voucher instead of waiting in line."
Lucky Eagle also is in the process of integrating its inventory system with its point-of-sale system. "We want the two to work in tandem," Miles says. "We're also looking at utilizing ADP, which is our payroll system, even stronger by identifying key performance metrics based on the information available to us to really look at labor efficiency as well."
The Right Combo
Miles started with Lucky Eagle in 1996 as CFO. She left two years later to pursue other opportunities but returned in 2002 and will soon be celebrating her 15-year anniversary with the company. "Our company culture has kept me here," she says. "It's also not only the team members, but also the Chehalis Tribe. I love my job today as much as I did when I returned, and I am fortunate to work for such a great Tribe."
Miles notes she is most proud of the executive team she works with because they complement each other very well. "Some of the members are new, while some have been here for more than 15 years," she says. "It's really unique for a group of people to mesh so well together. We are all passionate about Lucky Eagle and that permeates to our team members and to the guests. None of our success would be possible without everyone's teamwork throughout the organization."
Staying Connected
Lucky Eagle Casino & Hotel genuinely cares for its community. CEO Lisa Miles notes it's one of the reasons why the company is successful. "Chief Collaboration Officer Rodney Youckton, as well as other executive team members, leads by example and sit on local nonprofit boards such as Community Youth Services, the Boys & Girls Club, Big Brothers Big Sisters or United Way," Miles says. "It's very important for us to embrace the community. In addition to donating our time, we also donate labor or our facilities so these organizations can keep more of their profits for their organization. The Chehalis Tribe and the casino team value our relationship with our local communities and they value us."