Lucy Buffett opens a new LuLu's restaurant in North Myrtle Beach, S.C.
Her friends and family call her "LuLu." A sassy lady and shrewd businesswoman with a penchant for perfection and a roaring passion for life, Lucy Buffett has come a long way from her humble, middle-class beginnings in Mobile, Ala.
A self-proclaimed gypsy rebel, she comes from a long line of sailors, salesmen and storytellers. But even this "Crazy Sista" of the Buffett clan couldn't have predicted what awaited in her future.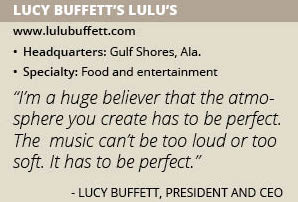 Buffett had no idea that one day she would rule over a successful Lucy Buffett's LuLu's restaurant empire and become the author of several books. She couldn't have known that her brother, Jimmy Buffett, would one day become a famous musician with hits like "Margaritaville" and "Cheeseburger in Paradise." Nor did she guess that her sister, Laurie Buffett, would grow up to become a professional cowgirl and an award-winning equestrian.
"We were just LuLu, LaLa and Bubba," she says, referring to her nickname and those of her siblings. "We went to Catholic school. It was all very normal."
But normal soon became surreal. She had many adventures – along with a few mishaps – along the way. But today, the 65-year-old gypsy empress rules over her popular restaurant chain with a mystical fist.
This summer, Buffett opened her third LuLu's restaurant at Barefoot Landing in North Myrtle Beach, S.C. She also operates a LuLu's location in Gulf Shores, Ala., and one in Destin, Fla.
"I was sought after by the owners of Barefoot Landing that were doing a major overhaul to the shopping center and they wanted me to be their anchor tenant," Buffett says. "Myrtle Beach is one place that I always wanted to consider. I thought it would be a good fit for us."
The 17,000-square-foot location is Buffett's first that is a part of a large development, and its community attracts a big market. Like its sister restaurants, it is located on a waterfront, features an open air environment and seats roughly 500 people.
From Hollywood to New York
After leaving her hometown in Alabama, Buffett traveled, lived, worked and cooked her way across the country. "I worked in Hollywood and New York," she remembers. "I was in the movie business and I moonlighted for catering companies."
From New York to New Orleans, the Caribbean, Key West and Los Angeles, Buffett found a number of odd jobs as a copywriter, office manager, production coordinator and even chef and personal assistant to a couple of movie stars. But nothing really stuck.
At that point, she decided to move back to Alabama and care for her ailing parents. As she settled back in her hometown, she received a life-altering phone call.
"Someone called me to take over a waterfront dive bar/restaurant," Buffett recalls. "I immediately said, 'NO!' There is nothing harder than running a restaurant. But I was broke and needed a job and looking at my bank statement changed my mind. The rest is history."
Buffett was 46 years old and embarking on a new adventure in life. Although both of her parents worked in a shipyard, she came from a long line of staunch Southern matriarchs who happened to be stellar cooks – and their gumbo recipes were legendary.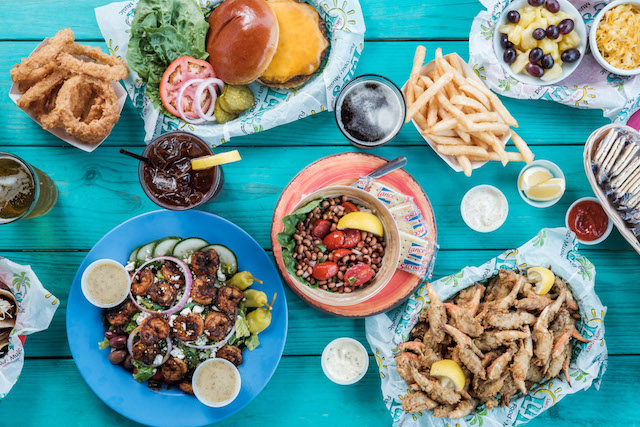 (Photo courtesy of: Mike Buck)
The dive bar soon became LuLu's Sunset Grill, a combination of a bait shop and burger joint. The new restaurant was a hit and became a beloved local watering hole for locals. However, roughly five years later, Buffett's lease was not renewed.
Buffett and her staff packed up and moved to a new location. The new and larger LuLu's Gulf Shores location soon became a well-known coastal destination.
"Everything about LuLu's was designed to look like the Bahamian dives in the Abacos where I liked to vacation," she says, adding that her restaurant shares a similar Buffett family beach tradition with her brother's Margaritaville restaurants. "But, I am not Margaritaville. Mine is more of a family restaurant. This kind of happened organically. I placed some sand in front of the stage and kids started dancing and playing in it. So, I let it become that. I let it become what it needed to be."
In addition, LuLu's evolved its food as well. It started with offering hamburgers, cheeseburgers, gumbo and tropical drinks. "Gumbo became our signature dish," says Buffett, adding that it is served at all three of her restaurants today.
But LuLu's menu evolved into a plentiful bill of fare jam-packed with seafood dishes featuring oysters, shrimp, sea bass, red snapper, crab claws and fish of the day. Everything is made by hand and Buffett insists on using only fresh ingredients.
"I get my inspiration from my grandmother's recipes," Buffett says, with a nostalgic tone. "It's the Gulf Coast cuisine that I grew up on and it's influenced by New Orleans cuisine."
Aside from food, each LuLu's restaurant is heavy on the ambiance. Atmosphere is very important to Buffett. LuLu's restaurants feature live music daily. Bands are carefully selected to make sure they fill the high energy vacation music criteria.
"I'm a huge believer that the atmosphere you create has to be perfect," she says. "The music can't be too loud or too soft. It has to be perfect. It's another piece of the LuLu's experience. It's one of the ingredients that we really think about that. In my world, every little thing matters."
Buffett must be doing something right. Her restaurants average 3,500 customers per day during the summer high season. LuLu's restaurants feature souvenir shops, arcades, open air environments and views of a beach. For Lucy "LuLu" Buffett, the future looks bright. Although she envisions her brand growing, the growth must be organic and make sense.
"It was always built with expansion in mind," Buffett says. "But I'm picky and I'm not motivated to have more for the sake of the balance sheet. I am always looking for what would be a good fit for my concept and a prospective market."
That was the case with each of her three restaurants. Next year, Buffett's first restaurant, LuLu's Gulf Shores, will celebrate its 20th anniversary.
What started as a small eatery with inside seating for about 22 people and a few outside picnic tables has turned into a tourist attraction and one of the most successful restaurants in Gulf Shores. How will it celebrate its upcoming anniversary?
"We're going to do a special theme, something like 'Livin' like LuLu,'" Buffett adds. Livin' like LuLu? That won't be easy.
(Lead photo courtesy of: Kassidy Gibson & Major Adam Colbert)