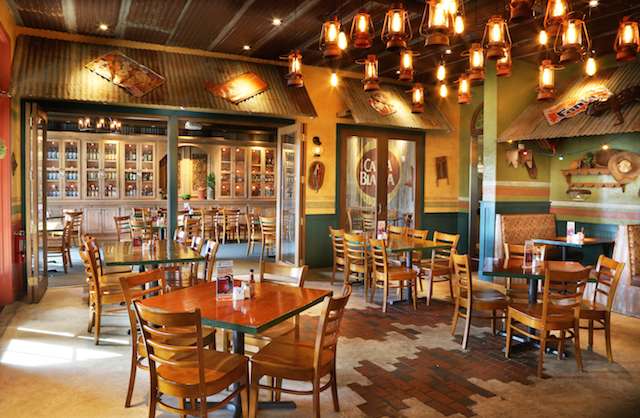 For Lupe Tortilla, expanding further will come at the right time with the right location – and not at the expense of its authenticity.
In 1983, Stan and Audrey Holt launched Lupe Tortilla in a 40-year-old farmhouse. The husband and wife duo operated the single location until 1997, when the Houston-based company opened two more locations after their sons, Judson and Peter, graduated from the Culinary Institute of America.
"That was in 2000 and we came back to Houston to assist our parents in opening those locations in the West University area of Houston," CEO and president Judson Holt recalls. "We took a break after that to build systems and figure things out. At the time, our locations were replicas of the farmhouse and we decided to rebrand our buildings in order to be more accessible. So we remodeled and rebranded, ultimately keeping the elements that worked."
Soon, Lupe opened its fifth location and opened a new location every eight months until it had seven stores. "We took a pause to ensure the volume of what we were doing was good," Hudson says.
Today, the original 50-seat, 22-menu item Tex-Mex concept is thriving with 20 locations. "We are on pace to open two to three locations annually," Holt says. "We currently have two locations under construction. Fourteen of our current locations are located in Houston; we're almost in every suburb of the city.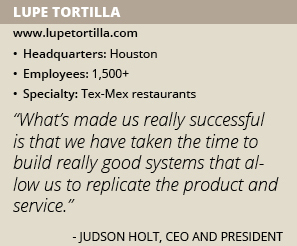 "We have three locations in Austin, two in San Antonio, and we're also located in Tomball and College Station, Texas," he continues. "Additionally, we will soon open another location in Austin, Houston and four locations in Dallas, which has the potential to open eight Lupe's."
Keys To Success
As a privately held company, Lupe Tortilla does not want to "stretch outside" of Texas until it captures all of its local markets, Holt notes. "Texas is a very stable and business-friendly environment, and we love where we are in the state's business climate," he says. "In Texas, we're in demand and are getting a lot of requests from the Houston, Austin and San Antonio areas.
"We'll venture outside of Texas at some point in time," Holt adds. "The areas we have discussed include Colorado, Florida and Tennessee. Those are the places we've targeted and feel are very stable places to have Lupe."
No matter when the company decides to expand, Holt notes Lupe will remain authentic to its roots, which has contributed to the company's success.
"When my parents launched the concept, they created all of the 22 original recipes," he says proudly. "They were in the restaurant business before they opened Lupe and their goal was pretty simple: to make everything from scratch. They wanted a real, authentic and high-quality product. So they did everything from creating the food offerings to choosing their own wines. Today, we still create our own recipes – we have more than 60 now – including our handmade tortilla dough that is hand-pressed into tortillas.
"Fajitas and corn tortillas are what we are really known for," Holt continues. "Again, they are both handmade and hand-pressed, which is a key component of what we do. Another differentiator for us is our tortilla is 12 inches round, but it's almost crepe-like thin. So it's a very light, not dense or heavy, tortilla. It's fluffy and has a crispiness to it that really makes it a different experience than what you would get if you bought from the store or another restaurant."
Remaining authentic has been the company's philosophy since it was founded, even if it is tedious work, according to Holt. "We literally make guacamole four times per day, and make all of our enchiladas and sauces from our base recipes three or more times daily in our kitchens," he says. "It's worth the additional effort."
Lupe values its product, which is always high quality and consistent in how it's produced. "What's made us really successful is that we have taken the time to build really good systems that allow us to replicate the product and service," Holt explains. "We also have a really detailed site selection process that ensures any location we go into is a very high-potential location. Our goal is to serve the most consistent, fresh, and creative food and beverages at a good value."
In addition, Lupe's purchasing director came from US Foods and allows the company to "take a dual approach" with its suppliers, Holt notes. "She has a great relationship with all the vendors and is able to understand their needs, which is critical to ensuring the quality of our supply chain as well as the consistency of its delivery," Holt says. "She also has relationships directly with the product production companies, whether it's meat, or a tomato or flour product. So it all works well for both our vendors and for us to have an expert to work with."
In Control
Lupe's more than 1,500 employees are also key to the company's success, as Lupe believes in training for "every little step." "That has to be done in order to execute a great service to the customer experience," Holt says. "Our approach is culture-based training by painting a picture of what the product, service and environmental experiences should be like for our guests. In Lupe, we cover a lot by saying little. By painting a picture for our team that they can apply, we know what it looks like when we've done everything right and guests have experienced what we are training."
Additionally, Lupe's training is done in steps, or videos, which are online. "We have built our own internal-use employee training website," Holt says. "So they watch the steps and take a test to ensure retention of the information. Every employee who comes on board has test checkpoints throughout the entire process. Any time they are not able to pass a test, they retake it until they can master the skill."
If someone was recently hired at Lupe, or a potential applicant wants to gain a sense of whether they will fit the company's culture, they can also go online and take the training. "So they can be in training with us before you leave your existing job as a waiter, for example," Holt says. "No matter their circumstances, we set it up to where they can take courses in advance and then there are one or two days of actually practicing what they have learned. This helps with our retention, too, because there is no confusion on their end as to what they are getting into."
Ultimately, Holt's goal with Lupe Tortilla is to maintain its history. "I owe it to my family and guests to ensure that as we grow and expand they get the same product they did in 1983," he says. "So it's about the same quality and same attention to detail. Whether it's 20 customers or one, I want everyone to come in and have an experience. Our slower growth strategy has to do with maintaining that quality. We want everybody that loves Lupe to experience it and hopefully have one in his or her neighborhood."