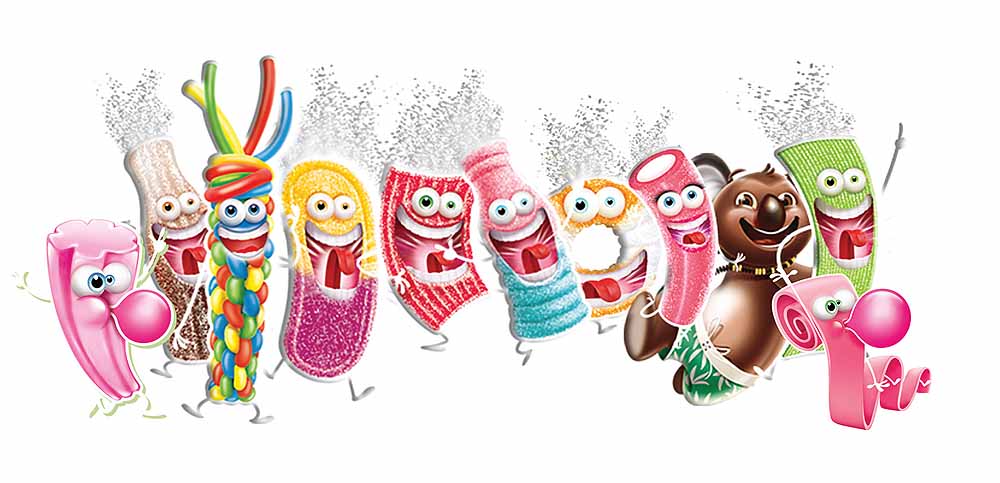 Mouth-watering products
Lutti's name has been synonymous with innovation and market leadership for almost a century. In 2018, the company is planning to introduce its domestic markets to multiple new products, while also introducing itself to the USA and the Far East
Stretching back to the late 19th century, the history of Lutti has been one of constant innovation and commitment to high quality products. The sweets and confectionary company's roots are both
French & Belgian, and it has since expanded across Western Europe, Northern Africa, and the Middle East. It is now part of Katjes International, a leading group in Western Europe's candy market. Lutti's Export Director, Jean-Marie Beauvois, was happy to talk to FoodChain magazine about the historical milestones of the company, its products, and the plans it has laid out for the future.
"Lutti has been revolutionising the market ever since its inception. The first toffee we produced was one that was not sticking to teeth and that was considered a groundbreaking innovation at the time," he begins. "Later on, we launched several other original products, such as Tubble Gum (bubble gum in a tube) and Bubblizz (also known as the fizzy blue bottle) both quite popular in the UK. We were also one of the very first companies that created the fizzy candy concept in the 1970s, and today, one of the first to offer some 3D personalised candies."
The tradition of innovation in all candy segments (hard boiled, gummies, bubble gum, and chocolates) has been well-kept in present times, as in 2017 Lutti, known as a Fizz, Fresh & Fun quality provider to all consumer groups, brought out two significant cutting-edge products in the likes of the Smiley Faces and the Mocktail candies. "The Smiley Faces are 3D roundshaped jelly candies that express different moods. What is characteristic about them is that they offer an unorthodox combination of fruit flavour and trendy taste, for example, cherry and popcorn, or strawberry and cotton candy. As to the Mocktails, they are powder-centred candy balls flavoured with virgin cocktail flavours, including mojito, pina colada, and spritz. They give you the feeling that you are enjoying a refreshing cocktail at a French Riviera café on a sunny day," Jean-Marie remarks poetically.
Sending the innovative Mocktails out in the market turned out to be yet another demonstration of the impact Lutti's products have had over different industr segments throughout the years. Jean- Marie explains: "In 2017, we replicated something we had done in the 80s with a product called Arlequin, which is still France's number one fruit-flavoured sweet. When we were introducing it, this particular segment of the market was on a downward spiral, but Arlequin's appearance reversed the negative trend. Something similar happened with the Mocktails, because their introduction seems to have revived the candy balls sector. It was one of 2017's highlights for Lutti," he comments.
Top brand
Innovation is undoubtedly a significant trait of Lutti's products, but Jean-Marie adds two other notable aspects that contribute to the sweets' high quality: "The strict selection of our ingredients and the production process itself define us and enable us to reach the quality we are looking for. We want our flavours to be as close as possible to the natural flavour, and we prefer to take three or four days more than our competitors to produce our items, in order to give them a very specific texture and achieve a lasting fizzy effect."
The diligent process employed at Lutti is visibly paying off, with the company being a top brand in the confectionary market for packet sweets in Belgium, and number two in France and Luxembourg, in addition to remaining a recognisable name in countries like Portugal and Norway. "Export represents 30 per cent of our turnover, and 80 per cent of our exports are to other
European countries," Jean-Marie details. "Belgium, France, and Luxembourg are our core markets, so the most significant export destinations for us are the Nordic countries. In the UK and Ireland, we established ourselves in the mid-1970s and the fizzy blue bottle is a strong product for us in the region. The challenge we have faced is that although the British customers have known Lutti's products for years, they do not always recognise them as such, so we have set out the objective to make them aware that some items, such as the Bubblizz, are actually representatives of the Lutti brand. We have an excellent relationship with our distributor for the UK, BIP UK, which was formerly known as What Next Candy, and we hope to make our brand more popular with the British market in the near future." Developing its European ventures is certainly on the agenda for Lutti, but Jean-Marie is also excited to share with us that the company is going to introduce its products to the USA and the Asian markets, specifically Japan and South Korea, having already identified the distributors through which this will happen.
New products
Other plans for 2018 include the introduction of 'SMOOFIZZ' an amazing soft, fizzy, chewy cube, unwrapped and veggie; and the marketing of the very girly Scoubidou Bijoux (delicious assorted fruity jelly laces and jelly charms that can be made into edible candy necklaces and bracelets) as well as the development of the most iconic LUTTI gummies in a low sugar version in order to adhere to Lutti's policy of promoting healthy lifestyle and balanced food intake. "We want to have some of our best-selling products available with 40 to 45 per cent less sugar, while making sure that we do not compromise on quality. We are striving to create the same taste as the rest of our items, while getting rid of unwanted ingredients," he comments. "This follows the approach we took years ago, when we began to remove ingredients that were seen as controversial, such as titanium dioxide and E120. We also no longer use palm oil, unless absolutely necessary." The accelerated growth of Lutti in the future is expected to be underpinned further by the multiplication of the company's marketing efforts. Several new TV campaigns under the Fizz, Fresh & Fun concept have recently been launched in France and Belgium. They are organised around each product's mascot, and target the teenagers and young adults market, in particular. Lutti's reinforced marketing strategy illustrates its incessant business proactivity. It looks like there is a sweet future ahead of the company.