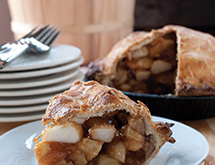 When John Lyman III says his family has a deep understanding of what it means to be stewards of the land, he means it. The Lyman family has been farming in Connecticut since it purchased its first parcel of land in 1741, and Lyman is part of the eighth generation of family ownership of the land that is today known as Lyman Orchards, which now cover more than 1,100 acres.
Not only is Lyman Orchards one of the oldest family owned businesses in the United States, it is one of Connecticut's most popular family destinations and a grower of high-quality fruits such as apples, strawberries and pears. Over the years, Lyman Orchards has found new ways to attract visitors to its rolling hills and lush orchards of fruit trees, but the family's commitment to caring for the land remains as strong as ever.
The Lyman family originally purchased 36 acres for a farm, but over the years more and more property surrounding it was acquired. At one point, Lyman says, the family owned more than 1,500 acres. With the end of the Civil War, agriculture started to become more commercialized, and the Lyman family got into the game with its first orchard planted in the 1890s. The crop at the time was peaches, and Connecticut was the second-largest peach-producing state after Georgia until an unusually heavy winter around 1917 killed most of the state's peach trees. The Lyman family planted apples in their place, and ever since then apples have been Lyman Orchards' biggest crop.
In addition to apples, Lyman Orchards also grows strawberries, blueberries, raspberries, pears, jostaberries, peaches, nectarines and pumpkins, and offers visitors the chance to pick their own. Lyman Orchards also features a retail market where customers can purchase fruit grown at the orchard in addition to its famous pies, which are baked at the orchards' own commercial bakery. Lyman says the pies are becoming a larger segment of its business, as they appeal to grocery store customers because their high quality puts them well above similar offerings from competing grocery stores.
About 50 years ago, Lyman says, the family started to use land that had been a dairy farm for golf courses, and today Lyman Orchards boasts 45 holes designed by PGA Hall of Famers Robert Trent Jones and Gary Player.
As organic and locally grown produce becomes more popular with consumers, Lyman Orchards expects to capitalize on the trends while also building up its reputation as a family friendly destination in central Connecticut. As Lyman Orchards prepares to mark 275 years in operation, Lyman explains that the company's long history is just the prelude for greater successes to come.
Family Destination
Over the last 20 years, Lyman Orchards has put a lot of effort into marketing itself as a destination for families to enjoy some good old-fashioned fun, exemplified by its pick-your-own orchards. Lyman Orchards has allowed visitors to pick their own fruit for more than 50 years, and Lyman says it continues to gain in popularity as families seek out outdoor activities that are easy and fun. "A lot of our activities that we offer really allow people to get involved," he says. "It's a real, authentic experience that we can offer to our customers."
In addition to the orchards' high-quality fruit, Lyman Orchards offers visitors experiences they can't find anywhere else. "The vistas from the orchard hills are just phenomenal," Lyman says. "What we've tried to take advantage of, being in an urban state, is that we're a unique venue."
Lyman Orchards also offers visitors a unique experience in its orchards throughout the growing season, with different fruits available depending on when they stop by. Lyman says it's not uncommon for some families to visit many times during the season to get the full experience. "We have multiple crops that people come back for multiple times each season," Lyman says.
Vital Stewardship
Lyman says the family takes its responsibility to the land very seriously, and for more than 50 years Lyman Orchards has utilized integrated pest management to deal with harmful insects. Although using beneficial species to deter or eliminate pests doesn't fully replace the use of pesticides, Lyman says they significantly reduce Lyman Orchards' dependence on them, and the company continues to learn more about such techniques all the time.
Lyman Orchards has taken steps to ensure its customers that the fruit they buy from the company was grown and picked under the most natural conditions. "We fully recognize that our customers are concerned about how the food is produced, and they want to know that we're doing everything we can to produce it as ecologically friendly as possible," Lyman says.
Lyman adds that the company recently teamed up with Red Tomato, a nonprofit dedicated to sustainable farming, to develop an advanced growing practices certification program, known as ECO Apple. He says the family understands that keeping its land healthy and productive is Lyman Orchards' core philosophy, and will be critical for its continued success.
New Additions
Looking into the future, Lyman says Lyman Orchards' biggest challenges are part and parcel of the agriculture business. "One of our challenges is the seasonal nature of our business and trying to maximize that and being able to effectively and efficiently operate during our slower periods of time," Lyman says.
The company continues to look at additions it can make to its orchards as well as to the amenities and attractions on its property. Above all, Lyman says, any new additions to the orchards should be focused on engaging visitors and making food more fun for families.
Given Lyman Orchards' long-term ties to the area, Lyman says it expects to see many more visitors in the future thanks to the movement toward more locally sourced produce. "We've sensed that it's always been there to some degree, but recently it's become more prevalent," Lyman says.