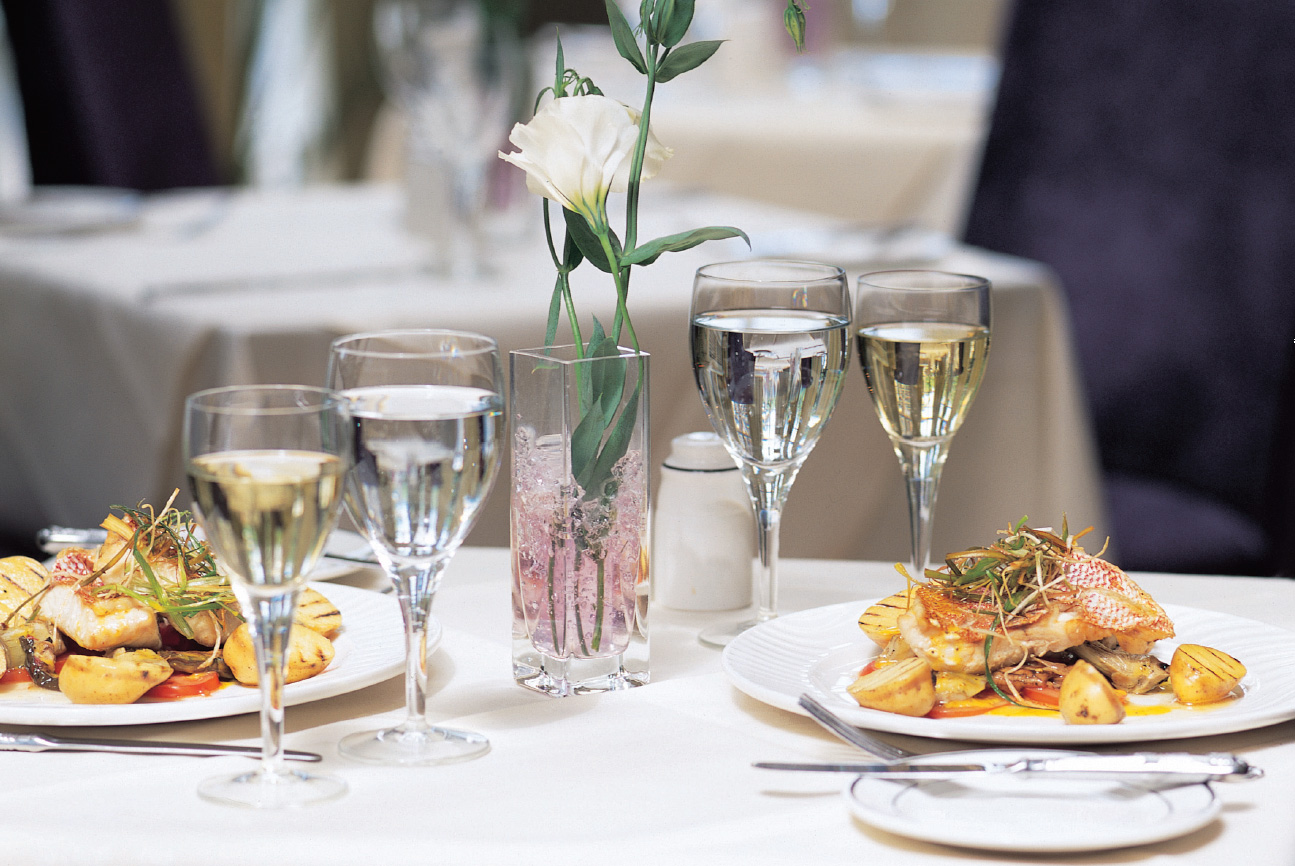 Award-winning quality
By focusing on traceability, quality and close partnerships with suppliers, Macdonald Hotels is building up an individual reputation for excellence in its restaurants across the UK and Ireland
Dedicated to delivering a unique experience to every customer that arrives at any one of over 40 hotels across the UK, Macdonald Hotels ensures each of its hotels has its own individual charm and takes on the character of the area in which it is located. Achieving the prestigious AA Hotel Group of the Year award for the second time in six years in September 2013, the group's commitment to achieving the highest quality standards in all aspects of the business has also led to it achieving more AA rosettes than any other UK hotelier. The group was also awarded the AA Eco-Hotel Group of the year in 2012 for its focus on reducing electricity and fossil fuel usage by 15 per cent in 2015.


Proud to deliver the best possible service to customers across its portfolio of beautiful, individual hotels, the forward-thinking group is unwavering in its focus on achieving customer satisfaction in all areas of the business. "Aside from providing high quality bedrooms, our other main activities are food and beverage, leisure and spa, golf and the corporate and conference markets. Because of the diversity of our client base from North to South we offer varied menus, but although food tastes vary by region, the quality of the produce and the relationship that we have with the supplier is the key, underlying aspect of our success. It's very important for a company with a deliberately diverse portfolio of properties like ours, to be able to meet equally varied customer dining expectations, without ever compromising on the best possible quality and provenance in our food and beverage offering," explains Simon Jackson, Group Sales and Marketing Director at Macdonald Hotels.
Differentiated in the market by its dedication to serving only the highest quality of food, Macdonald Hotels uses the finest seasonal ingredients and sources the best produce available. Placing a great deal of importance on the provenance and traceability of its food, Macdonald Hotels expects the highest standards of diligence in product integrity and traceability from its suppliers. For example, meat is sourced from highly reputable suppliers, with 21-day aged cuts of beef supplied directly from Scotbeef, thus ensuring Macdonald Hotels' new Scottish Steakhouse restaurants deliver delicious food of the best possible quality.
Seasonal menus
Because Macdonald Hotels buys with provenance in mind and prefers to support local businesses, the chefs of its restaurants are given flexibility in planning menus by the season, which thus ensures that UK produce comes first. "We have a range of fantastic talent when it comes to chefs in the UK, arguably the best in the world; we also have the best produce in the world on our doorstep and we very much encourage our chefs to challenge themselves when it comes to deliver interesting and unique dishes," says Robert B. Cook, Commercial Director at Macdonald Hotels. "For example, during asparagus season, the asparagus will be supplied locally and will feature in most of our hotel menus, however, to further stimulate our customers we are working with our wine supplier and will be matching asparagus dishes with different Alberinos from Spain. This way of working not only excites your team, but also motivates suppliers by offering a challenge and, most importantly, it excites customers and results in them returning to our food events throughout the year."
Food events
Elaborating further, Robert continues: "With our Scottish base, our calendar of events tends to start in January for Burns night and Burns suppers. For this event we will offer Burns related food throughout the month, as well as nibbles at the bar, and will be working with Glenmorangie to deliver a taste of Burns. Following this, we of course have Valentine's Day and Mothers' Day, before we go onto the asparagus and Alberino promotion. On top of this, we are having a number of whisky related events throughout the year and have an al fresco festival in the summer; we will also be offering game dinners during game season, so there is a lot going on both centrally and locally."
In line with Macdonald Hotels celebrating its 25th anniversary throughout 2016, the company will be delivering 25 special food events across the UK from January until December; each of these will support a local charity nominated by locals, plus the Muir Maxwell Trust, which supports epilepsy. "The 25 events are not only to celebrate our 25 years in the business, but also allow us to give a bit back to the communities in which we are based by hosting various dinners for a range of chosen charities," highlights Robert.
With 25 years of growth and success behind it, the future looks positive for Macdonald Hotels as it continues to exceed rising expectations from a more food-orientated customer base through the delivery of a consistently worldclass service and the development of new food concepts. Robert concludes: "Provincial hotels have not always been seen as the best place to get a meal. Our goal is quite simple; we want to be widely recognised as the best place in town for food, service and atmosphere; the place where you can always find a new favourite on the menu."