Sweet nostalgia
With a history that stretches back decades, Mademoiselle Desserts has kneaded together elegance, tradition and innovation to make it the baking success that its clients have come to trust and love
Delight, respect, passion and commitment are the secret ingredients that go into the achievements of Mademoiselle Desserts. Under the company name, 12 bakeries are scattered across France, the Netherlands and the UK, with their own specialty products suited for the diversity of their customers. Gareth Jones, Group Commercial Director in the UK, shares with us the
journey that Mademoiselle Desserts has undergone to create the sweet treats filling store shelves in wholesalers, coffee shops, pubs and restaurants across the UK. Although he only joined the team in 2018, his journey with the company so far has provided him with a wealth of insight into the company's success.
Owing to the business's wide offerings, the group is a collection of bakeries that specialize in different products, such as the Handmade Cake Company, which focusses on cakes and tray-bakes primarily. "The Handmade Cake Company, founded in 1983, is famous for its products being – as the name suggests – made from hand, with the high-quality ingredients you'd expect and an authentic finish. We provide products to National and Regional Wholesalers as well as coffee shops, independent café chains, restaurants and pubs," Gareth begins. "We tier our offer into a 'good, better, best' scale, because, that's what our customers want and need. So, if you're a wholesaler delivering to healthcare and cost sector customers, while also delivering to higher end pubs, restaurants and hotels, you need a range that fits all the end-use types. We cover all three tiers."
Customer collaboration
Its ability to offer a range of market leading innovation is partly owed to its extensive research regarding the demand of customers and consumers. "Category insight is at the heart of how the business developed its products. Basically, we focus on what is trending and what the market insight is, and we find that if we present this in an informative, engaging way to the customer then that will lead to innovation and increased consumer demand for our products and for our customers. Our marketing and product development is based around four or five 'macro trends', for example, experience, twisted classics and what we call 'permissible indulgence'. Through this, we look to offer the right range for the right occasion," he continues. According to Gareth, what sets Mademoiselle Desserts apart from other wholesale bakeries is not only its focus on quality, innovative products, but also how the company uses category insight to bring new products to life.
"We've seen a trend in nostalgic desires for the sorts of treats that our customers grew up with, and that sort of feedback is really crucial to the products we create. When we work with our customers around category insight, it tends to manifest itself in three different ways. One is that we follow through with an idea that we think will work for their menus based on market trends, or alternatively, it might be specific insight that helps give them ideas for products. Thirdly, we take into serious consideration the briefs clients send us. Our customers tend to know what their consumers want and so we work with them to develop products accordingly."
This was also one the reasons why the company is able to boast a delicious tray of gluten free and vegan products. "We've been making gluten free products from our Maidenhead bakery since 2013," Gareth points out. "In 2020, we invested heavily in additional gluten free facilities which now mean we can offer gluten free cheesecakes alongside our existing gluten free offer across cakes and traybakes."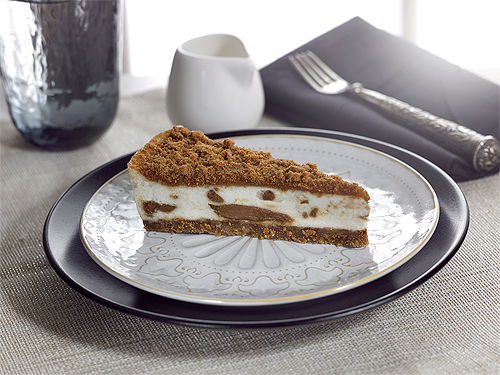 Demand growth
Mademoiselle Desserts did not let the impact of Covid-19 interrupt its long-term sustainability plans, which Gareth claims is a vital part of what the company does. "In the UK for example, we wanted to reduce the amount of sugar in our products. So, in 2019 we removed around 32 tons of sugar from our range. We've also completely removed black plastic from our business and work with our suppliers on removing or reducing the grade and type of plastic within our supply chain."
The impact of the pandemic also led to new product development. "We also launched a brand-new takeaway and delivery range, which was partly in response to the pandemic. Back in April 2020, when Covid-19 was taking hold of the world, we saw how people were pivoting towards food delivery and takeaway platforms, and we wanted to have something that our customers could sell easily for a takeaway or delivery experience for their consumers. So, we developed our range of potted desserts and heat at home desserts. But we wanted to make them as creative and interesting as possible, not just your standard flavors. So, the range includes a Honeycomb Cheesecake, a Yuzu Lime and Pistachio Crunch, and a Lemon Curd Panna Cotta – so more unique flavors," he discusses.
As the country emerges from the pandemic, demand for Mademoiselle Desserts products has increased substantially. "The pandemic hit the hospitality sector hard. We had some relief with the 'eat out to help out' initiative in August last year, but this also drove unprecedented, short-term demand across the industry which put pressure on suppliers' and customers' supply chains. I feel that having the roadmap out of lockdown has helped alleviate some of that sudden demand this time around, however challenges still exist across the industry's supply chain. We try to work collaboratively with our suppliers and customers as no one wants to let clients down."
Gareth continues to note that despite the turbulent time, the growth in demand has been fantastic to see as the sector bounces back. Throughout the pandemic, Gareth is proud of how his company pulled together to work well with each other and the customers. This, he believes, has brought the company closer together and will serve them in good stead to continue to create fantastic cakes and desserts.
"Honestly there are so many avenues to explore in this industry and that is why this is such a fun business to work with," and according to Gareth, Mademoiselle Desserts is going to continue to grow organically within the European market. With a pride in its ability to innovate traditional desserts, the company envisions itself to be number one in food service, covering both cakes and desserts, and Gareth notes that 'it will always be looking to build new competencies as leaders, and explore new channels' as it strives to make the lives of its customers a little sweeter.