MSV is known for creating memorable dining experiences in its distinctive eateries.
Mainstreet Ventures (MSV) Inc. has 12 unique restaurant brand concepts, but the commonalities are quality and consistency, President and CEO Mike Gibbons says. "When people go to our restaurants, they know they're going to get great food and service," he says. "Everything we do is to adhere to our standards of excellence in service and quality. Our guests can count on it."
Based in Ann Arbor, Mich., the company owns and operates 20 restaurants in five states across 12 cities. Gibbons is a dedicated advocate for the restaurant industry, as evidenced by his many past and present positions at the state and national level such as at the National Restaurant Association, National Restaurant Association Educational Foundation, and U.S. Department of Commerce Travel and Tourism Advisory Board, and through his philanthropic efforts.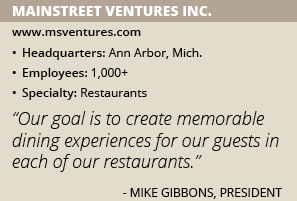 Gibbons co-founded MSV in 1981 with partners Dennis Serras and Dieter Boehm. Previously, Gibbons had worked with the two under the Charley's Crab restaurant concept for CA Muer Corporation.
Today, MSV's concepts include The Chop House, a Prime American steakhouse; and Real Seafood Co., Blue Pointe Oyster Bar and Seafood Grill, and Tidewater Grill, which serve fresh fish and premium seafood from New England, the Great Lakes and the Gulf of Mexico. It also has a variety of Italian concepts, including the distinguished Gratzi, the casual and local family favorite Ciao!, the unique ambiance in a convivial setting of Palio, and Zia's, which offers a feast of Italian comfort foods.
MSV also has several American concepts, including Carson's American Bistro, which features a wide array of American favorites, and EO Burgers, which offers Prime beef gourmet burgers. It also has Mezzevino Kitchen and Bar, a unique concept which features food, wine and cocktails inspired by the traditions of the Mediterranean. This year, MSV also acquired the Stillwater Grill concept, which serves American style cuisine, such as steak and seafood dishes.
"Our goal is to create memorable dining experiences for our guests in each of our restaurants," Gibbons says, noting that this reflects MSV's mission statement. "To do that, we need to be on the leading edge of industry standards, foodservice and quality. Our teams take pride in having the autonomy to do the right thing. That's one of our key differentiators that continues to drive us forward."
Standards of Excellence
Gibbons' experience includes serving as a delegate for the National Restaurant Association in 2006 to the Air Force Hennessy Award competition, which showcases the pride and cleanliness of the base kitchens. This inspired him to create the MSV comprehensive evaluation program entitled, The President's Award of Excellence. An internal MSV team audits each restaurant in an inspection series ensuring compliance to foodservice and operational standards. "This is a commitment to our foodservice and quality standards, and it also honors the restaurants that perform above and beyond industry standards," he says.
Gibbons also promotes being on the leading edge of the industry. In 2012, MSV was nominated for the National Restaurant Association's Operators Innovator Award in recognition of continued advancement in technology for the use of Imenutech's Menuvative tablet menus. Menuvative allows for real-time menu changes, while eliminating the use of table top paper advertising clutter and incorporates Pairing Pro, an intricate, patented algorithm that mimics the logic behind the food and wine pairing process performed by sommeliers.
"Adding Menuvative has enhanced our guests' dining experience," Gibbons says. "We've seen a change in ordering patterns and an increase in food and wine sales, all paramount in guest satisfaction."
MSV Top Knife Competition
MSV recognizes its restaurants annually for their work, Gibbons adds. "We call it 'Top Knife', which is a live cook off competition between our restaurants," he says, noting that each restaurant submits a dish that could be created by anyone in the eatery. "It could be a chef or it could be a server from the dining room." The winner at the local level of each restaurant earns their right to compete at the main event, held yearly.
The Top Knife limited seating event hosts VIP judges that evaluate the dishes and the elected winner receives a cash reward and a set of new knives, along with the coveted title of Top Knife. "The award winning entrée is then featured on each appropriate menu concept for the whole year," he says. "This past year, it was an espresso-crusted filet mignon, which has been a very popular dish with our guests."
Standing Out
MSV is uniquely positioned in its industry, Gibbons says. As a private firm, "We have a few advantages," he says. "We can make decisions quickly at the local level as our managers are empowered to do the right thing. Therefore, each restaurant general manager operates like an owner.
"Additionally, we provide a high level of support to each of our restaurants through our MSV Restaurant Support Services and the Guest Services Call Center," he continues, noting that the centers even schedule reservations for guests. "We've centralized some core functions that free up our managers' time and allow our restaurant management teams to focus on the mission, which is about the guest experience."
The unique restaurant concepts and the strong management teams create an effective operational team dedicated to the guests' dining experience. Given the autonomy of each manager within each concept, it also produces longevity in an industry known for high turnover. "We hire for the long term and managers tend to stay with us for a long time with the average being nine years," he says. "That's unheard of in the industry."
One manager, Barbara McCoy, has even been with the company for over 30 years. "She manages Real Seafood Company in Ann Arbor," Gibbons says. "She started as a breakfast server and I don't think she'd want to work anywhere else."
He also highlights executive chef Brent Courson, who started as a dishwasher and busboy. "He came up through the company and became a general manager for us," Gibbons says. "When our original executive Chef Simon Pesusich, who had also been with us for over 30 years, retired, I offered Courson the job." Courson had previously trained under Pesusich.
On the Drawing Board
Gibbons sees growth ahead for MSV. "We've got several things on the drawing board right now," he says. "I've got a letter of intent on another property and it's going to be another concept."
Gibbons remodels each location every five to seven years. "I think our guests and team appreciates new inspirations added into the ambiance, keeping it fresh and active," He says. "That means, we do one to two a year."
Gibbons also has three restaurants that will open in the next year, including a Palio location and a spinoff of The Chop House. "I'm going to call it 'The Chop House Grill,'" he says. "We've got another new concept coming. It will be on a lake in a resort area, and I think our team is really looking forward to that one for the next team retreat!"