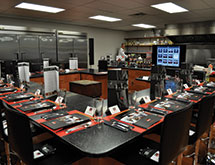 It may be the end of an era for the traditionally round 1-pound soup base jar. Major Products Co. Inc. brought an idea over from its sister company in Europe, Major International, that the sister company has been using for more than two decades. However, Major USA took it one step further and picked a square, environmentally and logistically friendly jar.
Of the many advantages, a few big ones stand out. "If you look at a traditional case of the round jars, you will see a lot of air pockets of wasted space," points out Valerie DeRose, Major Products co-owner and COO. The new case is a much smaller cube, which helps out distributors with their shelf space. Additionally, the new jar uses 60 percent less plastic per pound in comparison to the traditional rounds.
Another advantage of the new container is more space for a larger label. "With the larger container, instead of having six smaller jars, you have two," DeRose explains. "You have a lot more real estate to actually explain what the product is and have it in multiple languages. We like that it touches a larger audience, and that's been really exciting."
Major Products is not forcing its customers to switch, but its executives feel there are enough advantages to entice their customers to make the move on their own. "For our customers that have already made the change to the new packaging, their sales have increased and no one seems to have an issue switching them out," DeRose says. "It's a win-win for everyone. We try whatever we can to make our products greener and the customers' sales increase."
Major Rebranding
Major Products has rebranded itself recently along with the new packaging to identify four different tiers of products. The products branded as Major Chef's Elite are the top-of-the-line refrigerated bases, whose first ingredient is the associated meat or vegetable. Some of the flavors include savory chicken, bacon, lobster, lamb and mushroom. The Major Chef's Premier line is also a first ingredient meat product, but it is able to be kept shelf-stable. The Major Chef's Basics line includes all of the salt-first bases that are both granular or paste in nature.
The fourth tier is something completely different called Major's Chefs Smart Choice. Smart Choice products are top-of-the-line refrigerated bases whose main ingredient would be the meat or vegetable associated to it. The bases do not include monosodium glutamate, hydrolyzed vegetable proteins or any ingredients containing gluten.
"They are as close to making a soup at home as possible," DeRose says. "We see them doing really well in schools and hospitals – places that have to meet certain dietary requirements."
More Ethnic Flavors
The company also is emphasizing a new line of ethnic-flavored marinades. "We decided to focus on flavor profiles that are exciting and different but not overdone in the market," DeRose explains. Some of the new flavors include Moroccan, Tandoori, Piri Piri and Thai. "It's been a lot of fun to hear what ideas our customers have come up with using the new marinades," she says. "People have been incredibly creative."
The company's products are prepared in its 80,000-square-foot facility at the company's headquarters in Little Ferry, N.J., or at another of its U.S.-based plants in Las Vegas. Major Products has a division, Major International, with manufacturing plants outside London, Amsterdam and Brussels.
The company was the first to produce and promote gluten-free products, especially gravies. "Gravies were tricky, because usually the main thickening ingredient is flour, but we found our way around that," DeRose says. For Major International, Major Products has developed vegetarian gravies that have a beef or chicken flavor. "We like to think outside the box when it comes to developing new products," she says.
Major Products Co. Inc. is a family owned manufacturer of soup bases, stocks, marinades, bouillon cubes, gravies, sauces and dressings. Its products are made from natural ingredients to provide a base for enhancing the flavors of soups, sauces, gravies and casseroles. The company's products are used by foodservice, commercial food manufacturers and restaurants.
Major Products Co. was founded in 1951 by Daniel DeRose Sr., along with his son Daniel DeRose Jr. The company originated in a one-car garage in Newark, N.J. After several years of initial growth, Daniel DeRose Jr. moved production to a facility in Little Ferry, N.J., where the company's corporate headquarters are still located. Major Products Co. is now in its third generation with brother and sister Dan and Valerie DeRose working together as President and CEO, and COO, respectively.
DeRose attributes the company's success to its employees and work ethic. "It's just really nose-to-the-grindstone hard work and making really educated decisions," she concludes. "Our R&D team is outstanding, and they always keep coming up with new, interesting ideas that we feel can move our company forward for years to come."