Malbec Argentinean Cuisine ensures quality throughout its footprint in southern California and will soon open a new location.
Named after the signature grape of Argentina's most popular wine, Malbec Argentinean Cuisine has established itself as a leading purveyor of Argentinean food in the Los Angeles area. Over the course of nearly a decade, the company has brought a concept to the market that previously had not existed.
"We first started looking for a place to open a high-quality Argentinean restaurant in 2007," co-owner Luciano Alcorta says. "Our goal is to be known for the quality of our food and service. We opened our first location in March 2008 in Pasadena, followed by our Toluca Lake location in 2009 and Santa Monica in 2012."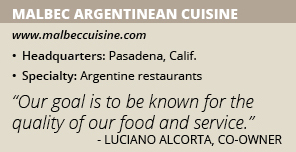 Authentic Offerings
Elements of Argentine cuisine that Malbec has incorporated into its operations include homemade salads and pastas, fish and signature grilled meats. The concept is focused on providing authentic dishes prepared on the company's genuine Argentinean wood-fire grill. Malbec prides itself on carefully selecting its meats, only using free-range meat. The company puts the same care into selecting the other ingredients for its offerings and ensuring that there is something for everyone on the menu.
"A lot of people know Argentina for its steak, and we do offer great steak," co-owner Javier Pardini says. "We buy prime cuts of meat and age it in our facility. But Argentina has many ethnic foods and aspects of those cultures have infused into the cuisine over time. There is nothing else close to what we offer in the area, and we keep our eye on the market and make sure we compare favorably on price."
"We grew up with diversity in our food, and we brought that to our menu and focused on quality food and service," Alcorta adds. "We hand-select our beef, lamb and fish. Items like pasta and stuffing are homemade from scratch. We take pride in that."
Beyond the authenticity of the Argentine cuisine, Malbec's owners work to stay on the cutting-edge. Malbec offers traditional dishes while also fusing the various cultures of Argentina to create new ones. The company's owners regularly travel back to their native Argentina to stay up-to-date on what restaurants are doing there to make sure the product remains authentic here.
"We have stayed true to Executive Chef Pablo Alcorta's knowledge and his take on Argentine food," Alcorta says. "We invested our money and time into training staff on how they should interact with customers and getting their feedback. We work together as a team to make the concept work from the front to the back of the house."
Malbec's food is known for its simplicity as well as the diversity of the menu. The restaurants offer comfort food and an environment that lends itself to multiple visits per week because of the ample choices and friendly staff.
As for beverages, Malbec offers only Argentine wines from different parts of the country. "We work with exceptional wineries and only buy wines that we like and think are approachable for the clientele," Alcorta says.
Always looking to continue the evolution of its concept, Malbec's owners are keen on ensuring that quality remains high and the restaurants stay on the cutting-edge. "We have to do our homework to see what is out there," Alcorta says. "We will continue to visit Argentina to see what is happening with the cuisine, and we look at what items are available so we can select the best available food. It is simpler than you imagine as long as you pay attention. We consider many aspects while focusing on making sure the do the basics right while keep on improving on our menu and service. That is the way we operate our entire entity."
Pursuing Growth
Additionally, the company is looking to grow its footprint with a new location in the Los Angeles area. A different approach, it will include a commissary kitchen and deli. It is scheduled to open in early 2016. "The new facility will be a big commissary kitchen where we will make our products and deliver to each restaurant with a refrigerated van," Alcorta says.
"It will also help us to do a lot of catering, and we are working with the Los Angeles Chamber of Commerce to attract business and develop the catering side of our operations," he continues. "The new location will have retail, deli and butcher shop elements that will be open to the public. Located in an up-and-coming Los Angeles neighborhood, we think it has a lot of potential. We will also be looking to do on-premise and off-premise wine services, pop-up dinners, visits from wineries and cooking classes."
Malbec feels the new concept will help the company to stay competitive by making its offerings more accessible beyond visits to its traditional restaurants. The company believes it was able to finish 2015 on a positive note, and it is hungry for more success in 2016.
"I think that if we play our cards right and are smart about what we have coming up, we can achieve our goals," Alcorta says. "We are investing in new public relations initiatives that will increase recognition of our name, and we intend to keep on doing what we do well consistently while always looking for ways to improve."