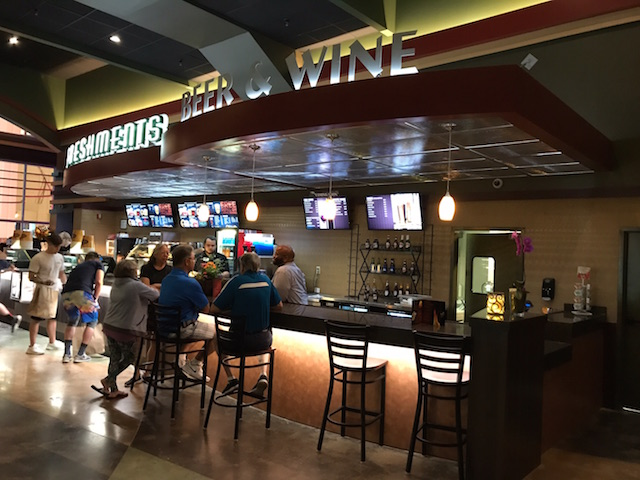 As a family-owned and operated company, Malco Theatres prides itself on being nimble and emphasizing customer service.
Malco Theatres Inc. is a fourth-generation movie theater chain that has remained family-owned and operated for more than one hundred years. In 1915, M. A. Lightman acquired Liberty Theater in Sheffield, Ala., after noticing the storefront theater was always busy.
"He felt that if that type of business could have people lined up on a sidewalk trying to get in, he wanted a part of it," Senior Vice President Larry Etter explains. "So he bought the theater and the company was born. M. A. moved to Little Rock, Ark., and ran the business from there. Up until 1958 he would continually open single-screen theaters throughout Arkansas and Mississippi. After he passed, his sons, M.A. and Richard Lightman, and partner, Herb Levy, started running the company."
Malco Theatres continued to grow, but the company diversified by building bowling centers to protect itself from the decline of movie theaters as television gained in popularity, Etter notes.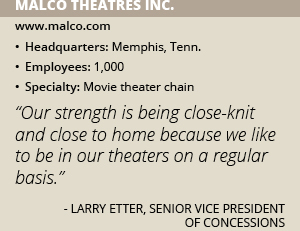 "In the 1990s, M.A. turned over the company to his son Stephen Lightman as president, his son-in-law, Jimmie Tashie, and Robert Levy, who is Herbert Levy's son," Etter says. "Since 1997, the company has grown from about 250 screens to over 365. We have six bowling centers and two family entertainment centers, which is a combination of movie theaters, arcades and bowling centers all under one roof."
Standing Alone
Etter believes that any business can be successful when it has a good product, and Malco Theatres is no different. "We have seen a lot of growth because the filmmaking process has gotten better and is very innovative," he says. "It has continued to be progressive on the technology side and has better digital presentations. The dynamics of filmmaking itself has kept the population entertained.
"I also think that Malco has done extremely well being a community-related business," he continues. "We often comment that the theater managers in smaller towns where we operate often know the families in the city better than the mayor. That's because every Friday night they see the kids and parents out, and they know what's going on because they see them on a consistent basis. So I think we're very entrenched in community development and community awareness."
Though Etter notes that all movie theaters are "showing the same thing," the difference between the company and its competitors is that the Memphis, Tenn.-based company is a family-owned business.
"We don't have to deal with corporate decision-making, so we can make decisions and adjustments minute-to-minute," he explains. "On the technical side, one of our vice presidents, Mike Thompson, was a leader in helping create a very special presentation package that exceeds a patrons expectations. We have a great film buyer in Jeff Kaufman, as he knows the studios and is very adept at putting the right films in the right locations for the right demographics. We have always been ahead of the curve when it comes to the presentation side of our business, including digital projection of film, sound and our foodservice as well."
Etter adds that the company has an edge over most of its competitors because of its employees. "At Malco, we have very little turnover," he says. "The average tenure for our managers and senior employees is more than 20 years. We have people that stay that long and learn the business. Therefore, they know how to execute, polish, re-tool and continue to sculpt the entertainment experience the patron wants."
Solid Service
Malco has 1,000 employees; however, depending on the time of year that number can fluctuate. "We're somewhat seasonal in the summer and holidays," he says. "Typically in the summer we are at our peak. When school goes back in session our business typically drops off. Regardless, we still emphasize giving patrons the best customer service possible."
Etter believes that "customer service is not a department, but an attitude." "We really try to integrate that from the top all the way to the bottom in our chain of command," he says. "No movie is ever complete until it is actually put on the screen. It doesn't matter how good the director, actors or script is if you walk up to buy your ticket and the box office attendant is rude. The movie won't matter if you buy a soda that's watered down or your popcorn is too salty. So I think that the movie isn't finished until Malco's employees put the finishing touches on that particular experience, which is what we try to coach here."
Training plays a key role in teaching that message to employees. "I think we lead by example and when we bring new employees in we stress that culture," Etter notes. "There's a culture of customer service in our very first orientation. We talk about the history of our company, and you don't do this for 100 years without treating customers properly, and with respect and dignity.
"We sell over 9 million tickets annually," he adds. "So we are dealing with 9 million different attitudes and approaches; we have to be respectful of that. That's what we try to teach our employees. Not everyone is going to come to the movies in a good or pleasant mood; however, it's an escape for people to come to our theaters to get away from the rigors of everyday life. Our hope is that we can at least provide them with an experience that allows them to escape."
Malco Theatres operates 34 theatres in Missouri, Tennessee, Kentucky, Mississippi, Louisiana and Arkansas. "We are doing a lot of retooling currently with renovations, including redesigning seating arrangements, and integrating new kitchens and new menus," Etter says. "Some theaters may be closed for a month or two while we're making these renovations. We also have three theaters under construction, so we could have as many as 37 theaters by 2018."
As Malco Theatres looks ahead, the company wants to remain a regional company. "We are a regional entertainment company and are going to stay that way," Etter explains. "We have had plenty of opportunities to go as far as California, Nevada or Florida. What we like about the way we run our company is that every theater we have is within a six-hour drive. So if anything happens, anyone of us can be in the car and be at the theater within six hours, which allows us to better handle urgent situations."
Etter notes that the company's strength is being able to control its marketplace, while taking care of its patrons. "I don't see us trying to go to New York or New Jersey, or any place like that," he says. "Our strength is being close-knit and close to home because we like to be in our theaters on a regular basis. This allows ownership and management to constantly visit theaters, watch movies and taste the popcorn."
"Most importantly, we can visually witness the experience of the customers," Etter concludes. "Again, if we were a large corporation we would not be able to be as nimble as we are. Customer service is important in this industry and we emphasize and capitalize on that by our size."