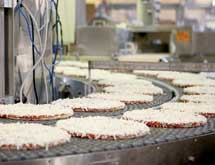 When a brand finds a new place on a pizza to add cheese or when a chain starts using non-traditional toppings on its pies, those businesses are often heralded as innovators. But do those forms of innovation really help the businesses' bottom lines? MaMa Rosa's Pizza LLC creates new products that are truly ground-breaking in the industry, and these innovations have been so successful that the company has become the top-selling branded, refrigerated pizza in the United States.
Five years ago, MaMa Rosa's annual revenues were around $40 million, but in 2010, its revenues reached $80 million. The company produces approx­­imately 500 pizzas each minute – more than any other line in the world – at its 158,000-square-foot facility in Sidney, Ohio. That's all the space it requires now, although it may have to expand capacity in the near future to meet the growing demands of its diverse accounts.
"We excel because we're lean and mean, we think big and we're aggressive with our ideas," President Bill Mackin stresses. "Plus, we can react quickly when we have an idea for something new. We can go from concept to market in less than 90 days, where most of the other major players in the industry take at least a year to do the same."
MaMa Rosa's newest product to hit the market is Pizza Grillers – pizza made to cook on a grill in less than eight minutes. Pizza Grillers was the result of several years of collaboration, Mackin explains, after MaMa Rosa's realized there was "a reverse bell curve" in summertime pizza sales and saw an opportunity to turn that around. In fact, the company found that 89 percent of American households enjoy cooking on a grill during the summer, a fact that bolstered the company's belief that it can "capitalize on a huge marketplace" with Pizza Grillers.
"With so many people grilling during the summer, we saw an opportunity to develop something new for retailers, allowing them to take advantage of consumers' desire to spend so much time outside," Mackin says. "Pizza Grillers helps retailers address a slow period of pizza sales with something creative, innovative and simple."
Pizza Grillers are made with a special crust and 100 percent real cheese, and cook atop a grill or in the oven in their own functional packaging. The products can be sold fresh or frozen, and come in four flavors: pepperoni, Italian sausage, four-cheese blend and roasted chicken with barbeque sauce. MaMa Rosa's shipped its first Pizza Grillers orders in late April; it has national distribution of the product with some cli­ents and more accounts are coming on board at a good pace, Mackin notes.
"I'm not sure if it will be an appetizer or main course for consumers, but we're excited about it," he says. "Kids may not want the standard sausage or ribs that you cook on a grill, so mom would be a hero if she offers them Pizza Grillers as an option."
A 'Perfect' Pizza for Schools
Pizza Grillers follows a number of MaMa Rosa's other successful market firsts. Last year, the company introduced helmet-shaped Tailgate Party Pizzas, and within the next 12 months it plans to offer a gluten-free product. These new products are in addition to MaMa Rosa's established offerings of large-, m­edium-, small- and snack-sized pizzas for retailers, as well as pizza crust and dough balls, ready-to-bake pizzas, Sunrise Singles breakfast pizzas and snack pizzas for the foodservice market.
"We have an impressive team who helps us find new ideas," Mackin says. "Our sales associates keep their ears to the ground and eyes open, and they look for ideas in different areas of the grocery store."
Having established its Lean Life­style pizzas in 2007 – pizzas with low-fat cheese, turkey pepperoni and roasted vegetable toppings – MaMa Rosa's already has expertise in developing pizzas for health-conscious consumers. Now, the company has created Rosen's Perfect Pizza, a product that meets the nutritional guidelines of school lunches.
In this line, the company offers 16-inch pizzas or 5-inch individual pizzas – both with regular or 51 percent wheat crusts. The pizzas with 51 percent wheat crusts provide at least 22 grams of whole grains per serving.
"Schools are getting stricter about what they serve during lunch," Mackin explains. "In New York City, Mayor Bloom­berg issued a mandate for schools to start addressing childhood obesity, and we qualified to be a supplier to New York schools. Our pizzas meet all the nutritional guidelines – they are low-sodium and have many other positive attributes."
Expansion Speedway
In addition to school lunches, MaMa Rosa's is expanding into the vending market – "We see that as a multimillion-dollar platform and big opportunity for us," Mackin says – as well as further into the Mexican, Indian and Canadian markets. "We did half-a-million dollars in sales in India last year and we ex­pect that to keep growing," he says. "In­dia has the largest-growing middle class in the world, and they like Amer­ican products."
Last year, the company made a big jump into the convenience store market when it partnered with Speedway and its 1,700 stores across the country. "Speed­way is one of the top-five largest convenience store chains in the United States, and MaMa Rosa's is the largest and most successful pizza-by-the-slice brand in convenience stores in the United States right now," Mackin says. "With the TurboChef oven, pizza is the fastest-growing food segment in convenience stores right now. It helps to offset sales decreases these stores are seeing due to credit card fees and lower cigarette sales."
On average, MaMa Rosa's has grown at least 20 percent each year, "but some years do better than that," Mackin notes. The company's goal is for 20 percent of its growth to come from new products, and it achieves this because of its "great team and great facility," he says. In the next two to four years, Ma­Ma Rosa's expects to double its size.
"We can reach our goals if we stay within our core competency of pizza and making pizza," Mackin stresses. "We decide on new projects as a team – if it seems like it will be fun and profitable, we do it. It is just magic working here because we have so many great people working with us."