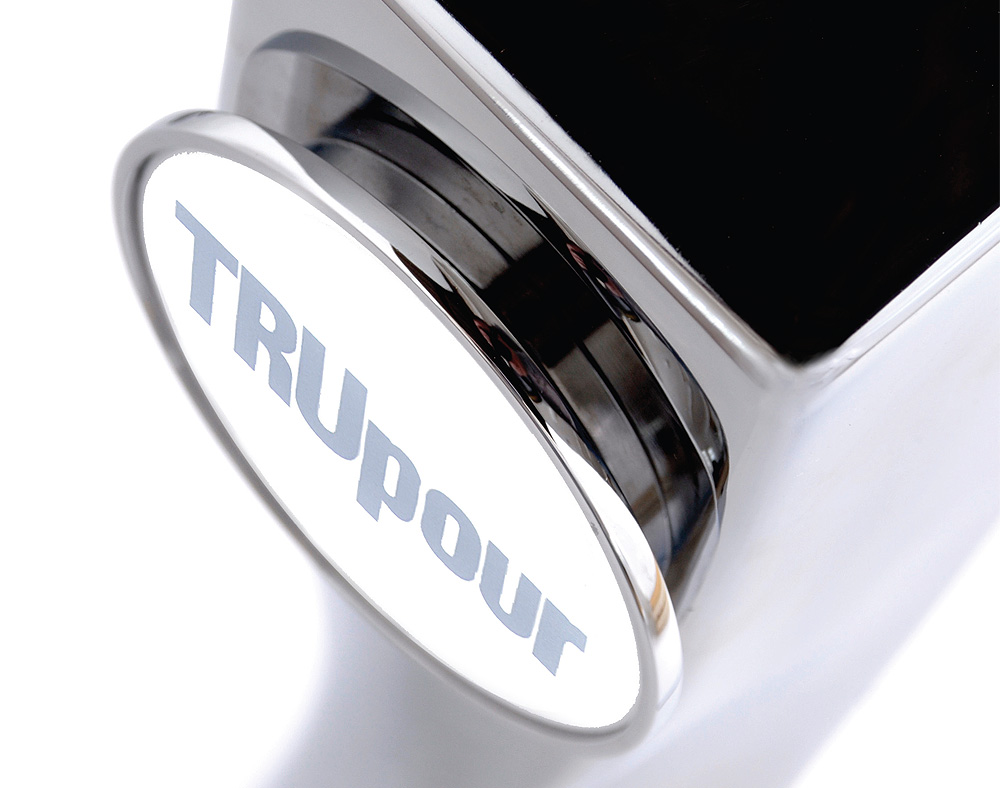 Manitowoc Beverage Systems
Go with the flow
Manitowoc Beverage Systems launches an innovative new dispense solution, TRUfill to add to its vast portfolio of beverage dispense equipment solutions
Manitowoc Beverage Systems (MBS) is a leading international supplier of dispense and cooling equipment to the beverage industry providing installation, components and replacement parts, servicing customers in over 50 countries co-ordinated from operations in the Americas and Europe.
The combined global beverage business is comprised of two main divisions; Manitowoc Beverage Systems UK covering the UK, Europe, Middle East and Africa and Manitowoc Beverage Systems US – located in the US. Manitowoc Beverage Systems in the US is one of the industry's largest distributors of backroom installation kits, parts, accessories and equipment providing dispensing solutions for soda, juice, beer, wine, and energy beverage products.
The leading US brands include Multiplex, Servend, Flomatic, and McCann's.
Manitowoc Beverage Systems UK, formerly Scotsman Beverage Systems, is a leading supplier of cooling and dispense equipment to the beer and carbonated soft drinks beverage industry and has gained an unrivalled knowledge, servicing customers internationally for over 25 years in over 50 countries. With operations based in Birmingham, the business works in conjunction with the leading soft drinks and beer brand owners and technical services teams, to provide quality, reliable beverage, affordable beverage dispensers, coolers and brands innovation to ensure that pubs, restaurants and hotels can deliver high quality consistent beverages to brand owner specification and consumer satisfaction.


Elaborating on the company's vast product portfolio, Simon Miller, marketing and brands director describes the company's current offering: "Predominantly we design and manufacture beverage dispense cooling equipment for beer and carbonated soft drinks draught systems. These can be remote or secondary under counter type coolers with ice bank or glycol cooling mediums. Through our broader Manitowoc international portfolio we can also offer an increased range of over-counter soft drink coolers and over-counter ice beverage dispensers. In terms of beer dispensing products, we are market leader in the UK providing in excess of 80 per cent of the markets remote beer cooler range, complimented by under-counter secondary units, chiller plates and wet block heat exchangers."
The company is also market leader in the UK with its Brands Innovation service that incorporates design, development and manufacturing services for the leading beverage brands PoS.
Simon elaborates: "We supported Heineken S&N in the development and manufacture of the highly successful Fosters font roll-out throughout the UK and into Europe supporting their regional S&N brands such as Lapin Kulta, Alken-Maes etc. The project totalled 144,000 units over four years. We designed and developed the unique Stella Artois single LFA for AB-InBev UK, supporting an installation programme of more than 25,000 units over 18 months and we now support AB-InBev's roll-out of this font into the US market along with the development and manufacturing the new Stella Artois 4 per cent font for the UK. Aside from the many other branded PoS contracts we support, we have also developed and manufactured all of the primary UK cider brand fonts including Strongbow, Bulmers and Magners cider and continue to work closely with these clients on their future branded PoS projects. Whilst most of this activity involves beer brands, one of our latest branded PoS projects is for Coca Cola's Relentless draft system which is currently being introduced into the UK market.
"We undertake a lot of bespoke PoS project work for major brands and have invested heavily in a world-class manufacturing cell structure that can be quickly adapted to any type of brand dispense activity. We support this with a dedicated resource in design and project management to ensure right first time and in budget solutions."
He goes on to outline further recent developments: "One of our most recent projects was in collaboration with Britvic, the Pepsi UK bottler, on an innovative product development Pepsi Xtra. Pepsi Xtra is a unique form of post mix dispense that dispenses bottled quality product through a post mix system. These systems have been established in over 500 M&B outlets across the UK over the last 18 months. The system delivers a win for all stakeholders; ensuring correct brix is maintained guarantees product quality, the simplicity of system design and installation ensures low upfront and after market service cost, so that all in all Britvic can ensure that the consumer enjoys an improved drinks experience which results in improved secondary purchase and increased retailer sales giving higher margins through additional syrup sales over alternative packaged product sales.
"The project came about to revitalise soft drink dispense and to make it comparable quality to that of packaged products. That's gradually gaining ground, and Britvic UK [Pepsi Co] are very confident about that moving forward. As their chosen partners to develop the technology, we manufacture the unit, which is a remote mixing system including valves, carbonators and fixed brix mixing pumps. The system also utilises the high quality TRUpour ROTOtap which was found to be the best solution for eliminating turbulence during pour, guaranteeing in glass high carbonation levels."
In addition to this innovation the company launches its most creative dispense solution to date, targeted at events and stadiums, TRUfill will be demonstrated at drinktec 2009, taking place in Munich from the 14th through 19th September.
"TRUfill is based on an innovative piece of technology that we licensed from the original patent holder and developed further," explains Simon. "It is designed and developed to be used at events, especially big stadium events, were pouring efficiency and labour utilisation is the key to improving yields. Basically we've de-labourised the dispense process; the system involves a non-return valve inserted in the bottom of the cup, when the cup is placed on a dispense probe, there's a signal and the dispenser starts pouring straight away to a pre-defined measure. This means the pouring staff can continue placing cups in dispensers as the cups pour themselves. All the operator has to do is load and unload cups and the system takes care of itself, leaving the operator free to complete other tasks."
Finally, Simon outlines the company's development in light of the financial crisis:
"The market rather than the business is very unpredictable at the moment and the capital expenditure of our major clients has contracted to suit the current climate. However, our core cooling and TRUpour products remain stable, even as we see the market, particularly in the UK, contract rapidly. We also see that as the markets contract we are better positioned to take advantage of the uplift when it comes as we have extremely flexible manufacturing systems and supply partners that can capitalise quickly on changes in demand. Overall, it is a challenging time for us as a business, but we have good breadth of products and we have adjusted ourbusiness model to suit the current climate, so I am confident that we will see further growth as the markets and demand return to a more stable footing."