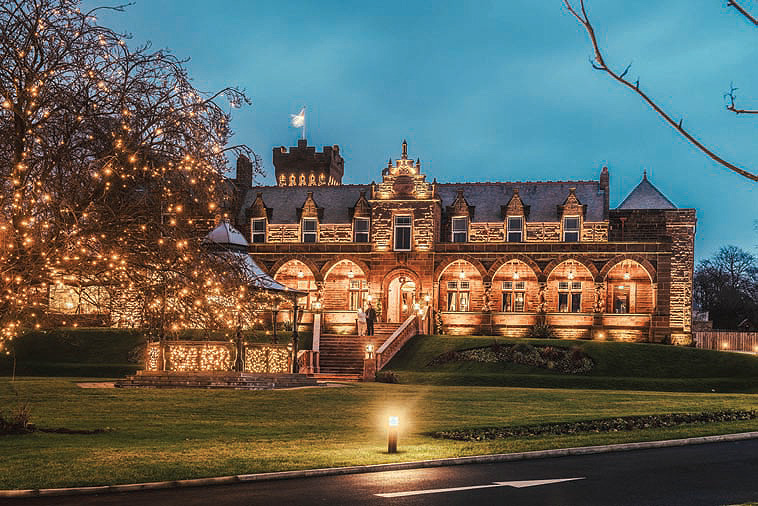 Manorview Hotels and Leisure Group
Room with a view
Specialising in restoring and transforming old properties into luxury boutique hotels, Manorview Hotels and Leisure Group is driven by a desire to offer a unique and memorable experience to all of its guests
Steeped in history, culture and some of the finest natural sights in Europe, Scotland has long been a tourist attraction, with more than 14.6 million visitors being drawn to the country in 2015 alone. In the same year, it was calculated that total overnight and day visitor expenditure was around £8.9 billion. Spending by tourists is believed to generate approximately £12 billion of economic activity in the wider Scottish supply chain, making its contribution to Scottish GDP an estimated five per cent.
Overnight visitors to Scotland are buoyed by the fact that accommodation here is often characterised by its exceptionally high standards, with a number of world class chains operating across the length and breadth of the country. One particular chain that encapsulates the quality of Scotland's hotel and leisure sector is the Manorview Hotels and Leisure Group (Manorview), which boasts nine luxury boutique hotels across the central belt of the country. These hotels include Cornhill Castle near Biggar, Lanarkshire, Boclair House Hotel, Bearsden, Glasgow, The Busby Hotel, Busby, Glasgow and The Lynnhurst Hotel in Johnstone. Its head office is located beside the Bowfield Hotel and Country Club, in Howwood, Renfrewshire.
"The Manorview group began life in 2007 operating the one hotel, The Commercial Hotel in Wishaw, Lanarkshire, and in the ten years since we have grown considerably to the point where today the portfolio totals 16 licensed trade properties which include nine hotels, five pubs and two nightclubs, and support a total staff of over 600," explains Steve Graham, Manorview Hotels and Leisure Group's Chief Executive Officer. With a vast knowledge of the hotel and leisure sector at its disposal, Manorview is a very customer focused business, placing customer service and attention to detail at the heart of its day-to-day activities in order to ensure a memorable experience for guests regardless of the purpose of the visit.
Exciting menu options
Manorview also possesses a strong ability to recognise potential and such a talent is pivotal to its beliefs and how it can progress as a company. "The successful recruitment, training and retention of our people is a huge area of focus for us as a business," Steve states. "The longer our staff are with us, the greater understanding they have of our ethos as a business and what it is that we are trying to achieve, and this allows us to deliver a level of consistency when it comes to our service offering. I am personally a firm believer that when you look after your employees, they in turn look after the customers and ultimately this looks after the business."
The group does its bit in supporting the local supply chain by ensuring that the food it serves throughout its hotel restaurants is provided by quality, reputable local suppliers based in and around the west of Scotland. "Not only is the produce we use and serve important to us, so too is the way we present our menus and dishes within our hotels," Steve adds. "As such, one of the initiatives we have pushed in recent months has involved bringing two executive chefs on board, whose jobs will be to provide help and support to our hotel's head chefs to see how they can maintain standards and bring in exciting, new menu options. For me one of the most important things to achieve is consistency, which is perhaps also the biggest challenge we face when it comes to the food we offer. Bringing in our executive chefs has already shown us ways that this consistency can be achieved, even in a situation where our individual hotels cater for slightly different tastes and where we host weddings and other functions."
Through the continuing support of Barclays Bank and other funders, since the beginning of 2016 the group has grown its operations through a combination of purchase and development of new venues and refurbishment works within its existing estate. Projects of significant note include:
Acquisition and re-development of Cornhill Castle Hotel, a nine bedroom venue occupying an elevated position overlooking the upper River Clyde;
Completion of Boclair House hotel development in Bearsden, which the Group expects to become its flagship wedding venue, catering for 160 day and 200 evening guests.
Purchase of the iconic Star and Garter Hotel in Linlithgow
Development and refurbishment works at The Bowfield Hotel and Country Club in Howwood
Continuous growth
The continued development of Manorview has resulted in the group being recognised for the second time by the London Stock Exchange Group's 1000 Companies to Inspire Britain report, the first time being in 2015. To be included in the list, a celebration of the UK's fastest-growing and most dynamic small and medium sized businesses, companies need to show consistent revenue growth that outperforms their industry peers. Commenting at the time, Steve said: "At Manorview we have a philosophy of leading by inspiration rather than manipulation, and to be named in an Inspiring Companies List means a lot to us. I'm delighted to be included in this list for a second time, it shows we are continuing to grow and move in the right direction, and in line with our ethos."
Several months down the line and Steve remains clear as to the direction the group needs to move along to achieve its goals. "Ultimately the aim is to continue to grow the business at a consistent pace. We are at a stage now where the training and retention of our people is more important than ever if we want to reach our targets and this will remain a key focus for us. All the while we will ensure that we have one eye on opportunities that may tie into our portfolio, the incorporation of which can assist in expanding the Manorview brand."