Mano's Authentic is positioned to corner its market as a top specialty brand.
When people start new businesses, they sometimes gamble on concepts that they are uncertain will connect with the public. But Mano's Authentic has confidence, after witnessing the success of its signature thin-crust pita strips.
Co-owner Alvin Saywa explains that his family has been in various food businesses for generations. But they saw the opportunity to form Mano's Authentic after their pita strips were well received in their family restaurant as toppers for soups, salads and appetizers.
"We found that customers loved them for snacking as well," Saywa recalls. "We've been fortunate to have the ultimate proof of concept in the thousands of people we've served over the years."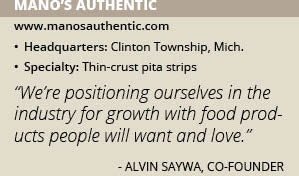 The strips also won an enthusiastic reception at local and international food shows from buyers and industry executives. "That response was overwhelming," he recalls. "That was the other part that pushed us to go in on this."
Legacy in Food
Saywa and his family recently started the company, which plans to sell the pita strips as snacks that consumers can enjoy while on the go. His family, which is originally from the Middle East, has a long legacy in food.
"My grandfather was always involved in the food industry, whether it was bars, hotels or pastry shops," the younger Saywa explains. His parents immigrated to the United States in the 1970s before opening their own retail and food businesses.
Today, Saywa and his family are bringing the lessons they learned from those businesses to Mano's Authentic. "Our products are a modern twist on products our grandparents and parents have been serving us our whole lives," he says. "That's how we've been able to sustain our restaurants over the years – by offering unique, authentic flavors and foods."
Getting Ready
Mano's Authentic will serve the retail and foodservice industries with its products. "[We] will offer them for both wholesale and retail but also for foodservice partners that service the hospitality industries," Saywa predicts.
The company is already in talks with some companies, but is waiting for the completion of its new manufacturing facility. "We have been making these by hand in the restaurant, but that's not an ideal way to serve national chains and foodservice partners," he admits.
The new facility "will be automated from A to Z," he says, adding that the company expects it to be finished by April. Mano's also will be able to offer a more authentic product than those sold by its competitors, Saywa adds.
"Most pita chips that you currently see on the market are made from the thicker, Greek-style bread," he explains. But Mano's strips, which will be sold in original, garlic sea salt, and lemon and herb flavors, are made from Middle Eastern-style pita bread.
"It's not just pushed through an extruder. Our products are made from traditional pita bread," Saywa continues. "It's thin, not as thick, and not as hard on your teeth." The company also only uses simple ingredients that are locally sourced with no added preservatives.
Mano's Authentic also draws from the cultural expertise of the Saywas, who are inspired by the company's location in the Detroit area. "Detroit is a food mecca," Saywa declares, adding that National Geographic recently named Detroit as North America's top "unexpected" food city.
Well Positioned
When the Saywa family started Mano's Authentic, it left the restaurant business "to focus on this 100 percent," Alvin Saywa recalls. "We're positioning ourselves in the industry for growth with food products people will want and love."
But now is a good time for a company like Mano's, due to the consumer's changing tastes. "Consumers are trending towards what's new and different," he says. "What we have is new and different."
Whole Foods Market also has projected Middle Eastern foods to be a strong trend in 2018. "The more exotic tastes and flavors around the world are finally coming up to the mainstream," he says. "We're positioned for that."
A Nice Spot
Saywa praises Mano's staff. "It's such a collective effort," he says. "Our team is comprised of everybody from my parents, my siblings and our business partners who have become family."
While his parents provide their industry expertise to the company, Saywa and his team represent "a younger generation, which allows us to know what the trends are and be in touch with which way the market is going," he says. "We try to bring the old and the new [together] and meet at a nice spot."
He sees a strong future for Mano's Authentic, which plans to become "a top specialty food brand that will offer not only pita products, but other food products as well."
The company also plans to unveil a line of pita chips later this year. "We're working to become a household name in every retailer with every major foodservice partner on board," he says.