Pleasure you can measure
From Skittles and Snickers to M&M's, and Marc Carena's personal favorite, Maltesers, Mars Wrigley (Mars) boasts a wealth of well-loved brands. For generations, people, and their pets, have enjoyed Mars' products and services, and the organization's 'Associates' (how Mars refers to its employees) work hard to consistently evolve and deliver on customer expectations.
Earlier in 2022, Mars announced the appointment of Marc Carena as Regional President for Europe, Central Eurasia, Belarus and Turkey, which accounts for around one third of the business' entire activity. Marc is excited to be part of an organization that has a positive impact on people's lives across the world. "At Mars Wrigley, we inspire moments of everyday happiness for our consumers. This is a wonderful reason to go to work. I'm lucky enough to work with some of the biggest and best-loved brands in the world, and having the opportunity to grow them further is a challenge I'm excited to be tackling."
Marc joined the organization from McDonald's Russia, where he spent almost four years as Managing Director. In this role, he maintained full responsibility for the Russian market, including over 850 restaurants and 65,000 employees. Before joining McDonald's, he spent six and a half years in senior general management and marketing positions with the German retailer, Metro Group. He has also held several senior general manager, marketing and sales positions at Nestlé, across Europe, Asia and Africa.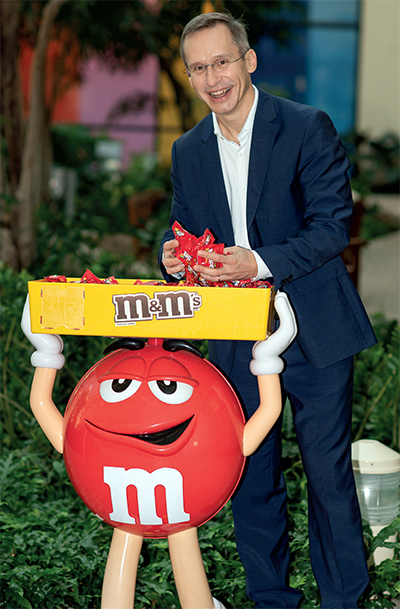 Marc brings his extensive experience in retail, foodservice and Fast-Moving Consumer Goods (FMCG) to help enhance and drive Mars' strategy for purpose-led growth across Europe, Central Eurasia, Belarus and Turkey. He provides a unique understanding of the industry, its value chain, and consumer and customer needs. His experience of managing in over 30 countries, from developed to developing markets, across three continents, will help him to successfully lead his current portfolio of countries. Passionate about championing employees and their development, he is keen to engage with the Mars 'Associate' concept.
Lasting impact
"There is a real emphasis on talent, continuous development, and collaboration. Everyone has a voice, and a progression plan. I really don't think this is true of many companies. Mars nurtures an equalitarian culture; it is informal and far from hierarchical. Even the CEO doesn't have a separate office," explains Marc.
Associates at Mars are 'everyday heroes,' united by an inspiring purpose. They take pride in Mars' unique way of doing business, and everyone is empowered to learn, expand, dream and develop. Mars is proud to be 'family-owned, future-facing, and purpose-driven.' Embedded within its culture is the mantra: 'the world we want tomorrow, starts with how we do business today.' As a global company, with the footprint of a small country, the organization has the responsibility, and the opportunity, to leave a lasting impact on the world. Indeed, Mars challenges its people, partners and suppliers to transform the way it does business, every day.
"As a private company, we have the luxury of thinking in generations rather than quarters," continues Marc. "So, we have a chance to make a real impact. Mars is strongly led by its purpose, and tries to achieve holistic value creation, incorporating positive societal impact. It is a trusted partner to stakeholders as well as a strong performer, financially. Our remuneration structure helps us achieve near-term results without compromising on the world we want tomorrow.
"Mars is led by a set of strong core principles, one of which is mutuality, which means working together with customers and suppliers to find the win-win outcome in every situation. From people and R&D to sustainability and packaging, our approach is underpinned by our global purpose, thereby ensuring that we take a principled, purpose-led approach to all decision making."
Indeed, this principled approach is threaded throughout the organization's operations, and particularly so, in terms of attitude and approach to sustainability. Mars' 'Sustainable in a Generation' plan includes working to create a healthy planet and thriving communities. One such commitment in action is accelerating its progress to achieving net zero Greenhouse Gas (GHG) emissions by 2050.
"I am excited about our sustainability agenda. We are mobilizing our suppliers on climate action. Since joining the Supplier Leadership on Climate Transition (LoCT) program last year, Mars has engaged over 85 suppliers to enrol, representing roughly 25 percent of our total carbon footprint. We are focused on engaging and mobilizing our largest 200 suppliers to maximize impact, and catalyze change through our broader supply chain," enthuses Marc.
An additional commitment is evidenced by Mars' dynamic relationship with CARE, an organization that saves lives, defeats poverty, achieves social justice, and fights for women and girls. "Via our Women for Change Program," Marc explains, "we have been investing in community-based initiatives to empower women through finance, skills and networks. In September 2022, we exceeded our target by reaching more than 77,000 Village Savings and Loans Association members in Ghana and Cote d'Ivoire, more than 75 percent of which are women."
Partnership approach
The target to be net-zero, not only as a business but also with a scope-3 supply chain, by 2050, is an incredibly exciting ambition, one that will be driven, in part, by Mars' desire to contribute to a circular economy. This model of production and consumption involves sharing, reusing, refurbishing and recycling existing materials and products for as long as possible.
Indeed, Mars' ice-cream factory in Steinbourg, France, was the first in its global network to run entirely from renewable energy. It no longer uses energy from fossil fuels, but rather from renewable wind, hydro and solar sources. "We now hope to roll this measure out across additional sites, as it is a crucial step in our global commitment to achieve carbon neutrality throughout the supply chain by 2050," elaborates Marc.
"We are also striving to ensure our packaging material, for example, never becomes waste, but rather, is recycled, reused or composted. To address the issue, we are investing hundreds of millions of dollars in the reimagining and redesigning of our packaging. This includes redesigning more than 12,000 packaging types across our diverse portfolio to fit with the recycling infrastructure that either exists today, or is likely to exist in the near future. Today, almost half of our packaging portfolio is undergoing redesign or elimination.
"In 2020, we introduced our new gum bottle, changing the material from High Density Polyethylene (HDPE) to Polyethylene Terephthalate (PET), a more popular recyclable plastic material. Then in 2021, in the German market, we launched a further improved gum bottle featuring 30 percent recycled PET. Furthermore, our new M&M's pouch is designed to be recyclable, according to the existing local packaging waste collection and sorting system. By simplifying the design and structure of our flexible packaging formats, we are significantly improving their chances of being recycled. To reinforce these measures and organizational accountability, Mars' top 300 executives now have remuneration linked to delivering against these packaging targets.
"Our business can only be successful if our partners, including the communities, suppliers, customers and planet we depend on, are also thriving. This isn't altruism, it is sound, mutual business," reinforces Marc. "Over recent years, we've seen how important our partners are to our operations, which is why we will continue to prioritize our partner and supplier relationships."
One crucial component of the Mars supply chain is cocoa. Marc explains: "We have committed $1 billion over ten years as part of our 'Cocoa for Generations' strategy. Launched in 2018, it aims to deliver real, lasting positive change across the supply chain for future generations. The strategy focuses on the critical issues that need to be addressed for cocoa farming families to thrive, taking action to help protect children, preserve forests, and improve farmer income. In October, we announced that from 2023, 100 percent of the cocoa purchased for Mars' direct factory operations across Europe will be responsibly sourced. This is a huge milestone for the business, and one of which I'm immensely proud."
Sustainability focus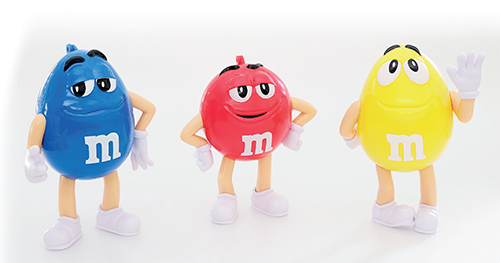 In Marc's relatively short tenure to date, he has relished getting under the skin of the business. From market visits and factory tours to meeting colleagues and exploring the full product portfolio, he has had the opportunity to learn about the strong foundations of the business, potential areas for development, and reflect on plans for the future.
"We've made huge leaps forward in recovering ground lost during the pandemic due to reduced footfall in retail stores. We've worked closely with our retail customers to ensure that the right products from the right brands are in the right locations in store, to make sure they are available and noticeable for consumers. In fact, our gum brands are leading the charge in this respect. With exciting new formats and flavors, we are working hard to maximize distribution and display across the region. Consumers love our gum and we want to make sure they can find it wherever they go.
"Without a doubt, post-induction, I'm aware that the biggest challenge we face, not just as a business but as a global community, is sustainability. However, we do already have a great foundation for this with our 'Sustainable in a Generation' program, and our ambitious targets. We know that we must act now; deadlines in the future cannot be an excuse for inaction and delay. We have already cut our full value chain GHG emissions by 7.3 percent since 2015 despite business growth. We're committed to delivering this by having robust internal governance to ensure we hold ourselves accountable to our ambitions," he concludes.
www.mars.com