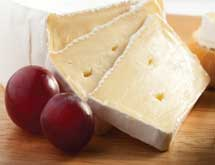 Many companies claim to be the best at providing their particular product or service, but how to they really prove it? Marin French Cheese is happy to present its products – it currently offers more than 40 handmade, artisan soft cheeses – to be judged among other specialty cheeses from all over the world.
"In the World Cheese Awards, we've been named as the best U.S. cheese three times in the past six years, and there are 57 other companies in the United States that we're up against," President Maxx Sherman says. "We've won many national and international awards. We beat the French in 2005 with our Triple Crème Brie, and in the World Cheese Awards, we've never won less than four awards in a year, although we usually win six or seven. Our quality is phenomenal, and that has been well recognized."
Based in Petaluma, Calif., Marin French Cheese has produced artisanal cheese in the same location since 1865, making it the oldest continuous cheese manufacturer in the United States, according to Sherman. James Boyce – an environmentalist with experience in growing crops, citrus and organic cattle without chemicals – bought the company in 1995 when it was producing four deli cheeses for local grocery stores.
Since then, the company has grown to offer more than 40 varieties of cheese and now sells to upscale restaurants, independent cafes, specialty and chain grocery stores, and warehouse and club stores. Under the brand Rouge et Noir, the company produces soft-ripening cheeses, such as brie, camembert and schloss, in a variety of sizes and flavors. Its first cheese in 1865 was a breakfast cheese, which is soft with a butter flavor, making it complimentary to toast and jelly, Sherman notes.
"Very few companies make soft-ripened cheeses in the United States," he stresses. "We have succeeded because we found a way to perfect our quality of handmade cheeses in large batches."
One At a Time
The artisanal aspect of Marin's cheeses is an important part of their quality, and part of the company's legacy, Sherman notes. Every cheese is made by hand, one at a time, with methods the company has used since its inception.
"We have an apprentice program – our employees learn to make the cheese from other employees," Sherman explains. "Making it by hand is very important to our quality. This is a family owned and operated company, which sets us apart, but the craftsmanship is incredibly important to our success. It is what we are known for."
Marin's level of craftsmanship and focus on quality goes beyond its production methods, however. The company sources its milk from local farms within 10 to 15 miles of its facility, and the milk is all natural – completely hormone-free. It primarily uses milk from Jersey cows, which provide milk with higher levels of protein and butter fat, Sherman notes. The company then uses active European cultures to give the milk the characteristics it wants to yield its particular cheeses. The cheeses are aged in its original, hand-dug cellar, and then weighed and packaged by hand.
"We are making about 40 different kinds now, including mixed-milk cheeses and soft-ripened blue cheeses," he says. "People are buying high-quality cheese right now – they are going after better quality products and they are willing to pay for them."
Maxx Of All Trades
Quality is currently Sherman's primary focus. He has more than 30 years of experience, primarily in the specialty foods industry, and, in 2004, was responsible for launching Marin French Cheese's sales and marketing efforts. Since then, he has also taken on the R&D role, as he is the one who manages the team that comes up with ideas for all of the company's new cheeses. He must be doing well in all aspects of his job, because he was promoted to the role of president in May.
"Taking over the helm of the oldest continuously operating cheese producer in the United States is an honor and a humbling experience," he says. "It shows that an old-fashioned work ethic can still prove successful today.
"I now have the opportunity to lead the Marin French Cheese Co. into the next level of success that Jim Boyce has created a foundation for."