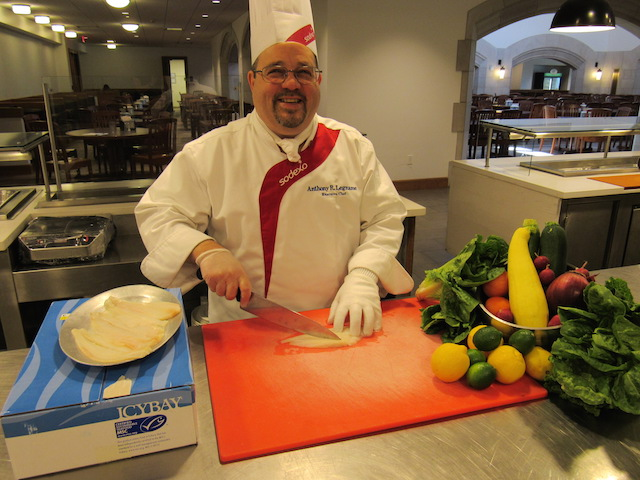 Marist College Dining serves the campus community with a focus on sustainability and accommodating dietary restrictions.
Marist College Dining provides multiple dining opportunities to its 5,000 students, offering a variety of menu options of not only traditional and international cuisines, but also accommodating various food allergies. The dining team strives to offer quality meals all day, every day since the dining hall serves as many students' main source for breakfast, lunch and dinner. Much of the food served is locally sourced within a 150-mile radius and treated with sustainability in mind.
The college is one of 13 in the country with Marine Stewardship Council (MSC) certification, ensuring that all fish served can be traced back to sustainable fisheries. In addition, Marist College Dining serves grass-fed burgers, cage-free eggs and hormone- and antibiotic-free chicken, while using 48 percent locally sourced goods and making 90 percent of the campus' baked goods fresh daily.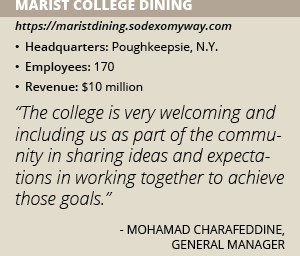 "We try to do as much as we can on campus to give students fresh foods that they know where it came from and know its source," General Manager Mohamad Charafeddine says. "This is the transparency that the young generation wants from the people that serve them."
With programs in place to assess and reduce food waste, Marist College Dining is embracing sustainability efforts and working hand-in-hand with the college to accomplish goals. In 2007, the dining team began composting food waste and moving toward biodegradable products wherever it could. Currently, all organic food waste from both stations and customer plates is processed through the Augur Food Digester, breaking it down into gray water. For food that does not need to be composted or processed, students come to the kitchen for a program called Food Recovery Network. They collect the leftovers and take them to shelters to serve people in need.
"We have a timeline; this kind of effort does not happen overnight," Charafeddine says. "Every year you have a goal and accomplish that goal. The college wanted to be sustainable and one of the leading colleges in the nation for that effort."
Student Feedback
Ensuring students are satisfied with their options in the dining hall is important to Marist College Dining. The dining team engages with the students on a regular basis through campus surveys and meetings of the Marist Culinary Council, which consists of professionals, students, faculty and staff to discuss food offerings and upcoming dining events. "We do post our notes online, so everyone has a chance to see what we promised and if we're delivering," Charafeddine adds.
"Students are very vocal," Executive Chef Anthony Legname says. "I'm engaged with them with food demonstrations or just walking around the dining hall. They're comfortable sharing their thoughts and suggestions with us, which we really encourage."
While the dining team says it's hard to keep up with what everyone wants, it still ties everything back to the cultural shift in meeting health, wellness and sustainability needs. "They continue to demand more, and I'm glad they do," Charafeddine notes.
Many students come through with dietary preferences and restrictions, so Marist College Dining has developed a special room in the hall called My Zone, where students can get a meal free of the seven most common allergens, based on the specificity and severity of a student's need. My Zone also has storage for dry goods, so students can safely store snacks in an area free of contamination that their dorm room may not offer.
"We actually go out to the grocery store to pick up these specialty products for these students to create more of a home environment," Legname says. "We source it for them at the local healthfood stores so the students can have everything they need."
Committed Team
Sodexo, the dining hall team, may be contracted by Marist College, but Charafeddine says they feel just as close as members of the college community. "We've become very integrated into the community there," he adds. "All the students support us, and we have great feelings of support from all of them. The college is very welcoming and includes us as part of the community in sharing ideas and expectations in working together to achieve those goals."
But it's not without its pressures, Charafeddine adds. Every day he steps on campus feels like it's the first day on the job. He has a lot of expectations to manage among the college, students and his team, but everyone works together to serve the students.
"It's instilled in us that every day is your first day," Legname agrees. "The amount of volume we cook is sometimes a little overwhelming, serving about 4,200 to 4,400 meals per day. But the dedication and hard work I see from my staff is impressive."
"I'm proud of being able to deliver to the college, and the commitment that our team has to students, staff and members of the college community," Charafeddine says. "I don't take shortcuts in achieving our goals. I get it done, no matter what. That's my trademark."