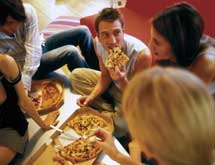 Pizza, more than most other forms of takeout, is a communal experience. First, everyone comes together to agree upon the toppings, then everyone gathers around and shares the pie. Perhaps it's fitting, then, that New York-based chain Mark's Pizzeria takes such an active interest in the community. Founder and owner Mark Crane says serving the community has been just as important to the company as serving quality food, and the company demonstrates this commitment time and time again.
Crane founded Mark's Pizzeria with the opening of a single store in Palmyra, N.Y., in 1982. According to Crane, he had always been interested in cooking and saw a pizzeria as a way to combine his hobby and his livelihood. Over the years, the company has opened more than 40 stores throughout upstate New York, primarily concentrated in the Rochester and Syracuse areas.
Mark's Pizzeria is focused on making pizza without taking shortcuts, and takes the time necessary to make the best possible pizza. These efforts include making its dough fresh every day and buying fresh ingredients whenever possible, rather than frozen. "We're really big on quality and service," Crane says. "We put a lot of time into trying to do it right."
Giving Back
Mark's Pizzeria also is focused on doing the right thing when it comes to community service. Since the company was founded, Crane has been donating time and money to various local charities and organizations. The centerpiece of the company's efforts is an annual charity golf tournament it hosts, which raises money for organizations such as St. Mary's Cancer Center of Unity Health and St Mary's Hospice of Lifetime Care.
In addition to the golf tournament, Mark's Pizzeria also donates directly to a number of local charities. These include the East Rochester Alumni Foundation, the Rochester Renegades Women's Rugby Club and The Holiday Hootenanny. The latter is a Rochester-based charity that has contributed thousands of dollars to benefit needy children in the city, the company says.
Other times, the company's involvement is much more personal. In a post made on the Mark's Pizzeria Facebook page, a customer recounted how she called Mark's Pizzeria to place an order while she visited a young family member in the hospital. Upon hearing she was visiting a child suffering from muscular dystrophy, the store's management delivered a free pizza, soda, a T-shirt and a get-well card signed by the store's staff.
Motivational Techniques
Along with the good it does for others, maintaining a strong positive presence in the community is important for Mark's Pizzeria to establish itself in a sea of competitors, Crane says. Because pizza is a relatively consistent product and because there are so many competitors in the form of local and national chains, Crane says the most difficult thing about the business is staying focused.
"Some of the biggest challenges are just keeping people motivated and interested," he says.
For its part, Mark's Pizzeria has a corporate culture that encourages employees to be positive and upbeat with every customer. Crane says Mark's Pizzeria employees tend to be more motivated when they understand how important each customer is to the company. "We try to have the attitude where we're lucky to have that person come in," he says.
For the company's upper management, Crane says Mark's Pizzeria offers generous bonuses based on performance. "Nowadays, that seems like a pretty good motivation," he says.
Bigger Community
Although in the past Mark's Pizzeria was able to differentiate itself from national pizza chains through its broader menu, which includes calzones, chicken wings and subs, the larger players in the pizza business have responded with their own variations on many of those items. Crane says Mark's Pizzeria has been working to bolster its profile across the country through franchising.
Crane says that the company is planning to open about three new stores per year, and is beginning to see new markets open up outside of upstate New York. "We're opening some stores out of state right now, and we're hoping to get to a place where we can open some stores in Florida, North Carolina and South Carolina," he says.
Pizza is a communal experience, and Mark's Pizzeria is doing what it can do broaden the community of loyal customers it has now. "We always try to do everything the best we can, and always have," Crane says.