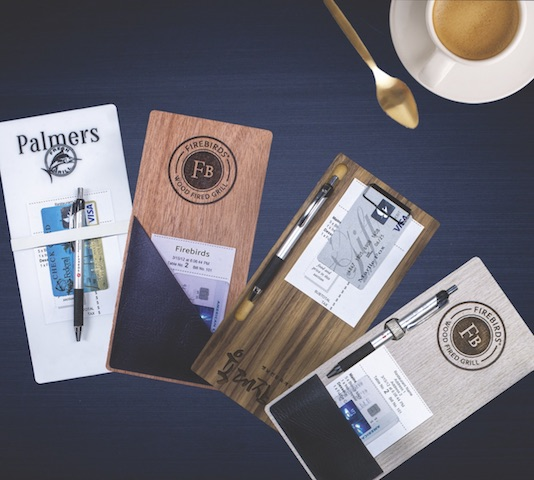 Marquee Menus' custom, handcrafted wood menu covers and check presenters bring a refined, modern look to the table.
Every restaurateur knows the key to success today is all about creating a memorable guest experience from start to finish. Some of the more obvious components of that include creating an unforgettable atmosphere, impeccable service and serving delicious, Instagram-worthy food and beverages, but even the smallest detail can ensure guests' experiences are wrapped nicely up in a bow.
Marquee Menus is setting the industry standard when it comes to customizable, handcrafted, wood menu covers, menu holders and check presenters that add a touch of elegance from beginning to end. "Wood is really popular right now because it has a classic look and is a very durable material to craft with," says founder Nate Davies. "Restaurant owners are tired of spending the time and money it takes to purchase custom menu covers for their establishment only to look tattered and worn out after three months. Honestly, what's the point?"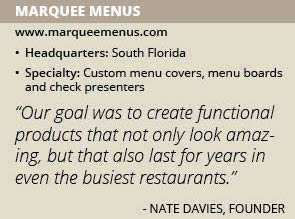 A creator and entrepreneur at heart, Davies had dabbled in starting his own business while working as a bartender at the Waldorf Astoria in Key West, Fla., for about eight years until one day four years ago when inspiration struck. "I saw a wood check presenter with the client's logo engraved onto the front and I thought that it was really cool," he remembers. "I came up with 15 other products and started showing them to some of the contacts I had made over the years working in the food and beverage industry. Everyone absolutely loved them! The next thing you know, we have this big shop with 10 laser engravers running around the clock and here we are today."
Marquee Menus attributes its success first and foremost to its product, but also to its flexibility when working with clients and hands-on customer service from start to finish. "One of the stigmas that we wanted to overcome when developing our line of products was this idea that wood menu covers would always have a rustic, oversized feel to them," Davies says. "We really wanted our line of products to have a minimalist, modern look to them while still retaining the durability that our clients require."
A Small Business at Heart
Although Marquee Menus grown over the years to accommodate the demand for its products, the company has always held on to what made the business successful from the beginning: customization. "We sell a made-to-order product," Davies explains. "So, the process of customizing your order must be an integral part of the buying experience."
"We developed and molded the way that we sell our products through the knowledge that we gained when selling our initial product line on our Etsy Store, a marketplace for handcrafted products. This was not an ideal place for business to business products," Davies admits.
However, because the company met Etsy's requirements for handmade products, Davies decided to launch the store to gauge demand for the product. With no advertising budget to speak of or even a website, Marquee Menus was shipping its products all over the world to small French restaurants to huge companies such as Hilton, Four Seasons and Red Bull. The company quickly realized the food and beverage industry was lacking in well-designed, durable wood products and began building an online presence and expanding its operation.
With most online menu cover manufacturers, customers purchase a premade product and make their menu page(s) and logo fit within those predetermined guidelines. Marquee Menus has always done things different. Customers need to simply communicate which style of product they need, their menu size, the placement and size of their logo, and the final product will be designed to meet the customers' guidelines, not the company's.
The product design team at Marquee Menus can have, on average, a full-size digital product mock-up ready for approval within 24 hours. "We never pull a product off a shelf and add your logo," Davies notes. "In fact, I don't think that we have ever sold two orders that were exactly the same size. There may only be a small different between two custom orders, but we know that difference is important to you, so it's important to us."
Although ordering can be done straight from the company's website, Marquee Menus prefers to speak with every potential client on the phone or via email to ensure that the process of ordering what could potentially be a very large investment, unfolds as seamlessly as possible. Often times the design team is able to suggest products and design options that will work even better than what the client had initially thought they needed.
Real to the Core
Marquee Menus' entire line of custom products start with a water-repellent wood core that is pressed with your choice of seven genuine hardwood veneers. The line of premium wood veneer that is used on the product is available in natural species, such as Black Walnut and White Maple, but is also available in factory dyed finishes such as the Lava Grey, Charcoal, and Blue Koto. These factory dyed veneers still retain the texture and appearance of the original wood veneer but offer something completely different than anything else available on the market. Every product that Marquee Menus offers is available in any one of these seven finish options, allowing clients to create a unique and cohesive look across their establishment.
Rather than using a far less expensive fiber wood (MDF) as the base for its products, which is extremely common in the industry and results in frayed corners and unacceptable ware and tare after only a short period of time, Marquee Menus uses an American manufactured marine grade wood core. "Using a real wood core as the base for our genuine hardwood veneers makes the product virtually indestructible," Davies notes. " Our goal was to create functional products that not only look amazing, but that also last for years in even the busiest restaurants."
Marquee Menus' entire line of custom products are crafted from start to finish in its small, south Florida factory and no products leave the shop without meeting stringent quality control standards. Custom orders typically ship within two to three weeks or faster. Davies says he looks back and smiles when he thinks about how, "in the past, we have agreed to some fairly ridiculous deadlines from our clients because we do whatever it takes to make sure the order is there on time. Even if that means covering overnight delivery charges on orders that can weigh anywhere from 10 to 70 pounds. If we tell you it's going to be there, there just isn't any other option. It's going to be there. That is just how we do business."
Marquee Menus only requires a 20-piece minimum on custom orders and all of the listed prices include customization of the client's laser engraved logo and final product size. "Your engraved logo is not an afterthought or add on," Davies emphasizes. "We may have a slightly higher price point then some of the other products on the market, but everything is included, made with the highest quality materials, and handcrafted by humans in the U.S.A."
Custom creations
Moving forward, Marquee Menus plans to continue focusing on customizable presentation materials for the food and beverage industry. The products available on the company's website are just a starting point because Marquee Menus prides itself on developing truly custom creations that are made for each individual client.
"We are always innovating and coming up with new products that our clients can use," Davies says. "We want to improve our existing products and come up with things that they've never seen before, or help bring the client's ideas to life."