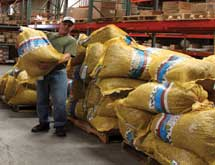 Marra Brothers Distributing Inc.
The commitment to supplying the highest quality products possible along with ensuring that Marra Brothers' products are fresh when customers receive them is contributing to the success of Marra Brothers Distributing Inc., a distributor of bulk and packaged food products in the San Francisco Bay area.
"We've kind of just concentrated on this area, the independent markets, and there's a lot of produce stands," says Linda Marra, CFO, vice president and secretary/treasurer.
"Most are open all year long, some are seasonal, so in every area it is a little different. The biggest chain we have is nine stores.
"When we started 32 years ago, it was out of our garage and we had maybe about 65 items," she remembers. "Now, we carry over 2,000 items and we're in a 20,000-square-foot warehouse." The products are diversified so that they can service all departments in the grocery stores: grocery, produce, deli and meat.
The bulk food movement started in the 1970s and spread across the country, promising fresher produce from local growers. Marra Brothers Distributing provides everything from soup to nuts along with dried fruits, trail mixes, kettle corn, chocolate and yogurt products, candies, chips, dips, salsas, dressings and granolas.
Servicing For the Stores
A key aspect of Marra Brothers' business plan is that it essentially manages the bulk food business for its customers. "We do store servicing," Marra points out. "Our drivers not only deliver the product, they work the product in the store. Our drivers know after they've been servicing a store what type of products sell in that store and what the volume they do is."
This relieves the stores from having to keep stock on hand. "When you look at the number of items in a grocery store, there's no way they can keep back stock of everything that they sell," Marra emphasizes. "So, that's why it's easy for them when they just have to buy one case a week and not 50."
Marra Brothers's drivers write the orders, deliver, merchandise and rotate the company's products. The company's reputation in the area is in very high standing due to its service policies.
New Products
New products are the lifeblood of the food industry. For the last year, kettle corn has been melting consumers' hearts. Marra Brothers has been distributing kettle corn and packaging it under its own label.
"That has been a huge success," Marra asserts. "We also have a fire-roasted Valencia peanut that has been a huge success. You don't normally find those in a store, and it's something that we had come up with and that we trademarked."
Although it sounds like a peanut with a spicy coating, fire-roasted Valencia peanuts actually are roasted in their shells until the shells turn black. "It looks burnt because it's cooked by fire, and it burns the shell but cooks the peanut inside," Marra explains. "It has a real different taste to it. People try them and they can't believe how good they are."
The fire-roasting started at a flea market at which the company sells its products. "We had some customers at a flea market who wanted those, and we tried experimenting; the experimenting went wild, where we cooked thousands of pounds a week."
With the popular demand of glazed pecans, Glen Marra approached his daughter Melannie with the idea of glazing walnuts. "We came up with those maybe 10 years ago, and it caught on in the marketplace," Linda Marra maintains. "Our volume got so big, we had to have somebody do them for us, and now all the big manufacturers do their own."
Customer requests also are a source of new products. "If they want to change something, they call and ask whether we can do this or that," Marra says. "So we try and do that, so it is a constant change."
Independents Days
Marra Brothers distributes within a 150-mile radius in the Bay area and sells to other distributors and food companies that supply restaurants, hotels and inns.
"When we started, there were probably three or four distributors in the Bay area, and actually we only have one serious competitor left," Marra says. "But where we've stayed local, they are now national. I consider ourselves little people. We're in a little niche because there aren't many of us who do this."
The company receives its products through brokers from California and other local sources, but for some products – like cashews, pineapples, papaya and other fruit and nuts – international sources in the Philippines, China or Taiwan are used. "A lot of our companies we've been dealing with for 30-plus years," Marra notes.
Marra Brothers does not sell on the Internet because it does not want to compete with its retail customers, but it ships some products to the out-of-state homes of visitors to the region who request them. The market for Marra Brothers' independent customers is becoming difficult.
"Everybody is having a tough time right now," Marra concedes. "The independent markets have basically suffered with the competition from all these big companies that are almost giving away product.
"But we deal with a lot of upper-end chains that have a customer base who knows the product and quality that these stores sell," he adds. "That's one of the things we're noted for is the quality of the merchandise that we carry and our fair pricing."