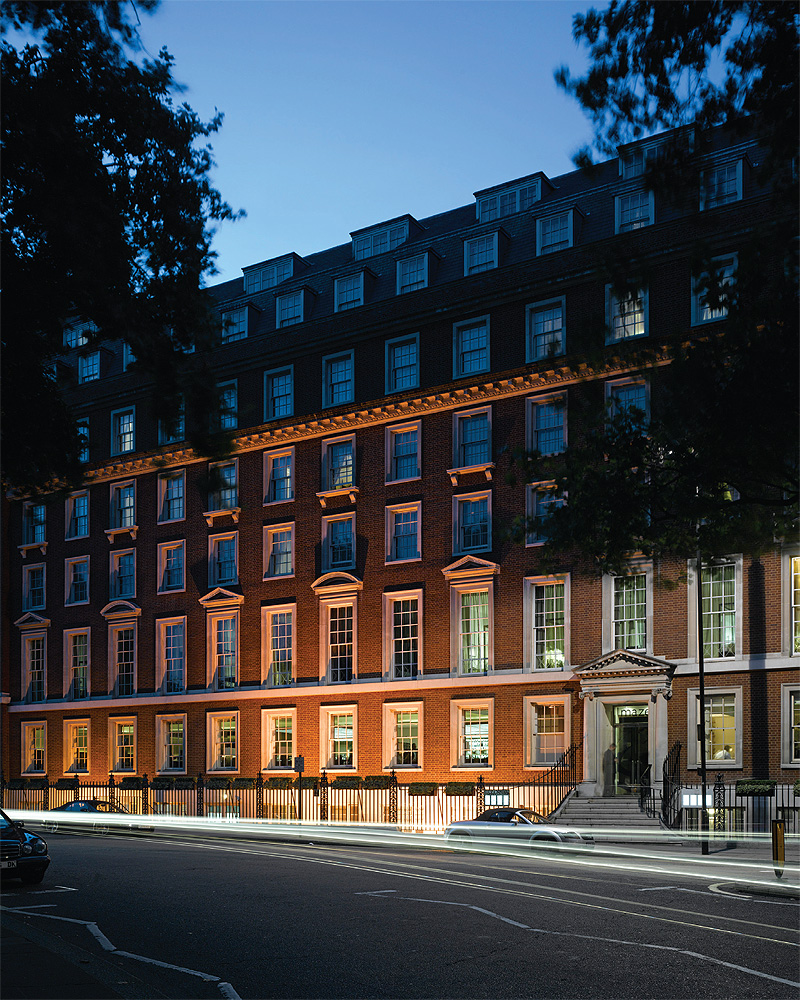 Marriott Hotel Grosvenor Square
Good night suitehearts
Following refurbishment, the London Marriott Hotel Grosvenor Square is ready to retain its position as one of the city's leading hospitality destinations
Located at the heart of Britain's capital, the London Marriott Hotel Grosvenor Square is a 25-year-old hotel located inside a stately Victorian townhouse in the locale of Mayfair. As a five star hotel it is designed and operated to the highest quality of hospitality, including culinary services from one of the country's most famous chefs: Gordon Ramsay. Having recently undergone a complete refurbishment to enhance it facilities, the hotel is currently looking forward to future social occasions such as the Royal Wedding and Olympics.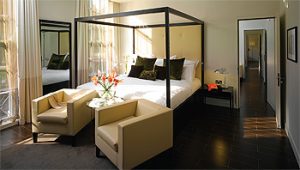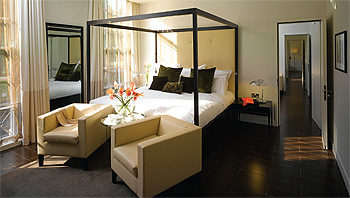 General manager of the hotel, John Hazard, talks about the facilities it can offer guests: "Following the multi-million pound refurbishment, the hotel has been reinvented to become an elegantly styled urban retreat. It offers classic five-star service and a contemporary sophisticated interior as well as a number of first class amenities from elegantly styled rooms and suites – of which some have a private outdoor terrace – to the exclusive and spacious Club Lounge. The hotel is also home to a fully equipped fitness centre, 14 meeting rooms, along with the grand Westminster Ballroom. Dining at the hotel is an award winning experience, with two restaurants by Gordon Ramsay including the Michelin-starred Maze."
Maze Restaurant is a fine dining restaurant, presenting diners with a menu that blends the fundamentals of French cuisine with influences from the Far East. It offers seating for up to 50 people as well as private dining for up to ten guests in a room designed by famed American architect David Rockwell. The second restaurant is known as the Maze Grill. A more casual affair than its restaurant counterpart, it offers hotel guests a menu reminiscent of New York steakhouses: cuts of beef, grilled meats and fresh fish dishes. To offer the freshest, highest quality ingredients a great deal of effort is put into sourcing raw materials a locally as possible and, as a result of this, seasonality also plays an important role in menu design.
Both are located within the walls of the Grosvenor Square building and are operated by Gordon Ramsay, a person with whom the hotel has a strong relationship. "The restaurants and hotel work very closely on a day-to-day basis, on both an operational level and also where sales are concerned," John illustrates. "We make sure to schedule weekly meetings so that we are integrated as much as possible and equipped to offer the best to our guests.
"We are also the only hotel in London to offer exclusive room service by Gordon Ramsay for those guests that want to experience luxury in-room dining. Both the hotel and Marriott are proud to be associated with Gordon Ramsay and we are privileged to have two of his restaurants located within our doors. Both parties saw this as a great partnership opportunity to offer guests not only five star accommodation but also a choice of fine dining experiences as well."
Michelin-starred culinary delight is just one of many strengths the hotel offers guests. Its location in London's prestigious Mayfair area, where bedrooms overlook the Grosvenor Square gardens, mean it has not only great views but also proximity to many of the capital's attractions such as Bond Street, Hyde Park and Buckingham Palace. There are also advantages for business travellers too: wi-fi access throughout the building, a 24 hour business centre, and walking distance to important institutions including the US Embassy, Citigroup, BP and Accenture.
Functions
It also offers a number of conference and banqueting rooms, available for both corporate and private functions. As well as 14 meeting rooms the hotel contains a large hall known as the Westminster Ballroom, a 735 square metre space capable of accommodating up to 552 people for a seated dinner, and 1000 for a reception. It recently underwent a £100,000 project to update and expand the interior, part of wider investment by the hotel into refurbishing its facilities. John explains: "We wanted to offer our guests the best and largest possible event space compared to our competitors – this was the major drive behind the work. We also invested a further £4 million into refurbishing 100 bedrooms throughout the building."
This investment came during a time of financial uncertainty but proved to be a well-planned move by the hotel, displaying belief in itself and assuring guests of ongoing quality. Coupled with an association to the internationally respected Marriott brand, the Grosvenor Square hotel continued welcoming a steady number of guests despite the impact of the recession. In the midst of this, a 25th anniversary was celebrated in 2010 with luxury over night stays offered at £25 to 25 guests; it also partnered with Les Miserables – also celebrating its 25th year on the West End – to offer theatre packages to its guests.
"After slight uncertainties about the marketplace, we are now feeling very confident," concludes John. "We maintain a very positive outlook, especially regarding what the forthcoming Royal Wedding and Olympics will bring to London. Following our major refurbishment works, we have high hopes for the hotel over the next five years and maintain an overall aim to continue offering a classic five star service to each and every guest that stays with us."