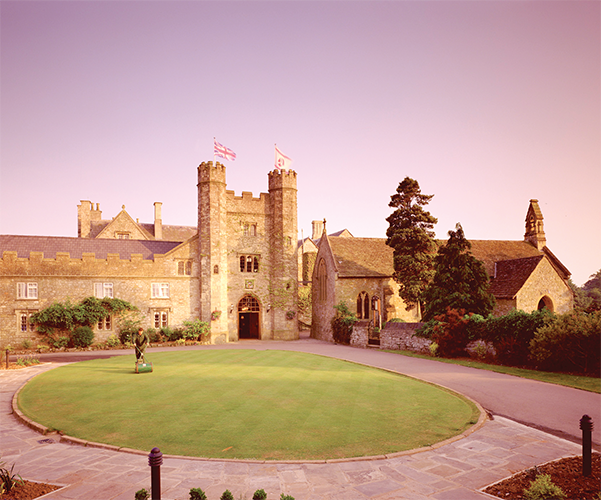 Marriott St. Pierre Hotel & Country Club
Superior service on the menu
As part of Marriott International, the Marriott St. Pierre Hotel & Country Club offers guests a sumptuous break in the heart of the Welsh countryside
St. Pierre is a four star luxurious hotel situated in Chesptow, South Wales, that offers a variety of activities and amenities, fine food and wine, high quality service and relaxing countryside surroundings. As part of the globally renowned Marriott International, St. Pierre has enjoyed great success since it merged with the leading hospitality corporation two years ago. Operating over 2800 hotels and resorts across 63 countries, Marriott is famed for its unsurpassed tradition of warm service that evokes a homely atmosphere for guests whilst providing those travelling for business purposes with a visit that is as productive as it is comfortable.
St. Pierre is an idyllic retreat set in the grounds of a stunning 14th century manor house built around the 11th century Norman church of St. Peter. It boasts breathtaking views with 400 acres of picturesque parkland and an 11-acre lake. Set in the rolling hills of South Wales, the Marriott St. Pierre has perfectly blended historic architecture with modern facilities and comfort. Its elegant newly refurbished
bedrooms offer luxurious bedding with designer duvets, mini-bar, a dedicated workspace and 24-hour room service comprising high quality cuisine.
Guests are offered a selection of dining options, choosing from the oak-panelled, traditional Orangery Restaurant, the contemporary Zest Lounge Bar and Eatery and the Trophy Bar Lounge – a selection which caters to all palates. The Orangery restaurant's à la carte menu offers daily breakfast buffets and traditional Welsh cuisine alongside vegetarian choices. The more recently opened Zest Lounge Bar is a brasserie serving lunch and dinner in an informal lounge setting and offers a continental menu including meals specifically created for children. Guests can enjoy contemporary meals as well as a range of pastries and sandwiches. The Trophy Bar Lounge and Terrace offer the opportunity to indulge in a sandwich or light snack whilst overlooking the 18th Hole of the Old Course. Room service is available around the clock using Marriott's re:Plenish service so guests can enjoy the hotel's first rate food at their convenience. Marriott's business provisions include copying, fax, secretarial and messenger service, a large workstation and highspeed internet access, aiming to facilitate working visits. Large conference and event facilities are also available, which are managed by experienced event planners and can be catered by the hotel's experienced chefs. Other guest services that ease travelling include babysitting, foreign exchange, a daily housekeeping service and laundry.
All these services are delivered by the hotel's highly trained staff, who are indicative of the chain. Marriott's commitment to its workforce has gained worldwide acclaim and, according to US publication Fortune Magazine, the chain is the most admired company in the lodging industry. It deemed Marriott one of the 100 Best Companies to Work For and one of the Top 50 Companies for Minorities. The National Association for the Advancement of Colored People (NAACP) ranked Marriott number one in the organisation's annual lodging industry report card and Latina Style Magazine named Marriott one of The 50 Best Companies for Latinas to Work For in the US. It is the core values established by the Marriott family 80 years ago that will continue to guide its growth in the future and its foremost value is the belief that its employees are its greatest assets, which is the reason Marriott cultivates an environment that supports employee growth and personal development. To this end, Marriott has implemented a performance reward system that recognises important contributions from both hourly and management employees, and utilises a hands-on management style. The international brand is built on fundamental ideals of high quality service to its staff and guests, ensuring all Marriott staff embody the company's 'Spirit to Serve' motto.
Recreational activities onsite and nearby in the Welsh countryside include indoor swimming, golf on the two eighteen-hole courses with driving range and putting green, tennis on the flood-lit courts and skiing at the Ski & Snowboarding Centre in Cardiff. The hotel's ideal location in Chepstow means guests can visit local attractions and landmarks such as Chepstow Racecourse, Forest of Dean and Tintern Abbey, with Cardiff and Bristol being a stone's throw away.
Marriott focuses on growth through managed and franchised properties, owners, investors, and ensuring each franchise exemplifies the company's values and excellent standards. Marriott takes pride in the knowledge that customers can count on its hotels to provide a unique blend of quality, fine dining and personal service anywhere in the world. St. Pierre is currently undergoing a £4.5 million refurbishment, with a view to completion by January 2008, which will update its meeting and conference rooms, Orangery Restaurant and Zest Lounge Bar. With all of its 148 bedroom refurbishment being completed in the summer of 2007, the Marriott St Pierre Hotel & Country Club is guaranteed to offer it's guests a more enjoyable experience.