Mars Cheese Castle celebrates more than 70 years in business.
The castle, complete with a watchtower and drawbridge, is impossible to ignore. Resting proudly at the intersection of Highway 142 and Interstate 94 in Wisconsin's Kenosha County, Mars Cheese Castle commands royal attention.
Highly visible from Interstate 94 that connects Chicago and Milwaukee, the iconic fortress has become a well-known travel destination. On a busy weekend, it attracts more than 3,000 visitors.
"A part of what makes us unique is how we treat our customers," says Michael Ventura, co-GM and member of the founding family . "That's the magic. My grandfather wanted all his customers to be treated like royalty. They are the king of the castle."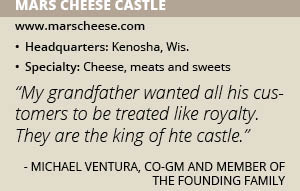 Though its exterior appearance changed over the years, the family-owned business has been a staple in the area for more than 70 years. Famous for hundreds of cheese varieties, sausage, baked goods and wine and beer, the castle attracts visitors from all over the world.
The 40,000-square-foot fortress houses a cheese room, bakery, tavern, beer cave and wine area, gift shop and dining area.
One Of A Kind
When Mario and Martha Ventura opened Mars Cheese Castle – named after the first three letters of both of their first names – in 1947, it was a type of Italian deli that sold cold cuts and cheeses. But it grew into much more.
Today, the castle carries thousands of specialty products. It even serves its own exclusive beer on tap, Mars Red Planet Ale, created by the Lakefront Brewery in Milwaukee. Guests who visit its tavern and dining area are often order Mars Cheese Castle's all-star Reuben sandwich or its signature hand-crafted Bloody Mary.
The castle's bakery boasts a one-of-a-kind cheese bread made with hand-rolled white egg dough laced with aged Wisconsin cheddar cheese.
"My father invented this cheese bread," says Natalie Broussard, a family member who works for the company. "There's nothing quite like it. It's our signature recipe."
The establishment is also known for its variety of cheese spreads, gourmet coffee from Door County in Wisconsin and souvenir gifts. Although it sells its most popular items on its website, Mars Cheese Castle will soon add more items for its online clientele.
"So far we've only had the heavy hitters on our website," Ventura says. "But we want to put more of that Mars experience online. You will see our website grow. It will have more products and maybe a few interactive features."
A Place To Be
It's not just a store. Mars Cheese is known to host a variety of special events throughout the year that attract hundreds of visitors. The castle's interior mirrors its exterior – keeping with the medieval castle aesthetic.
Its hand-carved thrones, antler chandeliers, larger-than-life knights in shining armor and a pergola centerpiece made of 100-year-old reclaimed oak all create a fun atmosphere for its special events.
There's also a massive feast table carefully decorated for each season and complete with enough chairs for a royal feast. Stained glass windows are featured in almost every room paired with other medieval architecture staples like exposed stone, mahogany brown wood and rustic chandeliers.
One of Mars Cheese Castle's most popular annual events is the Bourbon Barrel Beer and Oyster feast that takes place on Christmas Eve. Ventura's cousin and co-GM, Tyson Wehrmeister, started the event."He started this thinking, 'I'm going to order a few oysters for family and friends,'" Ventura says, adding that 2018 will be the fifth annual event. "But it became very popular with customers. We fly in oysters from east and west coasts, including Canada and offer specially selected bourbon barrel-aged beer. We shuck the oysters to order in front of customers. It's a rare treat fit for royalty."
In addition, the castle has played host to corporate functions, parties and other special events. "On the weekends, we often have vendors doing demonstrations outside for our products," Ventura says. "We had a demo of fresh mozzarella cheese being made in-house and we've had beer and wine vendors offering free samples to guests – and our guests can sample hundreds of different cheeses any day we're open."
Mars Cheese Castle underwent many changes during the past seven decades. Destroyed by fire in 1957, the castle had to be rebuilt. In 2011, due to Interstate 94 highway expansion, it had to relocate. Fortunately, it remained near the same corner, and the old building was replaced by a new castle. "Except for the moat, Mars is housed in a real castle." Ventura says.