Hops and craft
Mast Landing Brewing Company may be fairly new to the brewing business, but it is leaving an impressive mark on the industry, with an innovative vision to bring a refreshing and uniquely crafted taste to beer drinkers across the States
Mast Landing Brewing Company (Mast Landing) opened to the public in 2016. However, it had already begun life years earlier as a home-brewing project in Freeport, Maine in the garage of Ian and Kelly Dorsey. The two were later joined by friends, Neil Frederick and Mike Capen, as they explored different styles of beer and the process of creating their own brew from scratch. As they gained experience and support from their community, plans came together to move the brewery out of the garage and into the public as a fully-fledged business. Ian Dorsey, now the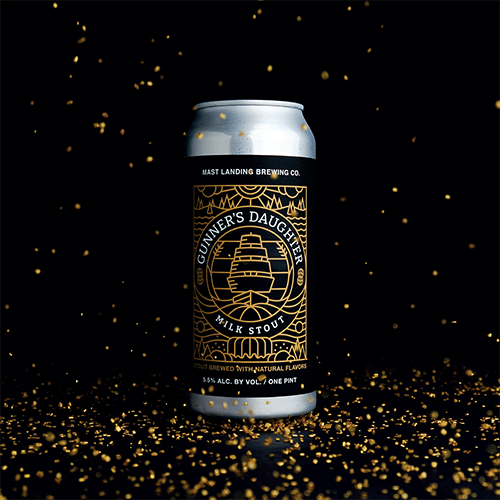 President and CEO, shares with us the success that has been infused with the Mast Landing name over the past five years.
"The brewery began by producing many of the styles that craft beer enthusiasts are accustomed to, such as pale ales, stouts and blonde ales, before then expanding to include sour ales, saison, lagers, mixed fermentation beer, and much more. However, our flagship beer – the product that makes up the largest portion of our output – is Gunner's Daughter; a milk stout that is brewed with a complex malt bill, as well as lactose and natural flavors to create a beautifully aromatic and balanced beer. With notes of peanut butter, dark chocolate, and coffee, Gunner's Daughter has caught the attention of beer drinkers nationwide," Ian begins.
By producing beers across a spectrum of different flavor profiles and styles, Mast Landing is able to ensure that all those who encounter its beers will find something that they enjoy. "Rigorous quality control standards guarantee that our products are consistent, delicious, and optimized for distribution outside of the tasting rooms," he says.
While the brewery's Westbrook tasting room and production facility worked well spatially and financially for the group at the time, heading back to Freeport remained a top priority, and consequently, early support from locals in Westbrook, as well as the larger Maine beer community, allowed Mast Landing to expand its facilities, hire more staff and begin canning beer for distribution. So much so that in 2019, after steady growth locally and in the East Coast market, the business opened a 20,000 square foot production facility down the road from the original tasting room in Westbrook.
With the additional expansion, the team was able to reach a greater demand that crossed State borders. "The growth of the business has been approached in a very sustainable way. The 20,000 square foot production facility that we opened was designed for growth and efficiency. We began with a 30-barrel brew house and 13 fermentation vessels, as well as a canning line, which left us a good amount of space to grow within the building. In the time since then, we've been able to add additional fermentation tanks, as well as a new canning line. By taking this approach to growth, we were able to ensure that the facility is organized well and that our team was equipped to brew, package, and store beer in a synchronized way.
"As attention and support for the brewery increased, we have always kept our eyes on the longevity of the company. Modest, calculated growth has allowed us to master each new venture before moving on, whether that includes adding new production equipment, supporting new distribution markets, or expanding our on-site tasting room offerings. This has allowed us to create strong foundations for growth, and ensure that as we take on new facilities, distribution areas, and fresher styles of beer production, we can do so confidently and thoroughly," Ian says, further sharing that such methodical measures opened up the opportunity to return finally to Freeport in the summer of 2021, when Mast Landing opened a second tasting room, pilot production facility, and events space at Maine's Freeport Crossing.
Now, with these additional facilities, the business is targeting perfection in its product and refining the presentation for an original look. "This September we are set to release a fully redesigned package for Gunner's Daughter. The label for this beer has not been changed since it was first packaged over four years ago, so this is a huge step for the branding and marketing of our most popular product.
"We are also currently in the process of producing a small-batch, wet hopped IPA that uses fresh hops harvested five minutes from our production facility at the Maine Hop Yard. Additionally, this fall, we will also showcase a large number of beers brewed in our lager style, and expansions in our production facilities have not slowed down. Those will include a number of fermentation tanks that are designed specifically to optimize lagers. Not only will this increase our capacity to brew pilsners or pale lagers, but it will also bring our processes directly in line with the optimal conditions to create these beers," Ian explains.
Strong partnerships
Of course no business would be able to navigate these waters without the assistance of a trusty team and sturdy suppliers, and Ian is particularly grateful for those who have partnered with Mast Landing since its inception. "During the summer, we had a lot of success expanding our footprint in New York and New Jersey, thanks to a strong partnership with Sarene Craft Beer. This relationship balances our team's knowledge of the market and our products, with strong boots-on-theground representation from the Sarene team. Together, we have been able to bring our beers to a number of new and prestigious draft accounts in the area, while expanding the reach of our beers in the off-premise market.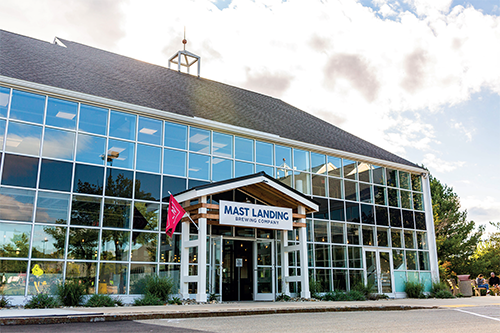 "Additionally, our people are our greatest asset. Many members of our team bring years of experience in the beer industry to the table, as well as a work ethic that is second to none. We're proud to have a very high retention rate for our employees across departments, and to provide opportunities for individual growth as our people master new skills. This year we've seen multiple members of our production and front of house teams be promoted to new roles based on their work ethic and expertise, which is a testament to our group's unity and commitment," he shares.
As leaders of the company, Ian's team strives to make Mast Landing a safe, comfortable, and inspiring place to work, which extends to how it approaches interpersonal interactions and internal communication, as well as the business's benefits programs. "We have a generous time off policy, a company matched retirement plan, and a health insurance plan that is fully subsidized by Mast Landing," he says, continuing to emphasize that the overall goal is to provide a place where the Mast Landing staff feel well taken care of, confident in what they do, and excited to learn and grow along with the company.
Passion for quality
In conjunction with its passion for quality beer and happy people, Mast Landing is equally as determined for the business to represent a culture of sustainability. As members of the Maine Brewshed Alliance, the company supports efforts to protect the natural resources that surrounding brewers utilize in their home state. Mast Landing also participates in Allagash Brewing Company's recycling co-op, which brings local breweries together to safely dispose of non-recyclable items like shrink wrap and grain bags.
Furthermore, in early 2021, Mast Landing proudly joined a community solar fund, which allows it to source all of its power sustainably. "This is a huge point of focus for us, as brewing is a fairly resource-intensive operation. We hope to continue to partner with organizations in the sustainability space, as well as local organizations that do on-the-ground advocacy and community building in the future," he informs us.
With these sails lowered and steady, Mast Landing has set its course to continue to grow the business, ensuring that each new venture is completed thoroughly before moving on to the next. "It's hard to say with any specificity what new opportunities lie on the horizon, but we plan to continue along our path of controlled growth. Our new tasting room in Freeport has one of the largest event spaces in the area, so we look forward to bringing more people together there. We will absolutely continue to expand our presence nationally by attending festivals and holding public events, and finally, our first home in Westbrook will see a small renovation to its tasting room, which will set us up to have multiple exciting locations to visit over the next couple of years," he says. One thing is for certain, as the company strives forward, Ian is optimistic that Mast Landing will continue its brewing excellence with support from a dedicated team and a finely crafted product that all beer drinkers can enjoy.