Matchbox Vintage Pizza Bistro's authentic formula for success allows it to grow.
It's casual, cool and contemporary. But aside from atmosphere, Matchbox Vintage Pizza Bistro's culinary creations have helped propel the Washington D.C.-based restaurant chain into new territories.
Owned by Matchbox Food Group, Matchbox Vintage Pizza Bistro has 11 locations throughout Washington, D.C., Virginia, Maryland, Texas and Florida. "We're scouting other locations right now," says Stephen Lyons, vice president of culinary innovation. "There's a couple of locations that have caught our eye."
The next few locations will likely be scattered throughout Washington, D.C., Maryland and Virginia – territory where Matchbox has developed a reputation, he says. The restaurant chain has been growing organically for many years, but it is preparing to grow strategically in the future.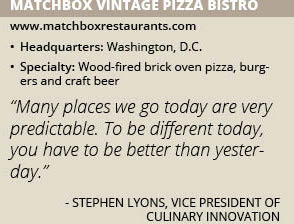 "We're going to be smart, systematic and move at a pace at which we can make sure our culture stays in place," Lyons says. "We don't want growth just for the sake of growth."
Matchbox restaurants tend to do well in neighborhoods where urban meets suburban, he says. "Every time you grow, you learn important things. We know our demographic and where our restaurants function best," Lyons adds. "We also know we want our restaurants to be single-level structures at about 5,500 to 6,500 square feet."
An Urban Feel
Matchbox Vintage Pizza Bistro is famous for wood-fired brick oven thin crust pizzas and juicy grilled Angus mini burgers. Its rotating beer selection has a variety of choices for both the novice and connoisseur.
The restaurant also offers an eclectic, value-driven wine list representing both classic and modern styles of wine from North America and Europe. A cocktail-studded brunch menu with homemade Bloody Marys and Mimosas as well as pan-baked cinnamon rolls and cast iron egg skillets is the norm.
The restaurants use a mixture of industrial and rustic space to evoke an urban feel. Guests can lounge around on the outdoor patio or order a homemade signature cocktail at the bar.
"Ours is the new and more sophisticated version of a TGI Fridays or Chili's," Lyons says. "You can still find the game on the TV, but the level of food and service is more in tune with today's guest expectations. We set the market for people who appreciate consistently good food and a casual atmosphere."
Pizza, Pizza
There's no question about it. Pizza is definitely the star of the show. An oak wood-fired brick oven is one of the many elements that give Matchbox pizzas their unique flavor. The oven's high temperature produces a crispy crust that has become the signature of Matchbox pizzas and allows for shorter baking time for the dough.
"We make our own pizza dough, sauces, use local sausage and high-quality ingredients," Lyons says. "Our motto is 'pizza never had it so good.'"
Guest favorites include Matchbox's signature meat pizza, layered with signature pepperoni, spicy roasted Italian sausage and crispy bacon on top of zesty tomato sauce. Matchbox has 14 different types of signature pizzas or guests can create their own by picking from a variety of ingredients. A house specialty is a spicy "fire + smoke" pizza with fire-roasted red peppers, Spanish onions, chipotle pepper tomato sauce, roasted garlic puree, mozzarella and fresh basil. Then there's a pepperoni and banana peppers pizza with crushed tomatoes and hand-pulled mozzarella.
While pizza is the star attraction, Matchbox's supporting cast of mini burgers and chef-driven bistro fare helps set it apart from the competition. "We also have a growing selection of appetizers and salads due to responses received from our guests," Lyons says. "We have anything from a simple green salad to composed salads featuring layers of flavor. Everything we do is done with finesse."
Featured salads include an apple and pear salad with candied pecans, and an almond-crusted and seared tuna salad with spinach, arugula, chopped hardboiled egg and potato croutons with a honey-mustard vinaigrette.
Matchbox's wedge salad features artisan romaine kissed with a white balsamic vinaigrette that helps cut through the richness of the creamy Danish blue cheese. All menu items are innovative recipes developed by Matchbox chefs in collaboration with Lyons and created with fresh ingredients. Matchbox restaurants often change certain menu items to bring in new and exciting flavors. They may also adjust the menu to suit local tastes.
"We consider ourselves a food group – focusing on the hospitality side of the restaurant business," Lyons says. "We will look at tweaking our menu depending on location. For example, Texans really want salad and in Florida there's a huge interest in appetizers and burgers so we'll grow those categories more. We pay attention to what our guests want." Each restaurant has a general manager, executive chef, sous chef and supporting supervisors and managers for the kitchen and dining rooms.
Cheers!
It wouldn't be a party without beer and spirits. Matchbox is especially known for its selection of craft beers. Though guests will find staples like Stella Artois, they will also see Devil's Backbone Vienna Lager and draft beers from Allagash Brewing Company in Vermont or a Dogfish Head 60 Minute IPA from Milton, Del. Then there's always a seasonal "wild card" on tap. Each restaurant generally features about 12 handles.
In addition to craft beers, Matchbox is known for an assortment of draft wines and signature cocktails. All drinks are handmade. Some of the unique items on the cocktail menu include a cucumber gin and tonic and a jalapeno cucumber margarita with jalapeno-infused tequila, Patron Citronge, cucumber and lime.
"Many places we go today are very predictable," Lyons says. "To be different today, you have to be better than yesterday."
Giving Back
Matchbox has designed a community fundraising program for schools and nonprofit organizations located near its restaurants. If a group qualifies, the restaurant will help it raise money for its cause by donating 10 percent of gross sales on select dates.
"You can't have that robotic mentality," Lyons says. "The individual operators are encouraged to give back to their community."
Matchbox also donates money to a variety of causes including cystic fibrosis and the No Kid Hungry campaign in Florida. The restaurant group raises up to $75,000 annually for No Kid Hungry, Lyons says.
Founded in 2003, Matchbox is the brainchild of four friends who had a vision for great food with seamless service and a passion for design. The men bought their first building in Washington, D.C.'s Chinatown neighborhood, and the business they founded has never stopped growing.