Matson provides ocean cargo shipping services throughout the Pacific with a focus on Hawaii.
Hawaii is a beautiful tourist destination, but because of its isolated island location the state is uniquely dependent on goods from other parts of the world to support its economy and everyday modern life. That's where Matson comes in as a cargo ocean carrier.
Matson carries a variety of different products such as household goods, food, construction materials, retail products and vehicles primarily in containers and in bulk shipping. Its biggest customers are part of the retail, wholesale, construction, agriculture automotive and freight forwarding industries, while it also ships products for fisheries and the U.S. military.
Founded in 1882, Matson began with a single sailing ship carrying cargo between San Francisco and Hawaii, a route that continues to constitute Matson's core business today. "We are a premium carrier, specializing in frequent, fast and reliable service," says Keoni Wagner, director of corporate communications. "We pride ourselves on customer service. Matson's business has been built on developing deep, long-standing relationships with local businesses in Hawaii – no matter how big or small."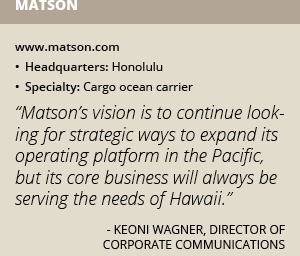 Wagner says that business has picked up over the past year with Hawaii's economy on the upswing. Matson was able to add an 11th ship to its Hawaii services and implemented several schedule improvements at the same time. This not only increased frequency and capacity, but also resulted in significantly improved cargo availability in Honolulu and better connections to neighboring islands.
"Maintaining steady, frequent and reliable service to the islands through the ups and downs of Hawaii's economy can be challenging," Wagner says. "More recently, our biggest challenge was accommodating an unexpected surge in business when a competitor was acquired and the new owners had operational challenges in the early going. This is what led to the new 11-ship schedule."
Moving Forward
Because land in Hawaii is limited and therefore expensive to own, Matson's customers require frequent and reliable deliveries to keep stores stocked due to lack of big warehousing storage infrastructures. After 134 years of experience in the shipping industry, Matson has become an expert in its supply chain operations and delivering on its promises. Thanks to this, it has applied its Hawaii business model and expanded to other states and countries with similar markets, including Alaska, China and the South Pacific.
In addition, Matson saw an opportunity to provide faster services between China and the United States, launching its China-Long Beach Express (CLX) 10 years ago. "This service has been very successful because CLX cuts days off of the average transit time, and manufacturers and retail companies are thrilled to be able to get their products to market faster," Wagner notes.
Matson recently introduced an expedited China-New York service for moving less-than-container load (LCL) cargo through its subsidiary Matson Logistics. And just last month, Matson launched a new route connecting its North and South Pacific networks via Honolulu called South Pacific Express.
But Matson's biggest project currently underway is the building of two new state-of-the-art containerships, expected to be complete in late 2018. These 850-foot long "Aloha Class" ships will be used specifically for Matson's Hawaii service and will provide greater capacity as the company's largest ships.
These two ships will also be faster, allowing Matson to make good on its promise of on-time delivery. "Green ship technology" is also a major focus for the ships' build. The ships' environmentally friendly features include a more fuel-efficient hull design, dual fuel engines that can be adapted to use liquefied natural gas (LNG), environmentally safe double hull fuel tanks and fresh water ballast systems.
"These new ships are the future for Hawaii shipping and will bring a new level of efficiency and effectiveness to our service," President and CEO Matt Cox says. "The substantial investment in new technology underscores Matson's long-term commitment to Hawaii and our desire to serve the islands in the best, most environmentally friendly way into the future."
Long-Term Relationships
Since Matson has been around for such a long time, the company has built many long-standing relationships with both customers and suppliers. "This is essential, because we depend on our suppliers the way our customers depend on us," Wagner explains. "Our long-standing business relationships are all about trust; we need to be able to trust the performance of our suppliers so that our customers can trust ours."
One of its long-term customers is Hawaiian Isles, a second-generation kama'aina company that Matson has been working with through thick and thin since the 1990s. "Hawaiian Isles is an example of one of our smaller commercial customers in Hawaii that we go out of our way to support as much as we can," Wagner notes.
Matson works with the company by being in constant contact to ensure all needs are met. The company also works closely with partners such as freight forwarders and trucking companies to fulfill even more customer transportation needs.
"I'm proud of Matson's deep history and its commitment to providing superior service to its customers," Wagner says. "Matson's vision is to continue looking for strategic ways to expand its operating platform in the Pacific, but its core business will always be serving the needs of Hawaii.
Having done business in Hawaii for so long, Matson's corporate culture is imbued with the spirit of "aloha" – that intangible quality of island culture that values openness, respect, humility, honesty and trust," he continues. "It's a combination of that and confidence in the expertise an organization develops doing what it does over the course of more than 100 years."