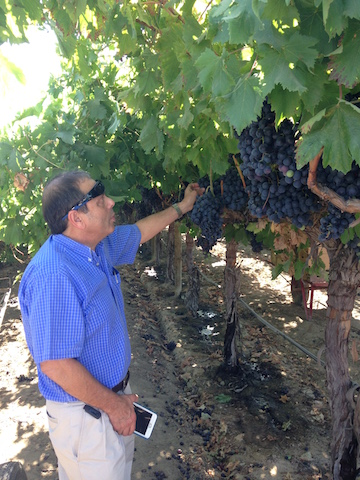 Mayrsohn International Trading Co.
Mayrsohn International Trading Co. looks to expand its footprint while developing innovative technology to overcome common industry challenges.
Mayrsohn International Trading Co. understands that reputation means everything when it comes to successfully sourcing fresh fruits and vegetables worldwide. "Our name is our reputation, and that's what separates Mayrsohn from others," President Mark Mayrsohn says. "People can call us from anywhere in the world at any time and get our expertise on sourcing and shipping products anywhere in the world."
The Miami-based company has been delivering fresh fruit and vegetables to customers since 1899 when Mayrsohn's grandfather, Mayr Mayrsohn, started the business. In the 1950s, Mayrsohn's father, Bernard Mayrsohn, expanded the business internationally and developed relationships in Europe, Asia and South America. "For more than 100 years we have been one of the leading export companies in many different fresh products and in many different countries." Mayrsohn says.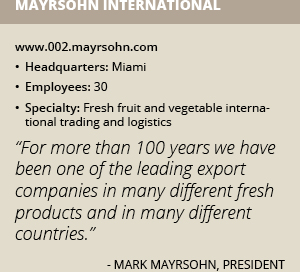 Mark Mayrsohn took control of the company in 1982, adding "International" to the company's name. Today, Mayrsohn International is a one-stop solution for all of its customers' fresh fruit and vegetable import needs. The company specializes in ocean and air shipments, providing comprehensive service from its growers' farms to customers' facilities in more than 70 countries.
Personal Touch
As a family owned and operated business, Mayrsohn International has become well known and respected throughout the world by developing personal relationships with its customers and suppliers. "All of our relationships have been built up through the years," Mayrsohn says. "We develop relationships in person. When you are trading with large sums of money and over long distances, it's important to have a lot of confidence and trust in the company or person on the other side. I travel often and personally know everyone I'm doing business with. That's something my father taught me as a young adult."
It is inevitable in the import/export business that at some point something will fail to go as planned. When that happens, having established personal relationships is critical, Mayrsohn explains, because there is an understanding on both sides and trust that the right things will be done.
"Whoever is trading in this business needs to have a direct relationship with the owner or head buyer of the company," he explains. "Otherwise, they might leave you for a small reason instead of understanding that you tried your best. There are so many potential complications that knowing your customers and them knowing you is important."
By meeting with its suppliers in person, the company also gets to be its customers' eyes and hands to look for and pick the best fruits or vegetables. "We took a trip out to California before the cherry season started and met with our suppliers before the cherries were picked and packed, so that when it came time for shipping we had forged a strong bond," Mayrsohn says. "Then I went over to Europe and met our customers of those same cherries and I knew exactly what to tell them as I had been right there at the packing house. I like to be as direct as I can."
International Growth
Moving forward, Mayrsohn International will focus on further developing its five main areas of business: Asia, Europe, South and Latin America, New Zealand and the Caribbean Islands. The company recently shipped Canadian cherries, as well as Sunkist oranges to Taiwan, Hong Kong and Singapore. "Right now is an interesting time as it is the season for the Asia business," Mayrsohn says. "It's coming on strong right now and we are expecting to have a nice season."
In Europe, Mayrsohn International is a leading exporter of cherries, asparagus, mangos, sweet potatoes, mushrooms, grapefruits, cauliflower, apples and grapes. The company is also expecting business in South America to increase as it imports more products from Chile and Peru. "We attend worldwide conventions and business gets presented to us," Mayrsohn says. "We just have to select which ones we want to do."
As international business continues to grow, Mayrsohn International is working to develop innovative technology that could be the answer to many common industry challenges. "You already can order online on our website, but there are challenges with that because there are a lot of logistical concerns with perishability," Mayrsohn explains. "It's produce and it can spoil."
In addition to perishability, maximum residue levels (MRL) also need to be taken into consideration for each order. "The whole world is getting much more observant and less tolerant of pesticides, especially Europe; their MRL levels are stricter than in the U.S.," Mayrsohn explains. "That makes it pretty difficult to be a U.S. supplier to Europe because the U.S. producers basically are producing with the U.S. market in their thoughts."
The future looks bright for Mayrsohn International. "We are thinking about how to be more technologically advanced in the business," Mayrsohn says. "We don't want to give our secrets away, but we are brainstorming something innovative at this time."