Mazzio's continues to satisfy its loyal customers by sticking to its founder's values.
It was a relatively easy decision for Sheri Miksa to make when she joined Mazzio's LLC in 2014 as CEO. "It was a legacy name, a heritage name, with tremendous people and a loyal following," recalls Miksa, who has held a number of CEO positions, including with Rubio's Fresh Mexican Grills (then NASDAQ:RUBO), Robeks Juice, Boneheads Grilled Fish and Piri Piri Chicken. "It has maintained its strong family values, as well as its roots in the Tulsa community."
Indeed, the company is still owned by the family of its late founder, Ken Selby. He was a public school teacher who enjoyed making pizzas in his spare time, and that passion led to the opening of " Ken's Pizza Parlor" in Tulsa, Okla., in 1961. He eventually quit teaching to build Ken's into a strong regional chain of restaurants.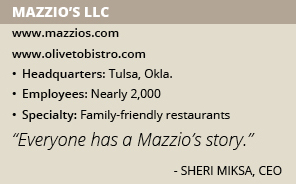 The chain grew to 126 restaurants in nine states and ultimately became "Mazzio's Italian Eatery" as the company began converting a majority of the original Ken's Pizza sites in the 1980s. The company also created another concept in 2008, and has two "Oliveto Italian Bistro" restaurants in Oklahoma and another one in Texas.
Hands-On CEO
Mazzio's has remained a favorite throughout Oklahoma and the surrounding states, even in a fiercely competitive field that has only gotten more crowded in recent years. For Miksa, the driving philosophy behind that success remains simple, and it was as Ken Selby used to say, "If you make every pizza perfect, you will be successful". Miksa agrees.
That is of course easier said than done, but then again, Miksa is the rare CEO who practices what she preaches. "When I came aboard, I thought it was imperative to go through the exact training that all of the employees went through, as well as visiting all the locations and meeting/speaking with all the General Managers and Franchisees. I love to sit and eat in our restaurants," Miksa recalls. "I always try to visit with a few of the guests and ask them how their experience was."
And yes, her training did include going on pizza deliveries with Mazzio's drivers. For Miksa, the experience was informative, to say the least. "I learned what Mazzio's means to people in the community," she recalls. "As when I am out in the restaurants, people say, 'You have no idea how much we love Mazzio's; we went there on our first date or worked here for our first job.'" In short, "Everyone has a Mazzio's story," Miksa says.
Past and Present Favorites
Though its fans love its menu, additions are constantly made to keep the restaurants competitive. In 2015, for example, Mazzio's added wings to the menu. With 11 different flavor options, they have been a resounding success. Since their inception, Mazzio's Wing Run® Wings have won both the People's Choice and Judge's Award at the annual Wingapalooza in Tulsa, Oklahoma.
A fresh salad bar was also added, featuring Mazzio's world-famous Ranch Dressing. Other distinctively-Mazzio's products include Calzone Rings® and Pepperollies®. There has also been a launch of a catering service, whose menu appropriately says "Relax, We've Got This." A catering specialist will work with a customer to design a menu specific to an event, which can include weddings or corporate gatherings or anything in between.
While making some adjustments to the menu, Miksa also oversaw some technology modernization to keep the restaurants competitive. A mobile app was launched in 2015 with Online/mobile ordering making it easier for customers to order and pick up their food or have it delivered. E-mail blasts and a mobile text program were subsequently added.
Still the Same
Despite recent additions, customers still return for "the pizza that started it all": Ken's Pizza. It's the original recipe from 1961, and is loved for its crispy thin crust and spicy sauce. The company brought the original back a few years ago and it has stayed on the menu through overwhelming customer response.
And the pizza isn't the only thing that has remained consistent. "We have industry-leading retention," Miksa says. "We have so many passionate people who are committed to how well they make our food and how they treat people. I am always happy to be out in our restaurants "looking for greatness".
Its strong following and loyal workforce make it fairly simple to figure out where to expand. "It's great to look at areas of the country where we already have fans," Miksa says. "People ask me all the time, when will you bring a Mazzio's to my town?"