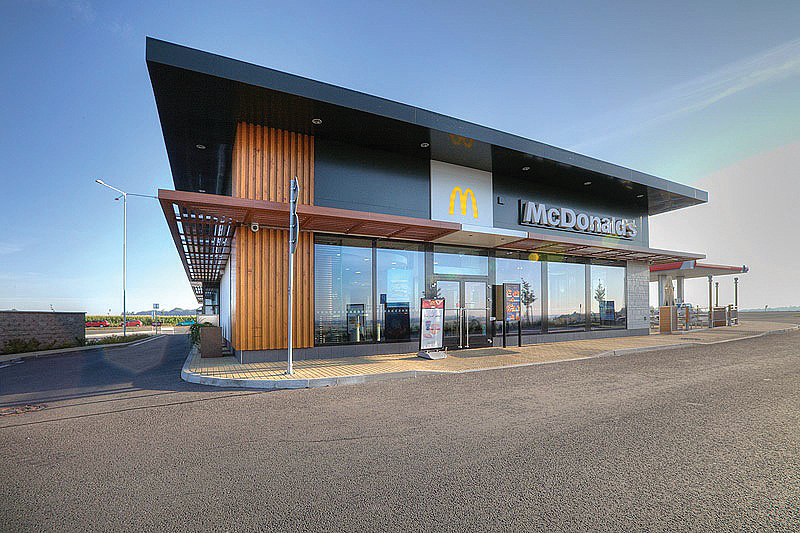 McDonald's Czech Republic
French fries & franchise
Refurbished branches and new product ranges set McDonald's Czech Republic up for a prosperous future
One of the most famous fast food franchises in the world, McDonald's is a brand that has established itself in almost every region of the world. Its presence in the Czech Republic was first felt on March 20th, 1992, when an outlet was opened on Vodickova Street, Prague. Almost 20 years later there are now 85 stores throughout the country, ten of which are the recently introduced McCafé concept.


Communications director Drahomira Jirakova discusses the present day facilities of McDonalds Czech Republic (CR): "We have built a very strong presence in the Czech market and have become a leader in the country's restaurant industry. Of McDonald's CR's 85 restaurants, 65 per cent of them are operated by licensed partners; in 2010 the entire chain generated a total turnover of 3.8 billion Czech crown (CZK) or $216 million. We are one of the largest employers with more than 5000 staff. In addition to our business, we also do our best to benefit the local community with CSR projects such as the Ronald McDonald Charity and the largest school football tournament in Europe, the McDonald's Cup."
Last year was a significant year for the company. On top of large annual turnover figures, a further four new restaurants were opened, creating 240 new jobs, whilst
nine branches underwent a complete refurbishment project. This included its two flagship outlets on Wenceslas Square, Prague. An investment of 309 million CZK was put into this new build and refurbishment project including the implementation of ten new McCafé outlets into both the new build and refurbished buildings, bringing the total number of McCafés in the Czech Republic to 20.
New products
"We also introduced several new products including the new McWrap platform," Drahomira adds. "McDonald's has always tried to improve and enrich its product portfolio with new, exciting offerings. McDonald's European Food Studio in Paris uses the expertise of international gastronomic and food specialists to develop around 1800 new product ideas per year, and we co-operate with the Food Studio when developing and launching new products. The range of McWrap sandwiches are a typical example of a successfully launched product platform."
McWrap sandwiches are just one successful product range amongst over 100 different items available at McDonald's CR branches. Many of these items include the expected McDonald's favourites including traditional burgers, salads, fries, breakfasts and desserts. Efforts are also made, however, to adapt menus to the tastes and desires of local customers as well as creating special seasonal offers. One such seasonal special is Cheese Season – held at the start of the year – in which burgers come with, amongst others, emmental and Swiss cheese toppings. Nonetheless, it is the traditional Cheeseburger, Big Mac and fries that remain the most popular with customers throughout the country.
Drahomira explains that its popularity can be attributed to a strong focus on quality standards: "Quality is one of the key principles that McDonald's business has been built upon. We have introduced sophisticated systems of quality management and control to make sure McDonald's CR uses only top quality materials. All materials have gone through a very strict selection process that is tougher than is required by national legislation. Furthermore, we co-operate closely with all of our suppliers to introduce the necessary quality and standards throughout the supply chain, ensuring that they are all trained and audited continuously."
Customer service is not the only important aspect of the company's quality standards: the organisation also has a strict environmental policy that is directly integrated into the daily operations of all branches. This primarily focuses on reduction of impact on local environment through the minimisation of polluting emissions and waste. It also implements environment concerns into the organisational running and business decisions of McDonald's CR as well.
Moreover, the organisation is also involved in a number of significant goodwill projects throughout the country. The largest of these is the Ronald McDonald's Charity, which funds accommodation for ill children and their families at the Motol Hospital in Prague; last year alone this charity helped 550 mothers and children, with a total of 5612 people benefitting since its launch. 2010 also saw the 13th annual McDonald's Cup, Europe's largest inter-school football tournament with 80,584 children taking part last year from 3155 different schools across the country.
Going forward
Looking at the year ahead, Drahomira explains that McDonald's CR has no plans to slow down: "In 2011 we want to continue developing our McCafe concept by opening three or four new outlets, whilst the remodelling of our restaurants will remain our key priority this year. Between ten and 15 stores will go through a complex refurbishment, including the flagship restaurant on Wenceslas Square that has been completely reconstructed."
Concluding, Drahomira looks at where the company is going over the next few years: "We want our customers to enjoy the time they spend in our restaurants, and our ongoing remodelling will improve comfort and experience. We will also continue to enrich our food portfolio by increasing the variety of our menu – approximately ten new products are introduced annually and we plan to continue this trend into the future."