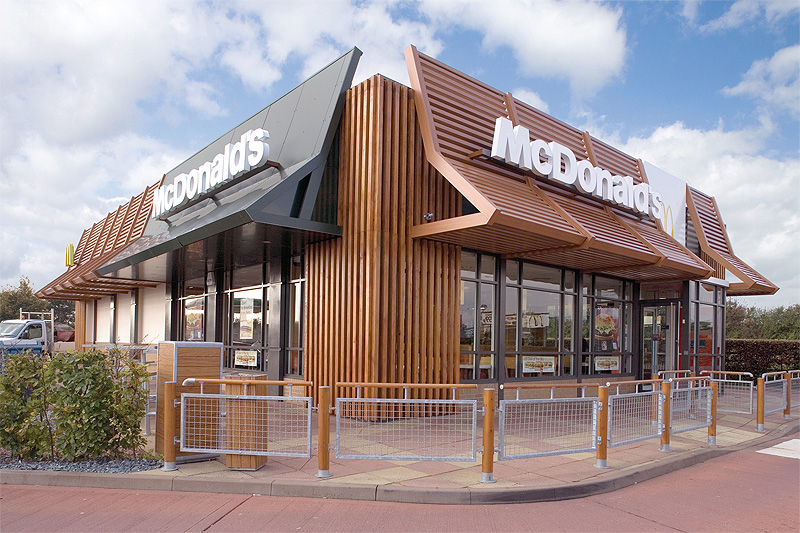 Sustainable growth
In line with its deeprooted sustainability commitment, McDonald's Europe is pioneering the introduction of MSC certified sustainable fish across its European market
Representing McDonald's second largest global territory after the US, Europe has been a burgeoning market for the restaurant chain ever since the opening of its first European restaurant in the Netherlands in 1971. Today the Group's name and 'golden arches' corporate logo is universally recognised through a presence of more than 7000 restaurants across 40 different European countries, serving approximately 14 million customers each day. In particular, the UK, France and Germany are dominant markets for McDonald's representing more than 60 per cent of Europe's operating income.


Certainly this presence shows no sign of abating with McDonald's Europe achieving 9.8 per cent growth in operational income in quarter 2 (Q2) of 2011. This is visible in the increase of 70 million customers the company has experienced in Q2 2011, compared to this time last year. Key to this success has been McDonald's Europe's ability to adjust its offering to individual market demands. This has seen the introduction of different premium menu options and healthier food ranges such as salads, wraps and smoothies that complement customer thinking, whilst remaining affordable. The business has also been investing heavily in restaurant modernisation, with over 70 per cent of European restaurants already boasting new attractive interiors.
Marine stewardship
Earlier this year, the company took a step further in its sustainability agenda with the announcement that McDonald's Europe is introducing Marine Stewardship Council (MSC) certified sustainable white fish across its restaurants from October 2011.This will see McDonald's Europe as the first food service retailer in many of its 40 European markets to sell any product carrying the MSC logo. Given that in 2010 alone the company sold approximately 100 million Filet-o-Fish portions across Europe this represents an important step in raising awareness and accessibility to sustainable white fish.
With more and more of the world's fish stocks being overfished, the MSC is an independent global organisation established to tackle this problem by recognising sustainable fisheries with certification and eco-labelling. As part of McDonald's Europe's ongoing commitment to enhance sustainable sourcing practices each of its 7000 European restaurants have achieved certification to the MSC Chain of Custody traceability standard. In turn this forms part of McDonald's Global Sustainable Fisheries Policy, which was established in 2003 to encourage sustainable fishing practices throughout the supply chain.
Gaining momentum
This landmark development is the latest in a sustainability drive that has been gaining momentum for ten years, since the introduction of the European McDonald's Agricultural Assistance Programme (MAAP) designed to increase transparency and improvements in quality and sustainability in the company's agricultural supply chain. This foundation has since been built upon further with the launch of the Flagship Farms Programme – developed to encourage sharing and improvements in sustainable farming, through a direct dialogue between farmers across Europe.
As well as raising awareness through its supply chain, McDonald's Europe has also been promoting the importance of responsible sourcing directly to its customers, by offering sustainability certified coffee across all of its European restaurants since 2007. As such, the logos of organisations like the Rainforest Alliance and Utz Certified are recognised on the more than one million cups of coffee served each day in McDonald's European restaurants.
The company is also embracing the wider McDonald's Sustainable Land Management Commitment (SLMC) launched in March this year. This stipulates that, over time, McDonald's suppliers will only use agricultural raw resources for the company's food and packaging that originate from sustainably managed land. Based on an analysis conducted in collaboration with World Wildlife Fund (WWF), these actions are initially concentrated on five raw materials – beef, poultry, coffee, palm oil and packaging, as these have the greatest potential sustainability impacts. Already, over 90 per cent of key raw materials in McDonald's Europe's food are grown on farms in Europe.
Sustainable beef
As part of the SLMC McDonald's is undertaking a number of measures including working with the Global Roundtable for Sustainable Beef, and select Regional Roundtables, to improve the sustainability of beef production. The Group has also joined the Roundtable on Sustainable Palm Oil (RSPO) in a commitment to source only RSPO-certified palm oil by 2015, and the Sustainability Consortium, which is an independent organisation devoted to devliering measurable progress based on life-cycle science.
Another core area of development for McDonald's Europe is the continued introduction of industry leading technology. Embracement of technology is nothing new for McDonald's with free WiFi connections already available at over 6600 restaurants around Europe – a number that is continuing to grow. The business is now looking to introduce state-of-the-art touch screen terminals for food ordering and swipe card payment methods across its total 7000 European restaurant portfolio.
Whilst interactive food ordering systems are not a new concept, this initiative will represent its first move towards mainstream use. The system itself is expected to improve efficiency by reducing the average transaction by three to four seconds, as well as providing McDonald's Europe with a greater understanding of its customer's habits. This is to be complemented by swipe card technology, which enables consumers to make payments using any Visa credit or debit card.
In total, McDonald's Europe intends to invest over $1 billion in capital investment this year. This includes plans to open 230 new restaurants across Europe by the end of the year, creating approximately 15,000 new jobs. Most prominently, the company has announced its intention to open the first McDonald's restaurant in Sarajevo, the capital city of Bosnia and Herzegovina in the third quarter (Q3) of 2011. This will be followed by additional restaurants, including one in Banja Luka following local authority approval.
Each of these restaurants will be operated by developmental licensee companies, GLIESE 581g d.o.o and Dreamfoods Restorani d.o.o, which have obtained master franchise rights for the country. This form of franchising has been used by McDonald's for more than 30 years to grow the brand through expertise and entrepreneurial sprit on a local basis.
Furthermore, McDonald's Europe is also applying the developmental licensee model to Greece, in partnership with Premier Capital plc. Having already been a developmental licensee since 2005, operating McDonald's restaurants in Malta, Estonia, Lithuania, and Latvia, Premier Capital took over ownership and operations of the 19 company-owned restaurants in June. The other 11 restaurants making up McDonald's Greek portfolio are operated by existing franchisees. This development will see Premier Capital playing a key role in the future development of the McDonald's brand in Greece.
The success of McDonald's Europe, despite challenging economic climates and the rise in food prices, indicates that there is still further potential for the business across the European market. Whilst continuing to strike a balance between more premium products and value for money plays a role in this, the company's adoption of wider issues like sustainability and technology lie at the core of the continued elevation of a brand, which despite already being globally recognised, remains keen to innovate with its market.