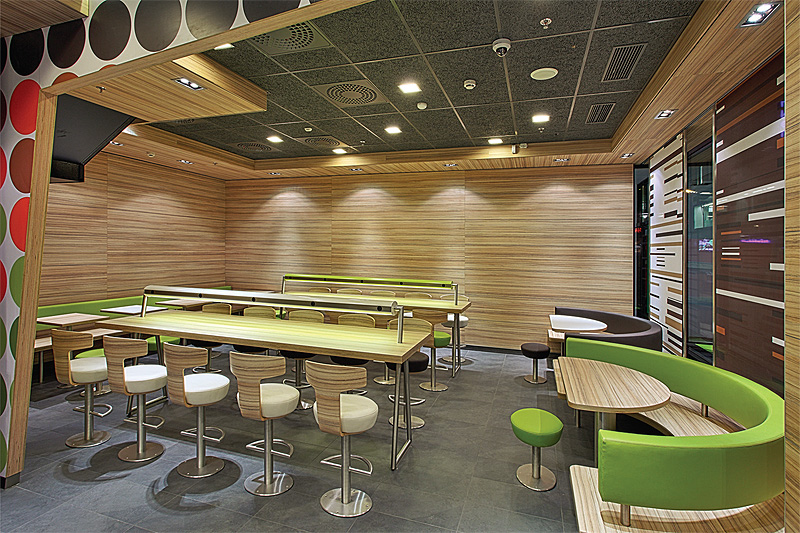 New lease of life
Investing to improve customer experience, McDonald's Finland has recently undertaken a major refurbishment of all its branches
One of the most recognisable brands in the world, McDonald's has been serving fast food for over 60 years. It is originally an American company but through the decades has entered 119 different countries worldwide, the first Finnish outlet having been set up in 1984. Today there are 84 stores across the country employing 3200 staff, both corporately operated and franchised branches, and all have been undergoing a major refurbishment.
A large time and financial investment is required to refurbish a store, and by the time the entire chain has been updated it is time to restart the cycle once again. In this way, McDonald's Finland undertakes a continuous cycle of renovation that ensures its branches remain up to date. The current round of upgrades began four years ago, with 50 restaurants so far having undergone both structural and aesthetic changes at a cost of half a million euros per site.
The last time Food Chain magazine spoke with Marko Hämäläinen, national director of operations, he explained that the most crucial factor in choosing to renovate is that the bulk of restaurants were constructed during the 1990s, making them almost a decade old and increasingly outdated. By bringing them into the 21st century, the company aims to better customer experience by improving operational efficiency. As such, it means many of the most important upgrades are happening behind the scenes.
One such example is the reorganisation of a restaurant's kitchen, to make food preparation a more logical process. The preparation area has been separated into different sections for different products with one being for beef items, another being for chicken items, a third for salad and so on. Two major advantages that spring from this are that staff can prepare food more quickly and that it reduces any cross-contamination of menu items. Furthermore, it means the company can ensure that no burger is served more than ten minutes after being cooked and French fries no more than five. The effect of these methods is a greatly improved customer experience.
Customer feedback
Many improvement decisions are based on the feedback of customers. Annually, McDonald's Finland carries out a nationwide survey reviewing the opinions of customers on quality and service then takes these into account when making renovation decisions. This strategy has been pursued in conjunction with McDonald's European headquarters, therefore maintaining a degree of uniformity throughout the region whilst also allowing each branch to have its own individuality. At the heart of this plan is a commitment to updating old buildings rather than building new ones. This means the company can play to its strengths in each venue, improving customer response by delivering upgrades to existing shortfalls rather than stretching beyond its means with a whole new outlet.
To this end, the company has carried out important enhancements to its drive-thru facilities. Despite there being relatively short contact time between a branch and a drive-thru purchaser McDonanald's Finland has attempted to provide the best possible experience for these customers, for example by installing clearer signs as well as menu screens equally as comprehensive as those for diners.
One of the most crucial public initiatives McDonald's is involved with throughout the world is the Ronald McDonald House Charity, whose aim is to create buildings and services that help improve the well being of ill children. In Finland, this was put into action in the summer of 1996 when it began raising funds for a location opposite the Children and Adolescents Helsinki University Hospital. The 14-room building was completed in March 2002 and since then has housed over 70,000 chronically ill children and their families.
The Finnish casual dining market remained relatively stable throughout the financial crisis and with McDonald's being perhaps the most prominent name in this area it succeeded in maintaining impressive growth, reflected by the ongoing multi-million euro refurbishment investment. With almost three-quarters of McDonald's Finland outlets having been refurbished, the company expects to have the entire round completed by next year, at which point it will begin the next cycle of improvements.
Looking to the future, there appears to be plenty of prospects for the company. It will continue to cement itself as a reliable, pleasant customer experience whilst also providing jobs and CSR programmes that help to improve the local community. As economic markets around Europe and the world pick up once more, McDonald's Finland is in an ideal position to flourish.