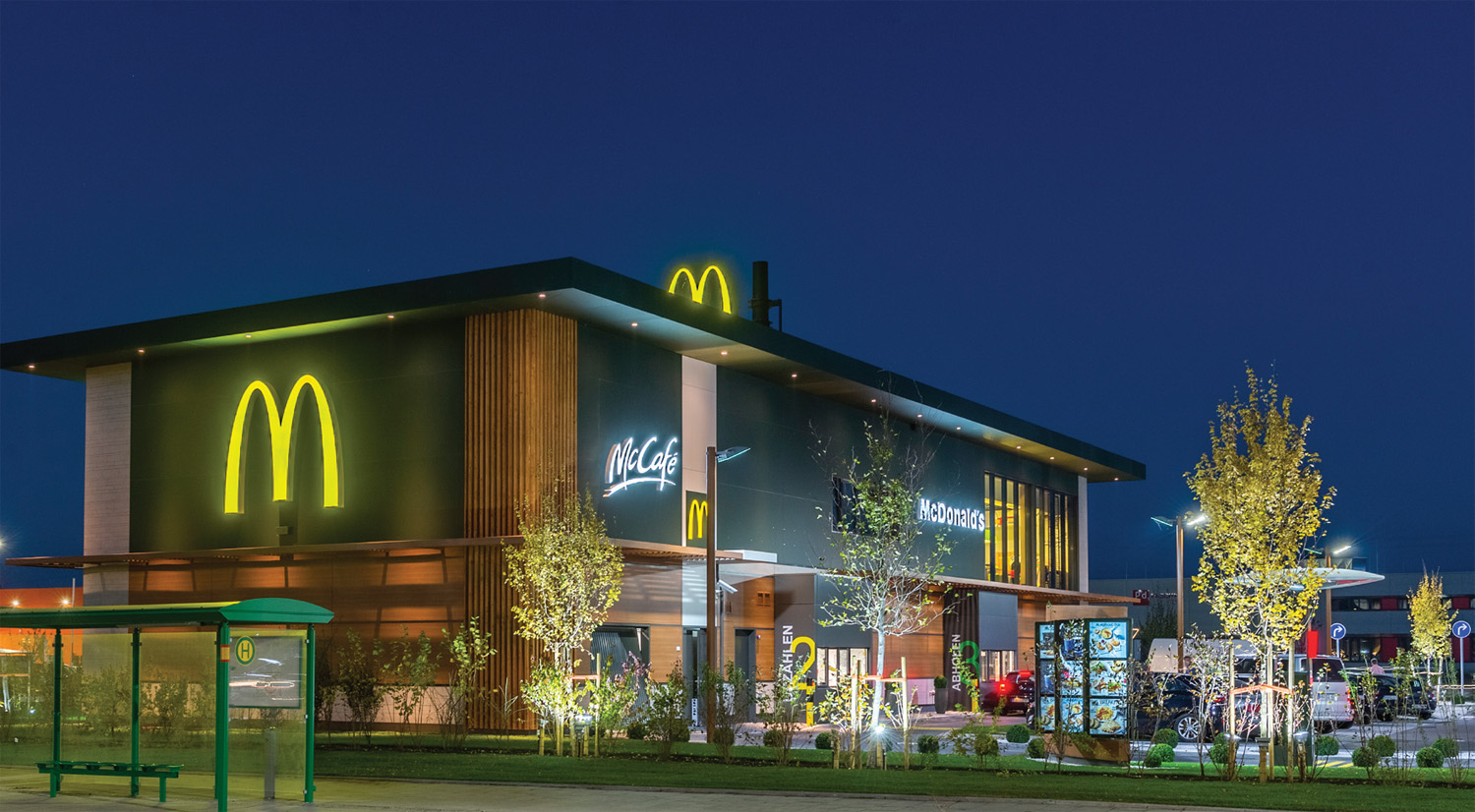 More than premium patties
McDonald's' commitment to responding to market trends has resulted in the company maintaining its golden crown as a leader in gastronomy, not only in Germany but across the globe
It has been a rapid period of growth and success for McDonald's Germany since its first restaurant in Germany opened on December 4th 1971. Reaching the one billion mark in sales for the first time in 1989, McDonald's Germany opened its 1000th restaurant in 1999 and continued with further major developments; these include the induction of a new era of marketing with the 'Ich liebe es' ('I'm Lovin' it' in English) slogan in 2003 and a new line of high quality, fresh products such as salads and fruit bags in 2004.


As customers became increasingly more aware of the importance of nutritional value in foods, McDonald's across the world rolled out packaging with information on the nutritional value of each product; it further proved its ability in listening to market trends by launching almost 500 McCafé across Germany by 2008. Indeed, the McCafé development is the result of intensive market research, which showed an avenue for McDonald's to target specific consumers by offering high quality coffee that is served by well-trained café staff in a café style environment.
This hunger to meet the changing needs of its clients has proven highly beneficial to the growth of McDonald's in Germany, with 1475 restaurants and 862 McCafé now open in the country and approximately 58,000 employees working in them. "Our first restaurant opened in Munich 1971 we have had an intense development in this country. And there is still room for more McDonald's restaurants; Particularly interesting are locations at airports, railway or motorway stations, as mobility is an important factor in Germany. Therefore we have begun a major co-operation with Autobahn Tank and Rast GmbH to build more than 100 restaurants in motorway service stations at key positions across Germany," begins Phillipp Wacholz, Director of Corporate Affairs at McDonald's Germany. Announced in 2015, the co-operation agreement between Autobahn Tank & Rast GmbH and McDonald's Germany will enable Tank & Rast to open more than 100 restaurants under the McDonald's brand at motorway service areas. While the first new restaurant units are expected to open by the end of 2015, the majority of the new restaurants will open between 2016 and 2019.
Franchise approach
The opening of these restaurants is a continuing trend in Germany, as more than 85 per cent of the 1475 restaurants operated in the country are operated as medium-sized enterprises by independent franchisees on their own account and risk. As part of the company's Franchisee Leadership Council (FLC), the franchisees are involved in the strategic development of McDonald's and also have an advisory role. Meanwhile, as a franchisor, McDonald's Germany creates the right conditions to ensure the success of the entire system; this includes the provision of convincing marketing concepts, central purchasing, quality assurance, jointly supported investment decisions and ensuring the qualified care of franchisees during business operations.
The franchisee is a strong part of the McDonald's success. They are participating in the whole strategic process and helping to reach the important milestones. One example is the 'restaurant of the future', developing a new restaurant experience for our guests," explains Philipp Wachholz.
As the Big Mac's global success and the dramatic expansion of McCafé proves, product development is an integral part of McDonald's success. Keen to continue this trend, McDonald's Germany began serving burgers with 100 per cent organic beef as part of a trial promotion that will last from October 1st – November 18th 2015. "Organic or vegetarian foods are a big trend in Germany so we responded to our customer requests with this burger with 100 per cent organic beef, the Limited Edition McB., which has been one of the biggest product launches for years for McDonald's in Germany," says Philipp Wachholz. Made with organic beef sourced from organic farms in Germany and Austria, the McB. is in an attempt to appeal to customers that are more conscious about where their meals come from.
Top quality
Alongside the McB., the company also launched a new member of the Premium Clubhouse family in 2015, the Veggie Clubhouse. Focused on delivering quality, McDonald's has created a new vegetarian burger comprised of nutty quinoa and grilled peppers, with special house sauce, double cheese, fresh red onion rings and crispy bionda lettuce. "People want high quality, which is something that played a really important role with our Bacon Beef Clubhouse, Bacon Chicken Clubhouse and Veggie Clubhouse. To ensure top quality ingredients we have long-term relationships with most of our suppliers, which means we have developed trust that our supply chain is strong and protected. We also work with suppliers to find out trends and are always trying to increase our regional sourcing as this is a big trend in Germany too. We already source over 90 per cent of our beef in Germany," says Philipp Wachholz.
Ever watchful of market developments, McDonald's Germany is also looking into individualism and digital developments to further maintain a competitive edge; "We want to be a modern, progressive and sustainable burger company, which means having consistently high quality in our product range while also working on a good value offer that is easy for customers to understand. We also want to continue connecting with our target groups, which for McDonald's is first of all families, while also working on new service offers that will please our customers' needs in the future. These are the four most important points for the ongoing success of McDonald's Germany," concludes Phillip Wachholz.