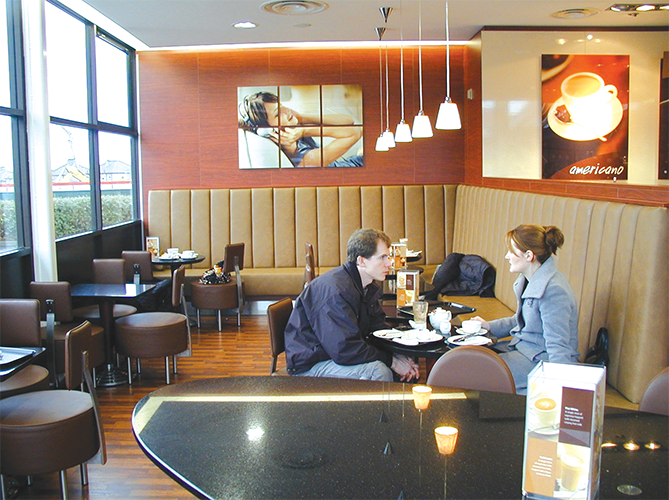 Credible coffee
McDonald's Ireland takes its responsibility seriously to offer good, affordable food that can be part of a healthy, balanced diet and lifestyle
A popular fixture since it first opened its doors on Grafton Street in 1977, McDonald's now has 74 restaurants in the Republic of Ireland with 31 in Dublin and 43 around the country. Of that number, 50 are operated by franchisees and the remainder is owned by the company. In total its restaurants directly employ over 4000 people with a significant number of jobs also generated by companies who form part of its supply chain.
Serving approximately 150,000 people every day in Ireland, McDonald's is committed to serving its customers high quality food, using the best ingredients, working with trusted suppliers and ensuring consistent preparation standards. Ireland had been a testing ground for a host of new McDonald's concepts. The first European drive-through restaurant was in Ireland, as was the first McCafé, a new range of coffee-oriented restaurants. Marcus Hewson, managing director for McDonald's Ireland comments: "We were one of the first countries in Europe to start a McCafé chain. This has been very successful and we are definitely going to continue with it in the future."
He continues: "Other countries have taken up this concept and are going at different paces with it. For example, Germany and Australia have rolled it out in a big way. Every country has a different style of McCafé – the German McDonalds, for example, has attached the coffee counter onto the front counter whereas our concept is to completely remove it from there. We have separated the café from the hamburger counter to create a totally unique experience. By doing this we have noticed that we are now attracting a more diverse range of customers."
McCafé uses only the finest Arabica beans to prepare its rich, full-flavoured coffee. The Arabica beans are roasted in the time honoured Italian fashion to ensure a well-rounded taste and rich aroma. McCafé also boasts a delicious and varied food menu that ranges from cookies and snacks to more substantial food offerings. Fresh Paninis and sandwiches come with a selection of mouth-watering fillings and a range of delicious pastries, cakes, muffins, donuts and cookies. The company also serves refreshing frappes, with flavours including latté, mocha, caramel and double chocolate.
Clare Sheridon, head of supply for the company comments: "One of our main objectives was to be able to compete with the credible coffee chains, which were already on the market in Ireland. We have found that by consistently delivering fantastic coffee, we are able to rival these coffee chains. As a result of this, a couple of years ago we won the National Championships for delivering coffee, which means that we came ahead of all the other coffee chains in Ireland. This was very important to us because Irish customers are very discerning and they know what they like. Today our coffee sales are growing and we are very proud of the credible coffee that we serve."
Marcus continues: "As a result of winning the the National Championships, one of our employees, Anna Englund, from the McCafé on Grafton Street in Dublin represented Ireland in the International Barista Championships in Seattle in 2006."
In addition to these awards, the company also recently received the Best Small Company award at the O2 Ability Awards 2007 for its franchise in Shannon. Marcus comments: "This restaurant places great emphasis on catering for those with disabilities by offering such services as Braille menus and ramps for people to access the toilets."
With increasing pressure on McDonald's to offer a 'healthier alternative', the company has introduced a new line of salads and low fat products. Clare elaborates: "From an Irish point of view, one of the most important factors concerning our products at the moment is the salt content in our foods. Along with other countries, we have committed to try and reduce salt in as many of our products as possible. For example, last year we decreased the amount of salt on our fries by 50 per cent, and we also decreased the amount of seasoning we have on our burgers, buns and in ketchup. This has been very successful and we have managed to increase health benefits, without compromising taste."
Marcus continues: "Another initiative we are starting to look into is the recycling of our cooking oils. After switching to using non-hydrogenated cooking oils in all our restaurants earlier this year, we are now piloting the conversion of our waste oil into bio-diesel for our distribution trucks. We are looking to roll this out nationwide in 2008."
McDonald's Ireland has also recently taken a step towards improving its carbon footprint, as it is now the biggest retailer of coffee from Rainforest Alliance Certified (RAC) farms. The company now sources every bean of its coffee from RAC farms, which are certified for environmental and social sustainability.
As a result of this, close to two million cups of coffee, cappuccino and latte sold each year in McDonald's 74 restaurants and McCafé's nationwide will be brewed from beans grown with sustainable farming techniques.
The company is also continually adding new products to its range in order to satisfy its customers' changing needs. Clare looks at some of the recent additions to the Irish menu: "In addition to our core menu, we try to offer our customers a modern and contemporary approach. For example, we are going to be extending our chicken range towards the end of the year with the addition of chicken fajitas on a promotional basis, and then a permanent range with more new bread options and contemporary sauces. We are also looking into launching a new smoothie range, which will cater for the growing demand of a healthier type of drink."
Marcus concludes: "Looking to the future we forecast double-digit growth over the next three years. In addition, we hope to build three or four new restaurants a year. Ireland is a booming economy and our performance reflects this. We have always performed well here and I believe it has been a strong market for the larger worldwide McDonald's organisation."