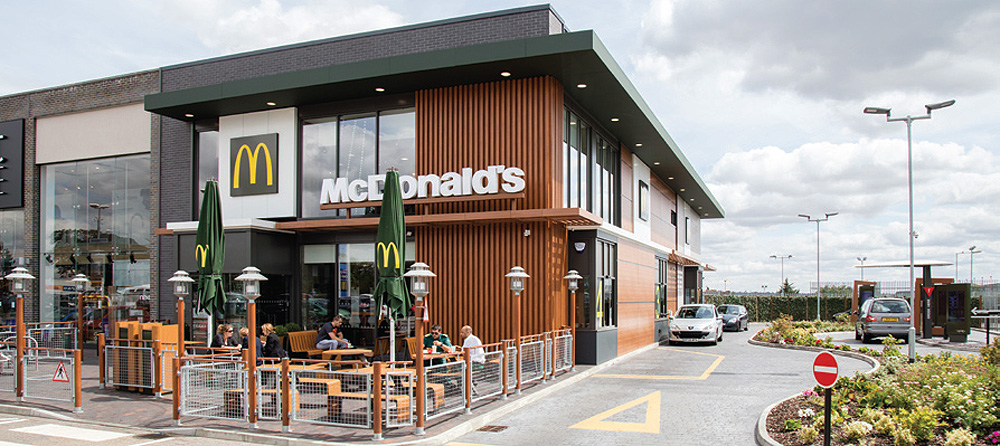 McDonald's – White Rose UK Ltd
Marching on together
Responsible for the employment of some 1200 people and counting in the South West of England, the soon-to-be 13 McDonald's restaurants that make up the White Rose UK Ltd franchise estate are embracing modernisation and change, which is helping to better serve its ever-growing customer base
David Wynne's career journey with McDonald's echoes that of a good many franchisees, in that it stretches back to his youth and one of his first tastes of employment. "It was in June 1984 when,
at the age of 17, I started my very first shift at a McDonald's, and I must admit at the time I didn't even know what a franchisee was, much less envision myself ever becoming one," he explains with a chuckle, "but 35 years later and I have been with them ever since."
Progressing through the ranks of the company, David worked corporately for 17 years, holding the role of Area Manager for Wales and the South West, and then latterly for the West Midlands. It was then in 2002, that he, as he puts it "scraped together every penny" in order to purchase his first store in Central Birmingham. Having gone on to purchase a second store in the area, it was not long until McDonald's approached David with the opportunity to return to the South West of England, where he would purchase five stores in Plymouth.
Restarting his business under the name White Rose UK Ltd – as a proud Yorkshireman by birth it was hard to resist not naming it after David's beloved Leeds United – it soon picked up a number of additional stores in and around Devon and Cornwall taking its estate to 12 restaurants. This will increase to 13 with the opening of a new store in Saltash, southeast Cornwall, in March 2019.
Interviewing David at the beginning of February, we were keen to ask him how he found business conditions in 2018. The answer, as it turns out, is very good indeed. "Last year was a highly successful one, coming off the back of many profitable ones prior, which saw us beat our sales forecasts with double digit growth," he enthuses. "It was also a satisfying year as it regards to our implementation of McDonald's 'Experience of the Future' initiative. This specifically involves going into our stores and making large-scale changes to our kitchen and cooking platforms so that we are better able to make every item of food– bespoke or otherwise – to order."
Developing technology
While these changes are being made behind the scenes, at the front of house McDonald's has been proactively reimaging the customer journey through its restaurants. "One of the big things we have done is open up the ways in which our customers place their respective orders," David states. "While in each restaurant there is still the opportunity to physically place an order at a till with a member of staff, the adoption of our digital, touch screen kiosks have been fantastic and thrown out some very interesting, often unexpected, results.
"For one, we have seen average spend per customer increase when using our kiosks, primarily as they give people more time to browse our menu and gives them greater ability to substitute certain items as they see fit. We have found that they also provide customers with increased awareness of healthy menu items, from our salads, carrot sticks and fruit bags, to meal 63options that are under 400 or 600 calories. We now want to take things further and make our kiosks even more intuitive, while at the same time aligning them with other developing technologies such as our APP."
Delivery services
Another area that David is very keen to see develop further in the coming years is the company McDelivery service. "The delivery market is growing exponentially," he correctly points out, "and since McDonald's got into this segment in late 2016, more than 18 million customers have placed orders through our system. This is a huge number, and is all the more impressive when you
consider that only around a third of the group's estate is currently able to facilitate such a service, and therefore it will have a huge role to play in how we do business in the future. At present, I have three stores offering deliveries, with plans to add another five to this list in 2019."
Barista experience
McDonald's is without question a company that has never shied away from change, and this naturally extends to its menu. "To remain a successful, relevant restaurant business we have to offer a menu that appeals to the customers that enter our stores," David continues. "While there will always be room on our menu for iconic products and treats that can be enjoyed in moderation, we also want to ensure that we are catering towards the newest tastes and trends. One we see growing today is the move towards vegetarian products, and we have responded to this through the introduction of our vegetable goujons and wraps to complement our existing range of salads and other vegetarian friendly options.
"An additional trend we are hoping to capitalise on is that of the coffee culture in the UK, where coffee shops are increasingly becoming the place where people come to socialise in towns and cities. We have taken notice of this, and while McDonald's has earned a strong reputation for producing a quality full-bean coffee at a great value price, we have never tried to capture the whole barista experience. I am, therefore, pleased to say that our Saltash restaurant will be the first new-build McDonald's to feature new barista coffee machines. Positioned at the front of our counters, they will help bring all the theatre of coffee making – the noises, smells and sights – to our stores, and most importantly of all, will go towards creating an ever better coffee product than that which we already sell!"
Unique style
Those with an understanding of the internal workings of McDonald's, more specifically from a development perspective, will know that it utilises a suite of different reimaging schemes in order to keep its restaurants looking fresh. The latest design to appear has been dubbed 'Geometry', and Saltash will be the first McDonald's in the country to open with this scheme. Incorporating modern, contemporary furniture, décor and colour schemes, it will give the restaurant a unique visual style – one which will be 65complemented by new touches such as the aforementioned barista machines and digital menu boards, both inside the store and around its drive thru.
In the pursuit of meeting his own vision statement – to be the best loved restaurant business in the South West by operating modern, profitable stores with talented people, serving great food and being a good neighbour that gives back to the communities in which it is present – David is all too aware of the need for reinvestment. "You have to constantly reinvent yourself, because if you do not you are going to get left behind," he says. "As such, I plan to continue to reinvest substantial sums on a yearly basis into the business to keep my estate contemporary and relevant to our customers, and these efforts will see three further restaurants, two in Plymouth and one in St Austell, undergoing refurbishments this year."